Luxury Car rental's in Battery Park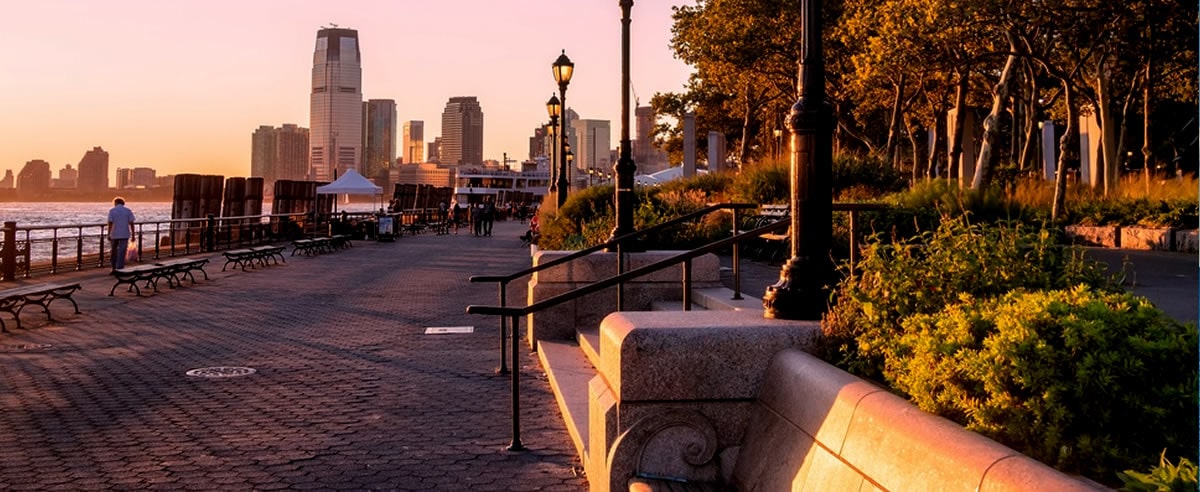 ABOUT BATTERY PARK CITY NY
Battery Park City is a neighborhood located in Lower Manhattan in New York City. It is situated on the southwestern tip of Manhattan, adjacent to Battery Park. The neighborhood was built in the 1970s and 1980s and is primarily a residential area with a mix of high-rise apartments. Battery Park City offers residents and visitors a unique blend of city living and access to nature, with its numerous parks and green spaces, including the Hudson River Park and the Esplanade, a scenic walkway along the river. There are several monuments throughout the area honoring explorers, soldiers, inventors, and immigrants.The neighborhood also boasts a diverse range of restaurants and shops. Despite being relatively new, Battery Park City has quickly become a sought-after neighborhood for those looking for a mix of urban and natural environments. We can have your favorite cars delivered right to your driveway in Battery Park.
POPULAR EXOTIC CAR RENTALS IN BATTERY PARK CITY
If you're seeking to rent a premium vehicle during your stay in Battery Park, we are pleased to offer a wide range of options to suit your needs. Choose from a variety of luxurious convertibles, premium SUVs, and executive sedans with a range of options for you to choose from, ensuring that you'll find the ideal vehicle for your needs.

One of the most popular categories of vehicles for rental in Battery Park is the premium SUV. Select from premium models such as the Mercedes G63 and the Bentley Bentayga. Among these, the Cullinan stands out as the most luxurious, with its opulent cabin lined in hand-stitched leather seats that is sure to impress. Other highly sought after SUVs include the Lamborghini URUS, Range Rover HSE, Range Rover Velar, and the Cadillac Escalade.

For those who desire a high-octane driving experience, you also have the option to rent exotic vehicles from leading brands like Ferrari, Lamborghini, Chevy, and Porsche. These are some of the most sought-after models in the world, including the Ferrari F8 Spider, BMW i8, McLaren 720s, and the Porsche 911. Drive one of these vehicles through Battery Park's streets and experience the thrill of driving an exotic car. If you prefer a more budget-friendly option, we also offer exotic car rental options such as the the Corvette Stingray convertible, which provide an exciting driving experience at a more affordable price point.


LUXURY CHAUFFEUR SERVICES IN BATTERY PARK CITY
In Battery Park, luxury chauffeur services provide a premium mode of getting around New York that blends comfort, style, and elegance. Enjoy a first-class, personalized, and professional travel experience while in the neighborhood with your friends and family. Reserve luxury sedans and SUV's from the most luxurious cars in the world,  equipped with the latest in automotive technology to ensure a smooth and comfortable ride.

Select from prestigious brands like Rolls Royce, Bentley, and Mercedes for your luxury transportation needs in Battery Park. Popular chauffeur options include the Rolls Royce Cullinan, Bentley Bentayga, and the Mercedes G-Class, all known for their iconic design comfort interiors. Other highly sought after options in the neighborhood include the Mercedes S-Class, Range Rover HSE, and the Cadillac Escalade. Experience the finest in personalized and professional luxury transportation while in Battery Park this weekend.
THINGS TO DO IN BATTERY PARK
Brookfield Place is a prestigious shopping and dining hub that offers a discerning clientele a curated selection of high-end boutiques, gourmet restaurants, and luxury brands. The iconic complex boasts a stunning glass-enclosed structure and offers panoramic views of the Hudson River. Brookfield Place also presents a rich calendar of cultural events, including concerts, exhibitions, and festivals, making it a popular destination for both local residents and visitors. This exceptional destination offers a superior shopping and dining experience and provides a comprehensive range of options that are sure to delight even the most demanding customers. Whether seeking luxury retail therapy, fine dining, or cultural enrichment, Brookfield Place is the ultimate destination for a fun experience in Battery Park.
The Skyscraper Museum is a unique and fascinating museum that is dedicated to the study of high-rise buildings. It explores the history, design, engineering, and social impact of skyscrapers, both in New York City and around the world. The museum's exhibitions showcase the evolution of skyscraper design, construction techniques, and materials, as well as their cultural significance. The Skyscraper Museum also features interactive displays, artifacts, photographs, and models that bring the skyscraper story to life. Overall it's an interesting place that offers a fascinating look at the history and development of high-rise buildings.

Located on the Battery Park City peninsula in lower Manhattan, Rockefeller Park is a stunning public park that is worth a visit. It offers a peaceful escape from the hustle and bustle of the city, with lush green spaces and picturesque views of the Hudson River. The park also  features a variety of recreational amenities, including walking and biking paths, sports fields, and a popular playground. In addition to its many recreational opportunities, Rockefeller Park is also home to several notable cultural attractions, including the Skyscraper Museum, and the Battery Dance Company, a non-profit dance organization that presents public performances. With its beautiful landscaping, cultural richness, and diverse range of activities, Rockefeller Park is a beloved destination for both residents and visitors to New York City.

There are also a variety of Museums and Memorials you can check out including the Museum of Jewish Heritage, East Coast Memorial, Irish Hunger Memorial, National Museum of the American Indian, and the Korean War Veterans Memorial. There are also several festivals that go on in Battery Park like the Battery Dance Festival, or the Swedish Midsummer Festival.