Have you ever dreamed of arriving at a venue in the back seat of a Bentley? With are luxury chauffeur services in New York you can now hire a Bentley Bentayga with a driver in New York. When you hire a Bentley Bentayga chauffeur you are traveling in an ultra-luxurious motor car like no other. We aim to provide the ultimate luxury car service in Manhattan with the top cars in the world ready for you to enjoy. Our luxury chauffeur service in NYC has been used by celebrities, executives and regular hard working customer who want to ride in style for the day.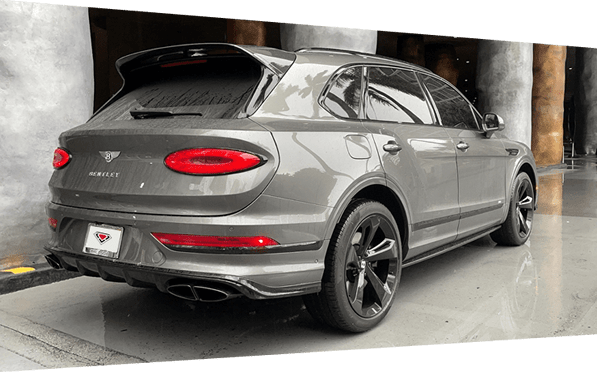 The first thing you'll notice when we arrive in the Bentayga to pick you up is the clean elegant design. The front grill is an icon in itself and has adorned the front of every Bentley since it's inception. The Bentayga  remains true to its classic design that has been consistent with perfection over the years. The 4 rounded headlights are flush mounted to the front bumper for a smooth and seamless appearance. The large Bentley truck is no exception. It has a stylish exterior and recently received an updated rear and front design. Bentley signature sweeping lines are also found in the Bentayga. It is the perfect luxury SUV to hire with a driver in New York this weekend. Don't just show up to your next event. Arrive in style in one of the most luxurious SUV's in the world.
The Large luxury SUV can fit up to 3 passengers comfortably. Bentley is notorious for having one of the most elegant bespoke interiors in the world. The Bentayga comes with premium leather seating that is both comfortable and luxurious. All the materials inside the Bentley Bentayga are the best quality money can buy. The hand-assembled seats are sewn to perfection by skilled craftsmen that are meticulous with the details. The interior of the Bentayga is everything you could ask for in a luxury chauffeur and provides lots of space for you to sit back and relax. It's going to be a smooth ride to your next destination in a Bentayga chauffeur. You can hire this beautiful Bentley with a driver with just one phone call. When you think of limousines you probably think of stretched Cadillac or Lincoln  but the Bentayga is the ultimate limo if your looking for luxury.
The air spring suspension also provides a smooth quiet ride. The air suspension is managed electronically by the Continuous Damping Control system that allows it to adjust automatically to absorb most of the bumps on the road. The steering wheel is also dynamic and will tighten up as your driver pushes the gas. Another great feature of hiring the Bentayga is those rear passengers can adjust there AC system to their individual preference. The Bentayga offers a unique combination of comfort and off-road capabilities to give you the smoothest ride possible when riding in the back seat. When it comes to limo services in New York the Bentayga provides you with the smoothest ride possible. Overall you will barely feel any bumps or imperfections in the road thanks to the premium suspension and sound isolation the Bentayga provides.
MORE LUXURY CHAUFFEUR OPTIONS
About NYC Bentley Bentayga chauffeur service
A Bentley chauffeur is the ultimate luxury SUV to rent for a wedding, prom, birthday, holidays, corporate events or anniversaries. If you want to ride in the best of the best when it comes to your next event the Bentayga is a top contender. When you try and compare a ride in a Bentley to a traditional limo the Bentayga pales in comparison. It also provides more of a personalized experience that you will surly enjoy. We can have any one of our Bentley cars delivered to you in Brooklyn, Manhatten, Brox, South Hamptons, New York City, Greenwich, New Canaan, Long Island, Rumson, Brooklyn, Manhattan, Montauk, Southampton Beach, New Jersey, or anywhere in the tri-state area. . Our executive Bentley car service in NYC is one of the most requested so call in advance to ensure the Bentayga is available for your event date. Experience our luxury car chauffeur service in NYC today!
The cost to hire a Bentley Bentayga in New York starts at $449 per hour, During Holidays, Prom season and Wedding seasons prices can be slightly higher. We strive to provide the best Bentley Chauffeur service in NY at the best price possible. Reservation must be paid in full in order to guarantee delivery of the car. The hourly rate does not include any taxes, tolls, or service fees that are required. If you have any questions regarding our luxury car chauffeur service feel free to call us. Our concierge specialist is always happy to assist you with exact pricing and availability for your desired dates.
If you want to enjoy the incredible experience of riding in a Bentley in New York there is a minimum of 5 hours. Some weekends and during holidays there may be a higher limit because of the higher demand. If you need an airport transfer we can provide the service but you will have to pay for the full 4 hours even if you don't need the car for that long.