Experience a world of luxury when you rent a Rolls Royce Cullinan in New York today. The Cullinan is the most luxurious SUV in the world.. Get inside the drivers seat of the all-terrain SUV from Rolls-Royce and drive around Manhattan in style. The Cullinan is named after the largest Diamond ever discovered.  We aim to provide you with the best Rolls Royce rentals in New York whenever you need them. The Cullinan is the most elegant luxury SUV money can buy.
The Cullinan has a unique design and is unmistakably Rolls Royce. The signature Rolls Royce coach doors open in the opposite direction of traditional doors and can only be found in a Rolls Royce. It's sweeping body lines and iconic Rolls Royce grill make it a popular luxury car rental for New York. When a Rolls Royce Cullinan arrives it takes over the scene. It's a massive SUV and with the signature coach doors it takes the meaning of luxury to a whole new level. Drive away in a stylish new luxury SUV with our Rolls Royce Cullinan rental service in New York. The larger than life Rolls Royce SUV makes a bold impression wherever it goes.
The Cullinan's interior is where it really shines. It can sit up to 5 people and sweeps you away in unparalleled comfort and style. Using the finest materials money can buy the interior is meticulously crafted to perfection.From the bespoke leather seats to the materials found adorning the buttons everything is high quality. Another customer favorite in the NY Rolls Royce Cullinan rental is the starlight headliner. The large entrance from the open coach doors provides an incredible entrance to a world of luxury. The seats also have a massage function to give you a little extra rest and relaxation as you glide through Manhattan in style. We can tell you how great the Cullinan is but there's only one way to truly appreciate this massive luxury cabin. Rent the Rolls Royce Cullinan today and experience what a first class SUV feels like.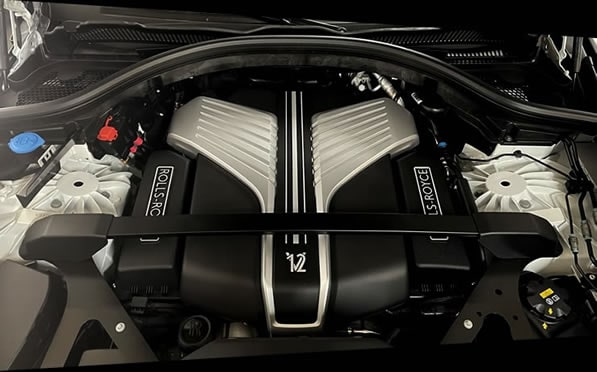 The heart of the Cullinan is a twin-turbo 6.7-liter V-12 that provides 563 horsepower and is the most quiet engine ever. The Cullinan is not a lightweight SUV but can still reach 0-60-mph in just 4.8 seconds. That's impressive for such a large and heavy SUV. The Rolls Royce truck also comes with a special self-leveling air suspension that adjust to any terrain providing you with the smoothest ride possible. It sports a double-wishbone front axle and five-link rear axle for ultimate stability on any curve. If your going through rough terrain you can also press a button and convert this luxury SUV rental into an off-road beast with all-wheel-drive mode engaged. This raises the Cullinan an extra 1.5 inches off the ground and tweaks the acceleration and braking for more control.
About NY Rolls Royce Cullinan rentals
The latest addition to our NYC Rolls Royce rental offerings is the new Cullinan. It's the perfect SUV to experience New York with all of your friends and family. The Rolls Royce Cullinan is the ultimate in luxury motor cars and is the most luxurious SUV in the world. You can rent a Rolls Royce Cullinan in New York for your birthday, wedding, prom, family vacation, anniversary or corporate event. Make your next trip to the Big Apple unforgettable. We can have the latest Rolls Royce SUV delivered to you in Brooklyn, Manhattan, New York City, Greenwich, Long Island, Rumson, New Canaan, Montauk, Southampton Beach, and even New Jersey. We aim to provide you with the best car rental experience in New York.

The cost to rent a Rolls Royce Cullinan in New York is between $1795 and $2495 per day. There is also a security deposit on the day of the rental of $10,000 with all of our Rolls Royce rentals. Every so often we do have specials on Rolls Royce rentals in New York but because they are in such high demand this does not occur very often. For long term Rolls Royce Cullinan rentals in NY we do provide discounted rates.  We always aim to provide our customers with the best Rolls Royce rental in New York at the best price. Due to our partnerships with multiple car rental services we have the ability to find you the best Rolls Royce rentals in the Big Apple.
No luxury car rental company in New York offers Rolls Royce Cullinan rentals for less than 24 hours. You always have the option to hire a Rolls Royce Cullinan in New York with a driver for four hours. With our New York luxury chauffeur service you can have a professional driver take you around New York in a stylish Rolls Royce SUV. If you would like to drive the car yourself the minimum amount of time you can rent a Rolls Royce in NYC is 1 day or 24 hours. You can always bring the car back earlier then the required time but will still be charged the cost for a full day.