The Corvette Stingray is a beautiful example of quintessential American muscle car that has been around since 1957 and continues to be an icon. You can rent a Corvette Stingray in NYC today for your next event or special occasion. Our exotic car rental services are very popular for Weddings and Proms.  This luxury sports car rental is the perfect blend of American engineering and luxury comfort.
The iconic exterior styling is not only beautiful but it serves as an aerodynamic component that helps cool the engine. The light aluminum space frame reduces weight and provides added stiffness. Bi-Xenon HID headlamps help you to see clearly during your nighttime adventures in the big apple. The convertible top can be lowered in 20 seconds even while driving at speeds of 30 mph. Corvette Stingray rental in NY and NJ is available whenever you need it. We have several models to choose from and are always happy to help anyone pick out there dream car. Another reason why you'll want to rent a Corvette is for the sound that comes out of the V8 engine.
The C8 Corvette interior is also updated and has a variety of features such as leather interior, dual exhaust system, and an integrated GPS system. The bucket seats hug you as soon as you step inside and the Bluetooth connector allows you to keep your eyes on the road while talking to your friends, family or work colleagues. In the new C8 Corvette you will also have push to start technology and and dual LCD display's. The interior has an overall beautiful interior with a modern feel that looks much higher quality than previous stingray models. There are also several different driving modes you can choose from to suit your driving preference.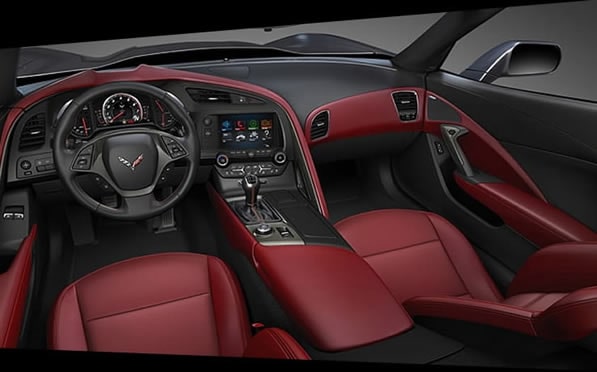 The Stingray has a 6.2-liter LT2 V8 engine that produces 460 horsepower and can go from 0-60 in 3.7 seconds. It's the best exotic car rental in New York for the price considering the performance you get out of this bad boy. It's also an iconic Corvette being the first mid engine model ever released. The powerful V8 is fused to an 8-speed automatic transmission giving you lightning fast shifts. Another performance feature is the selective ride control magnetic suspension that gives the new Corvette incredible handling performance and exceptional ride quality. The Corvette has always been known to be an American power house but this new C8 Corvette takes it to a whole new level. If you want to drive a cool sports car that also packs incredible performance then the C8 rental in NYC is the number one option.
About NY Corvette C8 convertible rentals
Take your vacation to the Big Apple to the next level by renting a Corvette Stingray convertible. You can rent a Corvette in NY for a day, week or for an entire month. We offer special rates for long-term rentals and can even offer you a short-term lease on the Chevy Corvette. An affordable sports car for rent in the tri-county area that won't disappoint. Our Corvette rental service gives our customers a fun and easy automobile to drive in NY. Rent a Chevrolet Corvette Stingray in New York today and have a high-performance vehicle delivered to your home, business or hotel!  We can deliver your favorite Corvette to the door of your home in New York City, Greenwich, New Canaan, Long Island, Rumson, Brooklyn, Manhattan, Montauk, Southampton Beach, New Jersey and also any airport including John F. Kennedy International Airport and LaGuardia Airport.
The Chevrolet Corvette is one of the best exotic cars to rent in NY for the price. Corvette rentals in New York start at just $595 per day and can go up to $895 for the latest C8 Convertible. The Corvette C8 delivers incredible performance and is priced more than half the price of other exotic rental cars. We always aim to provide you with the best Corvette rentals in New York at the best price. If you would like an exact quote for a Corvette rental in NYC feel free to give us a call and we would be happy to help.
The minimum time frame for a convertible Corvette rental in NY is 24 hours. We do not provide hourly Corvette rentals or any exotic car rentals for that matter. If you would only like to rent the car for a couple hours you can but will still be charged for the full 24 hours. Once you step inside of the Corvette you won't want to drive it for a couple hours anyways. This car is a blast to drive and makes regular car rentals feel subpar.