Experience the most luxurious convertible in the world in New York today. You can rent a Rolls Royce Dawn in New York for your weekend vacation or for your next event in Manhatten. Enjoy a luxury car like never before with a Rolls Royce Dawn rental in NY for a day, weekend, or on a weekly term. The Dawn provides an elegant designed exterior and a bespoke luxury interior that is very comfortable. Arrive at your next destination in a classy and iconic convertible. You will feel like the car is floating when stepping aboard the Rolls Royce Dawn . It's a soft top convertible so you have the option to cruise the big apple with the top off. This is one of the  best luxury car rentals you really have to try for yourself.
This elegant Rolls Royce provides all the looks, power, style you've come to expect from Rolls Royce. The iconic Rolls Royce grill is one of the first things you'll notice when you see a Dawn. You'll  turn plenty of heads when you drive down the streets of Manhattan in a Rolls Royce Dawn. The Dawn's incredible presence is unmistakably Rolls Royce.  It's body has sweeping lines with a jaw dropping look. Try our Rolls Royce rental service in New York and experience pure luxury. The roof opens in just 22 seconds, opening up the space to the streets of New York like never before.
The Dawn has enough space for up to 4 people to indulge in luxury. The inside the luxury cabin of the Dawn cannot be explained in words. The feel and ambiance it provides with the thick comfortable carpets and high end finishes used are second to none.  The Rolls Royce Dawn is the ultimate word in class, luxury, exclusivity and comfort and it's reflected well inside. Fine leather is hand stitched to provide a beautiful space for you to relax. The interior veneers are crafted from the finest woods and leathers.The Rolls Royce Dawn is also one of the most technologically advanced car ever manufactured by Rolls Royce. Starting with the premium sound system and infotainment system. Connect your phone and have access to all of your favorite sound tracks and apps.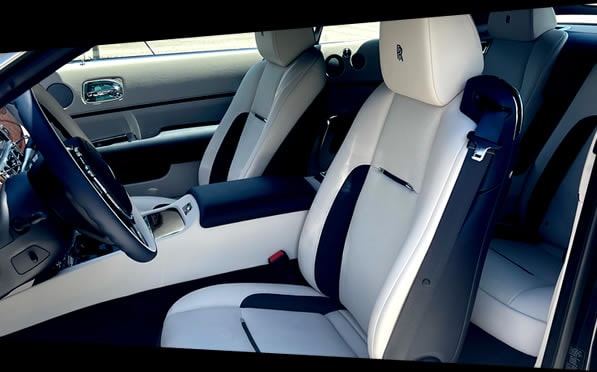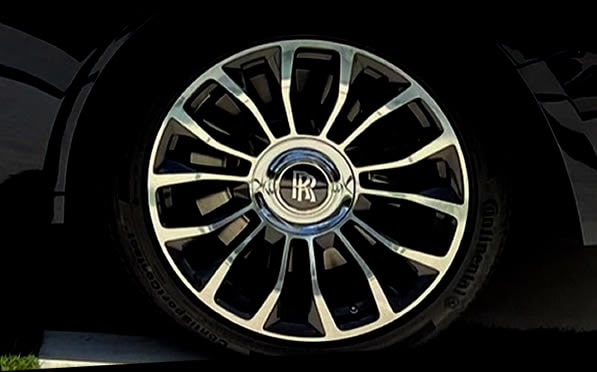 Beneath the iconic spirit of ecstasy sits a 6.6-litre V12 twin-turbo engine that provides a steady stream of power. That is 563 horses to be exact. The massive V12 is paired to an 8 speed automatic ZF transmissions and is aided with satellite to adjust the suspicion to the road environment. The Dawn is a fun car to drive and is extremely smooth. A car that will provide a ride that inspires greatness. Although you probably wont be going fast while driving the Dawn it can go from 0-60 in just 4.8 seconds. Overall the Dawn comes with more power that you need and it does it with style.
About New York Rolls Royce Dawn rentals
Pull up to one of the best restaurants in New York in a Rolls Royce convertible. Regardless of the occasion you want to celebrate, you can be sure to have an unforgettable experience when you hire a Rolls Royce Dawn. Show up to your next event in the drivers seat of a Dawn and you won't be dissapointed. This car sets the standard of class, engineering, design and luxury in it's class. If you are planning on going for a vacation to New York with your friends and family then you can hire a Rolls Royce Dawn and you'll have a once in a lifetime experience. We are the number once concierge service and only work with the top exotic car rental services in New York. We only work with the top luxury car rental services in NYC to provide customers with the best Rolls Royce rentals in the market.There's no better place to enjoy the iconic city of NY than inside your Rolls Royce Dawn rental.
The cost to rent the Dawn in New York can range from $1,795-$2495 a day and is subject to availability. During holiday season and special events, the prices can be slightly higher.  The cost is minimal compared to the unforgettable experience of driving a Rolls Royce in Miami. There is also a deposit required on the day of your rental that can range between $5,000-$10,000. We always try to get our customers the best prices for the highest quality cars in New York
Unfortunately the least amount of time you can rent a Rolls Royce in New York is 24 hours. We cannot facilitate any Rolls Royce rentals on an hourly basis. If you only need the vehicle for a couple hours you will still be responsible for the full day fee.