The Mercedes G63 is the AMG version of the G-class and is an beautiful SUV to rent with a driver. The G wagon has tons of space inside and has a timeless design that has become a staple in luxury chauffeur fleets. The G63 G Wagon is a beautiful luxury SUV with a spacious luxury interior that is perfect for limo services in NY. The AMG G Wagon is an excellent car to rent in NY with a driver with it's bold design and rugged looks. You can hire a Mercedes G63 with a driver for a wedding, anniversary or any special occasion.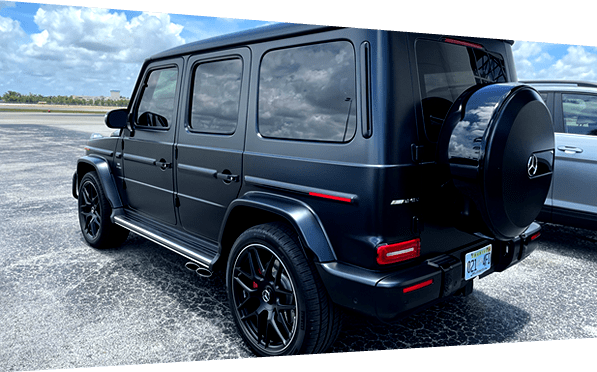 The AMG G Wagon has a timeless design that hasn't really changed over the years much. It remains one of the most popular luxury SUV's to rent with a chauffeur. The massive bulky size adds to it's appeal as a rugged luxury SUV that can overcome any obstacle. The G63 has been featured in many movies and shows and is always either driven or being chauffeured by the CEO of a company or celebrity. In real life it is also used by many athletes, celebrities, and executives to get around NY in style. The popularity of this luxury SUV has continued to skyrocket over the years and it is a great car you will enjoy getting driven in. We can have a new G63 delivered right to the door of your home or hotel anywhere in New York and take you wherever you would like.
The Mercedes AMG g wagon comes with a bench seat in the rear with space for 3 and one additional passenger can ride in the front. When you step inside the G63 you can expect the finest luxury interior Mercedes offers. The AMG models usually come with diamond stitched leather or other unique designs that can only be found in the AMG versions. The high roof allows you to have incredible amount of interior space for you to have ample head room and lots of space to stretch your feet. The spacious back seat is perfect for limo services in New York. If your going to rent a G wagon with a driver in New York the AMG version is the top of the line. Experience an oasis of luxury when you step inside of the all new Mercedes G63 g wagon.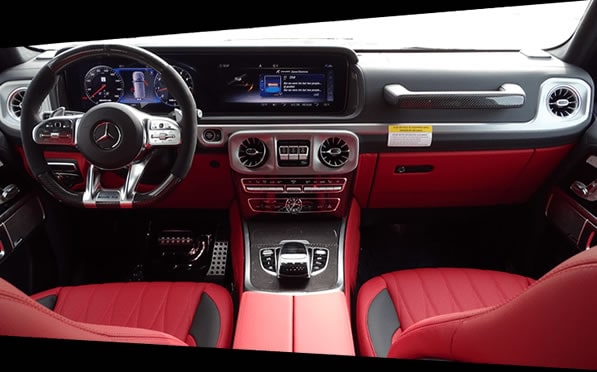 The ride in the G63 is smooth and quiet. The massive V8 can be tamed down by switching the luxury SUV into comfort mode. You can advise the driver what you would prefer in advance and we will have everything to your liking when we pick you up. The V8 is combined with an AMG speed shift TCT 9G-Tronic transmission that provides smooth shifting at any gear range.  Small bumps in the road can barely be felt due to the premium air suspension system onboard. When the car is in comfort mode the SUV smoothly glides over road imperfections for a luxurious travel experience. Experience a luxury ride with our Mercedes G63 chauffeur service in New York. Once you step into a premium limo option like this you will never travel second class again.
MORE LUXURY CHAUFFEUR OPTIONS
About NEW YORK Mercedes G63 G Wagon chauffeur service
The G class provides a first class driving experience wherever you would like us to take you. New York is a great city to try a chauffeur in this high end G wagon. Get driven around Manhattan in this stylish Mercedes SUV and let us take you to your favorite restaurants, bars, and clubs in New York. The G Class has a special rugged yet luxurious look that is not found in many luxury rental options.  We can pick you up at your home and take you around the city so you won't have to worry about parking or waiting for the valet to bring your car. The spacious interior makes it incredibly comfortable for 3 or 4 people to get around the city.
The cost to rent a Mercedes G Wagon per hour in NYC starts from $399 an hour. For multi day chauffeur jobs we can provide you with a discounted rate. The price includes 100 miles. Every mile over is billed at $4.99 a mile. If you are ready to reserve and would like an exact quote for the days you need the car give us a call. We can help you with any questions you might have regarding cost and availability. Our mission to provide you with the best Mercedes Chauffeur service in New York at the best price possible.
The lowest amount of time you can rent a Mercedes G63 with a driver in New York is 5 hours. On some weekends the hourly minimum can be higher.