Are you ready to experience the latest Bentley SUV in New York? We're are now providing Bentley Bentayga Rentals in New York for daily or weekly rentals. The Bentayga is one of the most luxurious SUV's in the world and provides a unique combination of luxury and performance. The Bentayga is a beautiful SUV that is fun to drive and has plenty of room for you and your friends and family. From the iconic Bentley grill to the powerful engine under the hood this Bentley rental is a very popular car rental option in NYC. Rent a Bentley in New York this weekend with our prestigious concierge service.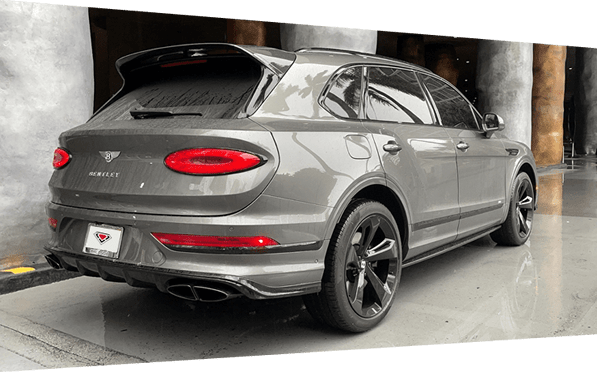 The outside of the Bentley Bentayga provides iconic styling and showcases the timeless design Bentley is know for producing. The 4 headlights in the front bumper blend seamlessly into the body giving it a smooth and refined appearance. The exterior showcases Bentley's signature lines and seamless surfaces like never before. It also comes with adaptive LED lamps and all new rear tail lights giving it a subtle but more contemporary feel to the design. The Bentyaga really stands out among a wide variety of luxury SUV rentals in New York. It makes a bold appearance everywhere it goes and will surely transform your car rental experience in New York.
Where the Bentayga really shines is in its interior. It has a large luxurious cabin with enough room for 5 people to travel around New York in style. The new Bentley Bentayga also provides all of the technological features you would expect from a high end luxury SUV. You can connect your phone using Car play and listen to your favorite songs using the premium sound system. Connecting your phone  Rent Bentley Bentayga in Miami and experience a high-class interior with all the bells and whistles. The Bentayga's interior is elegant and refined, finished with the finest materials. rare craftsmanship and attention to detail speak sophistication. Your passengers will be relaxed and calm as soon as they step into this luxury SUV. Rent a Bentley Bentayga in New York today and experience the luxury cabin for your self.
Although you might not associate performance with a New York luxury SUV rental this is not your average vehicle. The new V8 Benteyga comes with a twin turbo 542hp engine under the hood. The Benteyga engine was developed from the ground up with an all new redesign giving you more efficient performance than ever before. For a large SUV this thing moves! It can go from 0-60 in just 4.4 seconds and has a top speed of 180 mph. A balanced blend of power and torque give you a feeling of endless power at your fingertips. The Bentley Bentayga is one of the best performing SUV's in the market. The engine can seamlessly switch between direct-injection and port-injection to help with gas and provide the most efficient performance possible. 
About NYC Bentley Bentayga rentals
If your looking to rent a Bentley in New York the Bentayga is a spectacular luxury SUV. It has plenty of room for all of your friends and family and also has a good amount of performance. There are many reason why you might choose to rent a Bentley Bentayga in New York such as celebrating a birthday or attending a special event in a fancy car. From weddings to anniversaries the Bentayga will always exceed your expectations. Make a bold statement everywhere you go with an iconic Bentley SUV. Another reason you might want to rent a Bentley is for a Prom. We are not allowed to rent a car to anyone under 21 but were happy to answer any questions so that your parents know the requirements to rent a car for your prom. If you prefer to be chauffeured we also provide luxury chauffeur services in New York. Drive your favorite luxury car rental this weekend in New York.
The cost to rent a Bentley Bentaya in New York can vary between $1,195-$1595 per day offer special rates for long-term rentals. There is also security deposit required on the day of your rental that ranges from $5,000 to $10,000. If you would like the rental car deliverd to your door in New York, New Jersey or anywhere in between there are additional transport and toll fees. If you would like exact pricing on our New York Bentley rentals feel free to give us a call or chat with us and we would be happy to help. Our goal is to always provide you with the best price for the best Bentley rentals in New York.
At the moment we are not providing any hourly rentals except for chauffeured vehicles. We do provide luxury chauffeur services in the Bentley Bentayga with a 4 hour minimum. If you prefer to drive the Bentley Bentayga yourself we have a one day or 24 hour minimum. You will always have the option to return the Bentayga earlier but are still responsible for the full days payment. In order to maintain quality vehicles in good condition we have to clean these cars after every rental which is why hourly rentals are not allowed. With our luxury chauffeur service however you can be driven around New York in style and not have to worry about all of the requirements to drive the car.