Are you ready to experience the latest and greatest American luxury SUV to hit the streets of New York. You can rent a Cadillac Esclade in NY for a day or drive around all weekend in this iconic luxury SUV. The new Escalade ESV takes luxury to a whole new level while still providing all the space and comfort the ESV is known for. The best part about it is that it has enough space for up to 7 people. Celebrities and Athletes always prefer to rent the Cadillac Escalade when there in town due to the large amount of interior room that provide enough room to stretch back and enjoy the ride.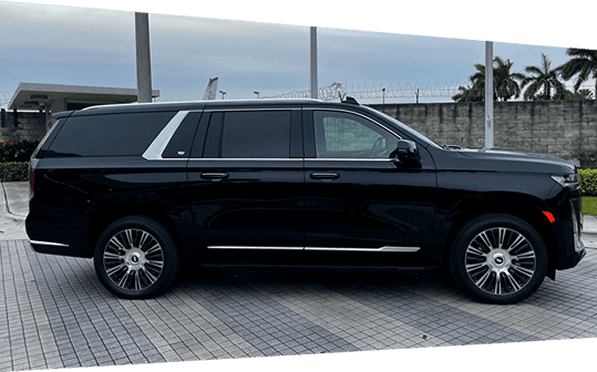 The new Cadillac Escalade ESV is the most stylish and refined American luxury SUV yet. The modern exterior and large body give it a bold and elegant appearance. If you want to rent an SUV in New York that will provide you with the best of the best then the ESV is it. Although you can rent the standard Escalade the ESV with the extra space adds an additional amount of space you can use to take more friends or extra luggage in the rear. The ESV designation translates to Escalade Stretch Vehicle and provides an additional 15.9 inches extra. From the sleek horizontal headlights to the large iconic grill you will surely be impressed when we deliver this elegant SUV to your doorstep. The body isn't the only large thing on this SUV. It also comes with 22 inch alloy wheels give that add to the refined look.
Step inside the Cadillac ESV and you can tell this is not your standard NY SUV rental. The interior is crafted with premium leather and elegant trims . It features a massive 38 inches of OLED pixels when you combine the dual curved displays. The massive digital speedometer can be adjusted however you please and can even display a map with your driving directions right in front of you.  When you rent an Escalade ESV in New York you also get a premier sound system with Apple Car Play and Android Auto so you can listen to your favorite songs and use your best navigation apps. Another premium feature you get to explore when you rent a Cadillac Escalade in NYC is the automatic park assist and a surround view camera system that help make it easier to park this massive SUV. The extended SUV also comes with a massive 142 cubic feet of cargo space for all your belongings.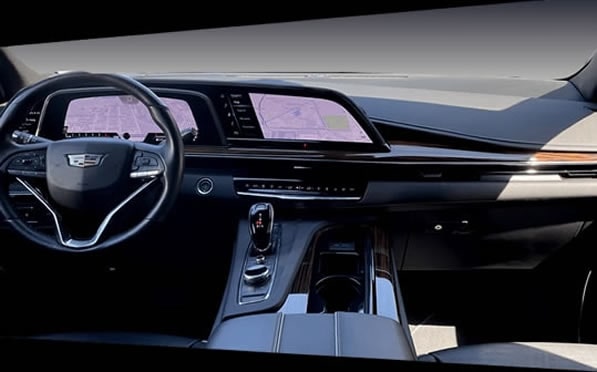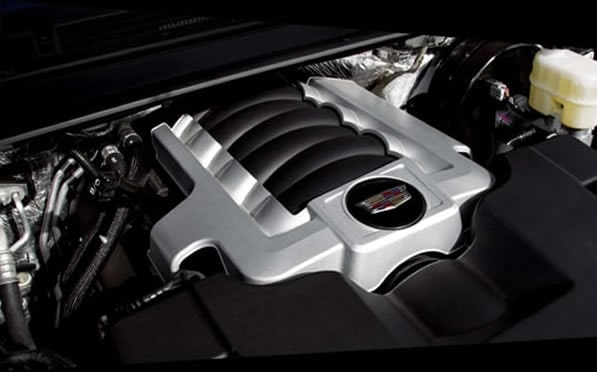 Under the hood of the new Cadillac Escalade ESV is a massive 6.2L V-8 VVT DI V8 engine with a Dynamic Fuel Management system that manages fuel to air ratio to provide you with the best mileage. The large V8 engine  produces a respectable 420 horse power. The suspension uses magnetic ride control to give you a smooth ride over any rough NY street. The engine is paired to a 10-speed automatic transmission to provide smooth shifts at any gear. For such a massive vehicle the Cadillac Escalade feels like it has a good amount of power. It uses intuitive driver-assistance systems to help you avoid any obstacles and navigate around New York with ease. The Escalade is the most powerful and technologically advanced Escalade to date.
About NYC Cadillac Escalade ESV rentals
The Escalade ESV is and always will be an iconic American luxury SUV. Whether your celebrating a wedding, birthday, anniversary, proms or corporate event the Escalade ESV is sure to impress. The ESV also provides more room than the standard model allowing you to bring along more of your friends and family for the ride. Experience luxury like never before when you rent the Cadillac Escalade ESV in Manhattan today. Take a trip down to the hamptons  in this marvelous vehicle. We can even have a Cadillac ESV delivered to your home or hotel anywhere in New York and New Jersey including New York City, New Jersey, Greenwich, New Canaan, Long Island, Rumson, Brooklyn, Manhattan, Montauk, New Jersey and Southampton Beach.
The average cost to rent a Cadillac Escalade ESV in NY is between $595 and $895 per day. There is also a $5,000 security deposit required on the day of your rental. Your full coverage insurance policy should cover the rental car so there is no additional insurance cost. We also charge a delivery fee if you would like us to drop the car off at your door. We provide special discounted pricing for any rentals over 5 days with our long term New York Escalade rental service.
We do provide chauffeur services in the Escalade ESV with a four hour minimum but we do not provide hourly Escalade rentals. Your probably wondering whats the difference. When you hire an Escalade with a driver a professional chauffeur will take you anywhere you would like to go without worrying about driving. With our ESV rental service you will be the one behind the wheel and get a hands on experience. If you only want to rent an Escalade in NY for a couple of hours you can always return the car earlier but will still be charged for the full 24 hour minimum.