Drive the latest Lamborghini Huracan EVO Spyder in New York this weekend. You can rent a Lamborghini Huracan in NY for a day or drive around in a stylish Lamborghini convertible all week. The new Lamborghini Huracan EVO is faster than ever before with a slick refined design. It's the best Lamborghini Huracan that has come out and is also one of the funnest exotic car rentals in NYC. We have partnered with the top exotic car rentals in New York to give you more choices than ever before.
The Huracan EVO Spyder is a sleek sports car with an aggressive design that will turn heads everywhere you go. When you rent a Lamborghini Huracan in New York you will be driving an exotic car like no other. The design is based on carbon atoms hexagonal structure. This convertible Lambo allows you to raise the roof on the cold winter nights while allowing you to remove the roof when the weather gets warmer. The ultra-lightweight soft top opens and closes in just 17 seconds with the push of a button. The Huracan exemplifies Italian engineering and design at it's best.
The Huracan EVO has a tight cockpit with enough room for 2 and limited storage space but is still one of the most popular Lambo rentals in NY. Inside the Huracan you will find the same hexagonal design language seen in the exterior. Every detail is designed around the hexagonal pattern giving it a sleek contemporary feel. With its all new digital center console you have access to all of the cars infotainment system features and climate controls at arms length. The premium sound system and apple car play connectivity allow you to connect your phone and jam our to your favorite songs while cruising in style. The interior is carefully put together using premium leather and specialized metal trim. Of course you have the button inside that allows you to quickly go topless in a matter of seconds. You can even raise and lower the top while the Huracan is in motion as long as your driving under 20 mph. This isn't the most spacious exotic but does provide a race car like experience and packs plenty of horses behind the driver.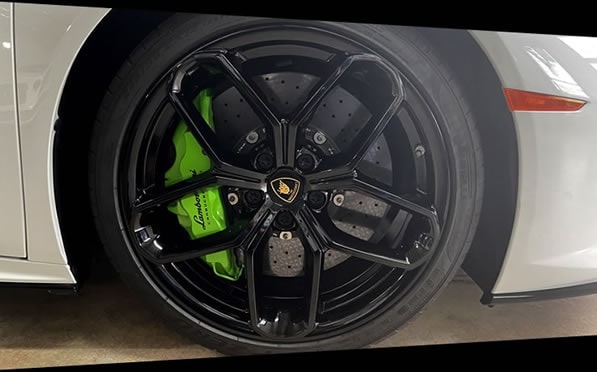 The heart of the Lamborghini Huracan EVO spyder is the V10 engine that is also found in the Huracan performante.  It's a 5.2-liter V10 powerhouse that pushes out an impressive 640 horsepower. The engine is paired with a lighting fast dual clutch automatic transmission that takes the EVO Spyder from 0-60 in roughly 2.5 seconds. It's almost as fast as Lamborghini's flagship model the Aventador S. It also has four wheel drive suspension giving you incredible grip on any street. One of the best things about this super car is the the sound of the exhaust when you step on the gas. If you want to drive a Lamborghini that is fast and makes a symphony of sounds when you step on the gas then this is it.
About NYC Lamborghini Huracan EVO Spyder rentals
Pull up to your favorite Venue in New York in a stylish new Lamborghini. The Huracan is the perfect exotic car rental in New York if it's your first time driving a Lamborghini. It's easy to drive and has plenty of performance and style. There's nothing basic about this entry level Lamborghini. It's a great exotic rental for weddings, anniversaries, business events or any special occasion you want to make extra special. We work with the top Lamborghini rental services in New York to provide you with an incredible selection of sports cars. Call us today and see for yourself why the Huracan EVO Spyder is one of the most popular exotic car rentals in the big apple. We are happy to accommodate your Lamborghini rental in New York and always want to make sure you have a fun and effortless car rental experience. Imagine getting behind the wheel of your favorite Lamborghini while driving around your favorite city. We can deliver any Lamborghini rental in New York to your door step. We can have your favorite Lamborghini Huracan waiting for you in New York City, Greenwich, New Canaan, Long Island, Rumson, Brooklyn, Manhattan, Montauk, Southampton Beach, and New Jersey. We can also deliver to private airports and major airports such as  at John F. Kennedy International Airport and LaGuardia Airport.
So your ready to rent a Lamborghini Huracan in New York but your probally wondering how much does it cost. You can rent the Lamborghini Huracan in New York between $1295 and $2100 a day. There refunable security deposit is also required on the day of your rental and ranges between $5,000-$10,000. The Huracan is the cheapest Lambo rental in NY. During peak season when these cars have a higher demand prices can be slightly higher.  If you would like to get exact pricing details for your desired rental dates give us a call. We can answer any questions regarding Lamborghini rental pricing and help you get behind the wheel of your dream car.
The least amount of time you can rent a Lamborghini in New York is 24 hours or a full day. We do not provide any Lambo rental in NY for less than a day. None of our Lambo rentals availble in New York are available for hourly rentals. You can always bring the Huracan EVO back earlier but will still be charged the full 24 hours. We are always getting request for one or two hours but are not able to accomidate these reservations. If have a creative project you are working on in New York like a music video, movie production, or TV commercial we still require a minimum of 24 hours.