The Mercedes-Benz AMG G-class is possibly one of the most popular luxury car rentals in New York. It's iconic design and large luxurious interior cabin make it great for traveling around the Big Apple with friends and family. Explore NYC in a stylish Mercedes luxury SUV and you will never want to rent a regular luxury car again. The G63 takes the already popular G Wagon to the next level with an upgraded interior and also has better performance. Explore the all new AMG G Wagon the next time your in town.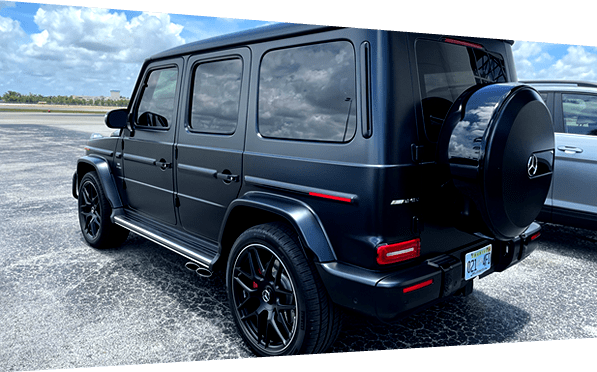 The new G63 sports a timeless design that hasn't changed much since it was first released in 2002. The simple design is atributed to being born from a military background. It's rugged design has made it one of the most popular luxury SUV rentals in New York. The AMG variant of the G Wagon comes with a more powerful engine and sports the iconic AMG badge on the front and rear of the vehicle.  It has also been one of the most popular SUV for celebrities and athletes to rent. The AMG G63 also has upgraded wheels that give it an extra touch of class. Most people wont notice the difference between this and the G550 from the exterior but you know your riding in the best of the best.
The Mercedes G63 interior is where it really shines. Like the G550 the G63 has room for up to 5 passengers and sports the massive dual led screens that provide all the information you need in direct view. This is where the similarities end. The AMG G63 has a bespoke luxurious interior that takes luxury to a whole new level. It's an incredibly comfortable car with more head and leg room then most luxury SUV's. It also has an upgraded suspension giving you extreme comfort while traveling over any road. The combination of the suspension and Nappa leather make you feel like your traveling in a high end luxury SUV. Of course you also have carplay and android auto included so you'll be able to connect your phone and use your favorite navigation apps to navigate the streets of Manhattan in style.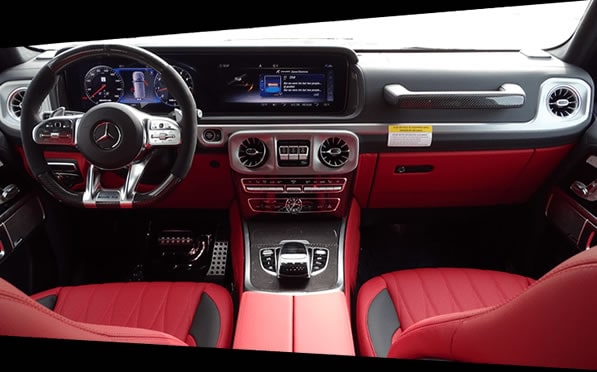 Under the belly of this beast is a massive AMG 4.0L V8 bi-turbo engine. paired with an AMG speed shift TCT 9G-Tronic transmission. The engine puts out a breathtaking 577 horsepower and reach 60mph in just 4.5 seconds. This is the ulitmate ulterrain vehicle and can overcome any street you might have to go over. Overall The Mercedes-Benz AMG G63 is powerful and provides a unique combination of luxury and performance in one package. The powerful performance from the hand built V8 engine is sure to impress you and your passengers. Drive one of the most popular luxury SUV rentals in New York the next time your in town.
About NYC Mercedes G63 rentals
New York is one of the most visited international cities in the world. Manhatten, Brooklyn, and the Hamptons are among the most popular places to rent an AMG G wagon. The G63 has plenty of room to fit you and all your friends while still providing ample room for all your luggage. We can have a g63 or any Mercedes rental you prefer delivered to your door in the Big Apple. Our goal is to provide you with the best car rental experience possible without having to wait in lines are call several car rental services for pricing and availability. Rent a Mercedes G63 in New York and see for yourself why it's one of the most popular cars to rent in New York. We also provide long term G63 rentals if your going to be in town for a longer period. We can have your favorite G Wagon delivered anywhere in New York City, New Jersey, Greenwich, New Canaan, Long Island, Rumson, Brooklyn, Manhattan, Montauk, Southampton Beach and even New Jersey.
The cost to rent a Mercedes G Wagon in New York varies anywhere between $1,190-$1,995 per day. We can provide you with several models that range from brand new to slightly older models at a cheaper price. Pricing can also fluctuate during holidays and prom season when the demand is higher. If you would like the car delivered we can have your favorite G63 delivered to your home or hotel for an extra fee. There is also a security deposit required from $5,000-$10,000. If you more questions or concerns regarding cost or pricing feel free to give us a call. We are always happy to answer any questions you might have and we aim to always provide you with the best prices for the best quality car rentals in New York.
We do not offer hourly rentals for the G63 in New York however we do provide chauffeur services where you can hire a Mercedes G63 with a driver for a 4 hour minimum. If you would like to drive the G63 yourself the minimum amount of time you can rent a Mercedes G63 is 24 hours or one day. You can always return the G63 earlier than your required return time but will still be charged for the full 24 hours. These cars are in such high demand that they are not available for hourly rentals.