Have you ever pictured yourself arriving at a special event in a Rolls Royce? We are the leading provider of chauffeur services in New York. Hire a Rolls Royce Ghost Series with a driver and experience the most prestigious chauffeur service in the Big Apple. We can provide a professional driver with years of experience that will take you wherever you would like to go in the comfort of an ultra luxurious Rolls Royce. The Ghost is one of the most luxurious cars in the world for those who will settle for nothing but the best.
The first thing you'll notice when your Rolls Royce chauffeur arrives is the iconic pantheon grill and spirit of ecstasy which is part of a heritage that dates back all the way to 1904. With the spirit of ecstasy riding up front, you can be sure that wherever you go it's going to end up being an epic journey.  Another feature that you will surely be impressed by when you hire a Rolls Royce is the signature rear-hinged coach doors. The rear doors open the opposite way of traditional luxury sedans. When the driver opens the door for you it provides a large amount of room for you to enter the Rolls Royce Ghost. Overall the design remains true to the Rolls Royce iconic silhouette while adding some modern touches to refresh the style.
Once you step inside the meticulously handcrafted leather interior and the high-end sound system will take your breath away. The Ghost has an incredible amount of room inside and makes any ride around New York a memorable one. The driver will open the door for you and you will enter a world of luxury. The Ghost isn't the most luxurious car in the world for no reason. The attention to detail in the build quality and materials used is second to none. The star lit roof is another awesome feature that makes the experience of riding in a Rolls Royce even more pleasurable.  Whether your taking some work calls or just enjoying a night out with that special someone the back seat of the Ghost is where you want to be. The Ghost can seat 3 or 4 passengers depending on the configuration of the rear seats. When you hire a Rolls Royce Ghost in New York with a driver you are being chauffeured in the finest motor car  money can buy.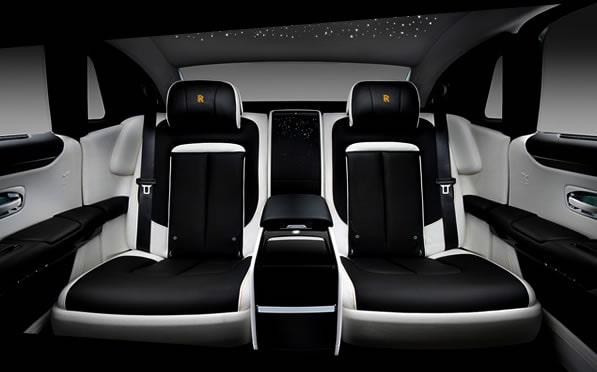 The Ghost like every other Rolls Royce you can hire with a driver in New York has incredible ride performance. If you want a smooth quiet ride there is no other car manufacture that comes close to Rolls Royce. The magic carpet ride which is Rolls Royce's advanced air suspension so smooth you might think you were floating around New York instead of driving. The suspension system works with several cameras on the exterior that monitor the road and adjust to give you the smoothest ride possible. It is also paired to the GPS so that it can anticipate turns and minimize body roll. The Ghost also has a planer suspension system that features air-dampers and multi-link suspension, to keep the Ghost always level and rolling smooth. Experience the magical ride for yourself in the back seat of a Rolls Royce Ghost.
MORE LUXURY CHAUFFEUR OPTIONS
About NYC Rolls Royce Ghost rentals
There are plenty of reasons why you would use our Rolls Royce Ghost Chauffeur services in NYC, such as weddings, proms, corporate events, birthdays, and anniversaries to name a few. Create happy memories that will last a lifetime when you hire the most luxurious sedan with a driver. Our professional chauffeur service in New York is available 7 days a week. We would be honored to be part of your next special event. Give us a call today and we can answer any questions regarding NYC chauffeur services. Using our Rolls Royce ghost chauffeur service is one of the most luxurious ways to travel in New York City, Greenwich, New Canaan, Long Island, Rumson, Brooklyn, Manhattan, Montauk, Southampton Beach, and New Jersey. The Rolls Royce chauffeur is the perfect gift to give to your loved one on that special day. We want to make sure your Rolls Royce rental experience is a moment that you will cherish forever.
The hourly cost to hire a Rolls Royce Ghost with a driver in new York starts from $450. This is not including any gratuity, service fees, taxes, or tolls. If you would like an exact quote for the day you would like to be chauffeured in a Rolls Royce give us a call. We can provide you with answers you might have regarding luxury chauffeur services in New York. We strive to put you in the best Rolls Royce chauffeurs in New York at the best price possible.
We require a minimum of 4 hours with all of our Rolls Royce chauffeur packages in New York. During some holidays and on some weekends we can require a 5-8 hour minimum. The car must be used consecutively for the amount of hours you need the car and cannot be split up into segments.