If your ready to get behind the wheel of the newest NYC Ferrari rentals give us call. Experience an Italian sports car like no other when you rent a Ferrari 488 Spider in NYC this weekend. An incredible machine to drive, the 488 Spyder is one of the most requested exotic car rentals in New York. The stylish exterior has been updated from the 458 Italia with F1-Inspired double spoiler and aero pillar to distribute airflow and increase downforce. Another cool feature is the massive large rear diffuser that is controlled by a computer that adjusts aerodynamics on the fly.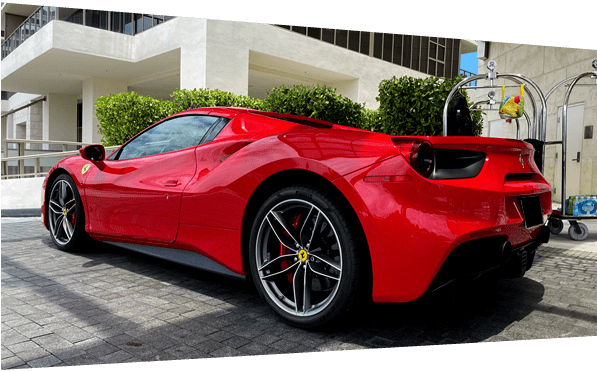 The 488 Spider exterior is even better than the 488 GTB because it offers nearly identical styling when the roof is up while providing you with the option to go topless in New York.  This convertible Ferrari allows you to remove the top with the push of a button in just 14 seconds. You can even raise or lower the roof while driving as long as you stay below 20mph. This Ferrari 488 Spyder also offers several convenience features like key less entry. When compared to the older model the 458 Spider the 488 has a more aggressive look with it's bulging side vents.The hood is also redesigned with two large vents to provide a more contemporary feel and is also functional. Rent a Ferrari 488 Spider in New York the next time you visit the Big Apple.
The 488 Spider comes with two seats like most super cars so you'll have to pick your favorite companion to go along for the ride. With it's key less entry system all you need to do is approach the vehicle and it will magically unlock the doors. Once you step inside you'll find everything you would expect in a automobile that sports the prancing horse. The hand stitched fine leather is meticulously crafted to perfection with the finest leathers. While the roof is up the car is exceptionally quite for a high performance sports car.The steering wheel has a race car like feel with all the most important buttons quickly accessable. You have the start button, horn, turning signals and suspension tuning at arms reach.Although the 488 spider was replaced by the F8 it contrinues to be one of the most popular Ferrari rentals in New York.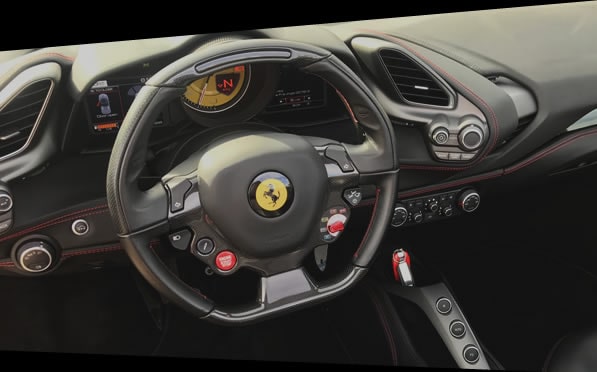 he 488 Spider comes equipped with the same 661 horsepower V8 turbocharged engine inside the 488 GTB. Paired with a 7-speed dual clutch transmission shifting feels instantaneous. The 3.9L twin turbo V8 launches the 488 Spyder from 0-60 in less than 3 seconds and has a top speed of 205 mph. If you really want to hear the car come to life drop the top and step on the gas and you'll hear a symphony of sounds coming from the super car. Like with most Ferrari rentals in Miami this beast allows you to fine tune your driving experience with the manettino switch. Choose from a variety of modes including Sport, Wet, and Race. We highly recommend leaving the car in either sport or Race as it offers the perfect combination of performance and stability to keep the car on the asphalt. Rent a Ferrari 488 Spider in NY today and feel the horse power of this prancing horse.
About NYC Ferrari 488 Spider rentals
Take a spin around the city that never sleeps in a shiny new red Ferrari 488 Spider rental. After you rent a Ferrari 488 Spider in New York no
other exotic car rental will suffice.  Due to the fact that this is one of our most requested New York Ferrari rentals we advise you to call at least two weeks in advance to to make sure that it is available for the weekend you would like to rent. If your going to rent a Ferrari then the 488 Spider is the way to go. A new convertible mid-rear engine sports car with a retractable hardtop which can be folded down in a matter of seconds transforming this stallion into a convertible. If you are a car enthusiast, we couldn't think of a better way to spend your weekend. This beautiful Ferrari can be delivered to your doorstep in New York City, Long Island, Brooklyn, Manhattan, Rumson, Greenwich, New Canaan, Montauk, Southampton Beach, and any part of New Jersey. Take your vacation or business trip to the next level with a Ferrari rental at Car Exotic Rental.
Our Ferrari rental service is a great way to experience New York.The 488 Spider cost $2795 to rent per day and requires a security deposit of $10,000. A small price to pay to drive a flagship Ferrari on the iconic streets of NYC. Our mission is to always provide our customer with the best Ferrari rentals in New York at the best price. Delivery cost around $2 per mile plus any tolls to get the car to you.
In order to rent a Ferrari, you must be over 21 with a valid drivers license and provide full coverage insurance. We need to see a deceleration page containing your coverage limits in order to make sure your covered if the car is damaged.