The G550 is one of the most popular luxury car rentals in New York. If your looking to rent a Mercedes G Wagon in NY we have you covered. The iconic design and incredibly spacious interior make it a highly request luxury SUV in the Big Apple. The G550 G wagon has plenty of space for all your friends and family to ride in style.  Rent a Mercedes SUV in NY  this weekend and we can have it delivered right to your door. We also offer G550 Chauffeur services if you prefer to be driven around town. We offer daily, weekend and weekly rentals for your convenience.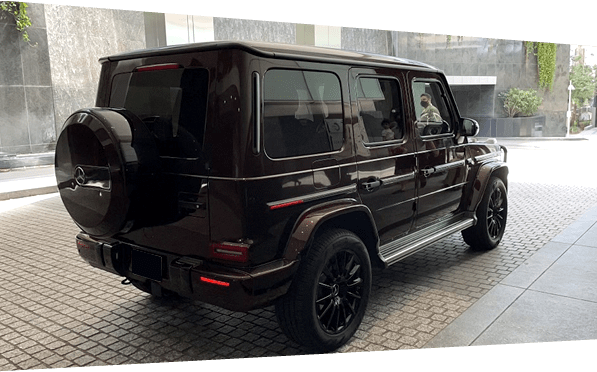 The iconic styling of the G Wagon has not changed much over the past 40 years. It was developed as a military vehicle and still retains which gives it the rugged look people love. The timeless design has become one of the most requested luxury car rentals in New York. The new 2022 G wagon has an updated look and more refined style while still paying homage to the original design. This new model is the most beautiful edition yet and has an unmistakable look that no other luxury SUV compares to. Overall the G550 is an incredible car to rent in New York and will make your experience unforgettable. Your going to love the way you look when you riding in the legendary G Wagon.
Step inside the G Wagon and you'll immediately feel like your in the lap of luxury. The interior is covered in high-quality hand-stitched Nappa leather and has all the tech you would expect from a Mercedes-Benz luxury SUV rental in New York. The new G-class comes with dual LCD monitors that give you a clear picture into all of the cars features. The front seats have a 10-way power seat adjustment to fine tune your seating position. The G550 also comes with a premium sound system from Harman Kardon with 12 speakers that will make your favorite songs come to life. Overall the cabin has an uncompromising level of luxury and comfort which is probably why it's one of the most requested luxury SUV rentals in New York.
The G550 packs plenty of performance under the hood thanks to the 4.0L Bi-turbo engine that produces a respectable 416 horsepower. The G class Mercedes can go from 0-60 in 5.6 seconds which is slightly faster than the previous G550. The G wagon is capable both on and off the road with a permanent four-wheel drive system that can overcome any obstacle you might encounter on the streets of NY. The new V8 engine combines a host of tech inspired by Mercedes's racing heritage with a "Hot inside V" turbocharger configuration and low-friction cylinder walls for optimum performance. The new updated twin turbos are installed inside the "V" of the engine to provide more performance in a smaller package.
About NYC Mercedes G550 rentals
The G550 is one of the most requested luxury car rentals in New York period. It has a unique combination of rugged exterior with a luxurious cabin not found in any other luxury SUV. If your looking to rent a nice set of wheels for your next event the G Wagon will not disappoint. It's a great car to rent for weddings, birthdays, proms or any other event you might have planned. It is definitely one of the most spacious Mercedes rentals with lots of head and leg room for you and your passengers. It also gives you plenty of room for all of your luggage. These cars are in such high demand that you can't even buy one due to the high demand and low inventory at the dealerships. If your planning on purchasing one in the future a rental could be a great way for you to test drive the car for a couple of days and see if it's really what you want. These are the most popular Mercedes SUV's to rent in New York and will make your time in New York that much more fun. We can have a G Wagon delivered to your home or hotel in New York City, Long Island, Rumson, Brooklyn, Manhattan, New Jersey, Greenwich, New Canaan, Montauk, New Jersey and Southampton Beach.
The price to rent a G wagon in New York starts from $795 per day and can be as high as $1995. There is also a require security deposit that can range from $2,500-$5,000 and is due on the day of the rental. We do provide special rates for long-term Mercedes Benz rentals so  give us a call and we can go over the details. We always strive to find you the best prices for the best luxury car rentals in New York. If you would like exact pricing and availability for your selected dates feel free to give us a call. We are always happy to answer any questions or concerns you might have.
We do not provide hourly rentals in New York, however you can hire a G550 with a chauffeur using our luxury chauffeur services. If you would like to hire a Mercedes G-Class with a driver the minimum amount of time is 4 hours. If you would like to drive the car yourself the least amount of time you can rent a Mercedes G550 in NY is one day or 24 hours. You always return the G-Class earlier than your required return time but will still be charged the minimum 24 hour fee. Because these luxury SUV's are in such high demand and we have  limited models available there are no exceptions.