If your looking for a luxury sprinter rental with a driver in nyc then you found the right place. We can provide you with several different sprinter van rentals including a 15 passenger a 12 passenger a 9 passenger and a 4 passenger luxury sprinter. There are several different configurations to choose from including a limo style sprinter and executive style sprinters with large captain chairs. A sprinter limo rental in New York is a great option for weddings, proms, birthdays and corporate events. Travel in the most luxurious Mercedes sprinter vans the next time your in the Big Apple. All of the Mercedes sprinters we provide come duly appointed with leather seating and high end sound systems.
Don't just travel in a standard Limo, travel in a stylish sprinter rental in NYC today. The Mercedes Sprinter is a large SUV with a stylish exterior. It's not the spirit of ecstasy but it is one of the best looking luxury buses you will find. The exterior is usually black for a more elegant appearance. At other times we may have other color sprinters available like grey or white. We can provide you with the coolest most beautiful Sprinters so that you and all your friends can ride together. The large Mercedes logo up front is just a reminder that your traveling in a luxury bus like no other. Hire a Sprinter in New York with a driver this weekend. For big groups it's the best option around.
The  Mercedes Sprinter is a great luxury SUV to rent with a driver in New York. We have multiple versions that we can provide you with from 4 seater with captain chairs to limo style sprinters. The Limousine option is a long row that wraps around similar to the design of what you might see in a traditional limo. The next option available is traditional leather seating in rows. Similar to what would be found in an executive style bus. The final options would be with 4 luxury seats that recline. The limo and bus style seating can accommodate the most people. If there are any other beverages that would like us to include for your ride please let us know in advance. Every option will provide you with a great deal of comforts and luxury amenities. Please let us know in advance how many passengers you will be traveling with so we can recommend the proper size sprinter for your needs.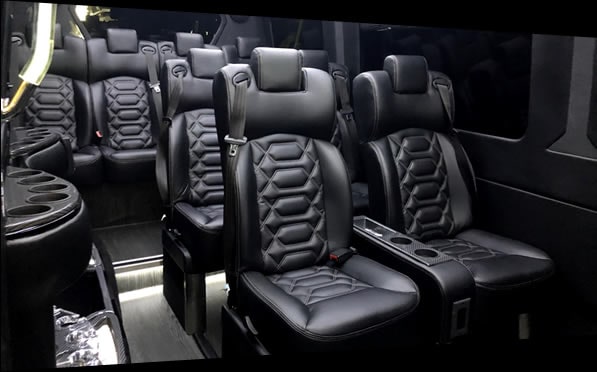 When considering it's a large bus after all the Sprinter has an incredibly smooth ride. Each one will provide you a different luxury experience. The air suspension smooths out the ride so you can just enjoy yourself while we take you around New York. The Sprinter is fun SUV to rent for long rides. It's incredibly smooth and comforting and will provide you with a great experience. The combination of it's spacious interior and premium build quality the Sprinter is a great choice. It allows you to bring all your friends and family along. Create a lasting memory you will cherish forever. You can hire a Mercedes sprinter van for as long as you need it. Rent a sprinter with a driver and experience a great ride to your next destination. 
MORE LUXURY CHAUFFEUR OPTIONS
About NYC Mercedes Sprinter chauffeur service
When you hire a Mercedes sprinter with a driver we provide a professional chauffeur who has years of driving experience . If you have any special requirements we will try to accommodate all your request to the best of our abilities. Instead of having to hire multiple limo cars you can fit your whole production team, family or friends in one luxury sprinter van.  We are the top provider of luxury transportation services in New York City. Our customers deserve the best which is why we only work with the best chauffeurs to provide you with an unforgettable trip. Our concierge specialist are standing by to help you plan your next event. We strive to provide highest level of customer service in the industry. Some of the sprinter models also come with flat-screen TVs so you can play corporate videos or watch a movie on the way to your destination.
The hourly rate for a sprinter van ranges from $150-$450 an hour. The rate does not include taxes, gratuity or any fuel surcharges. Bringing multiple people along can also help you offset some of the cost of the rental. Give us a call and we will provide you with the best Mercedes Sprinter chauffeurs in New York and the best price possible.
The minimum time you car rent a Sprinter with a driver in New York is 5 hours. There may be a higher minimum of 5-8 hours during holidays or special events.