If your wondering what the best exotic car rental in New York is then you are in the right place. The Bugatti Veyron is one of the most exclusive and fastest supercars you can rent in the Big Apple. With its hand crafted 16-cylinder engine and four-wheel drive the Veyron may well be the most sophisticated production vehicle of all times. Drive the most exotic car in New York and rent a Bugatti Veyron in New York today. We can even have the car delivered right to the door of your home, hotel, or venue.
The Bugatti Veyron has a sleek design that takes a different approach from other exotic rentals in New York. The Veyron has a rounded design that helps with aerodynamics keeping the car on the pavement while traveling at high speeds. It surly is different from other exotics and has an unmistakable Bugatti feel to it. With the push of a button the rear spoiler can be lowered or raised quickly. The wide body design provides for a perfectly balanced chassis. When you rent a Bugatti in NY your driving one of the coolest cars in the world. It gets looks everywhere it goes. A Bugatti is not only performance oriented but also has a stylish design that is not found in any other super car. Drive around the Big Apple in this incredible marvel of engineering this weekend.
As soon as you step inside of a Bugatti Veyron the first thing you'll notice is the elegant steering wheel. It's covered in leather and proudly showcases the EB logo that stands for the inventor Ettore Bugatti's name. Once you step inside the solid aluminum center console stands out with it's joystick like shift knob. Every part of the interior is covered in  premium Napa leather or made from high quality metal that is polished to perfection. It's also pollutant free inside due to the cars air quality control system that filters out all the pollution outside. This exotic rental doesn't have a premium sound system because it keeps the focus on the sounds of the engine. After all, who want's to listen to music when you can hear all of the amazing sounds coming out of that V16 engine in all it's glory.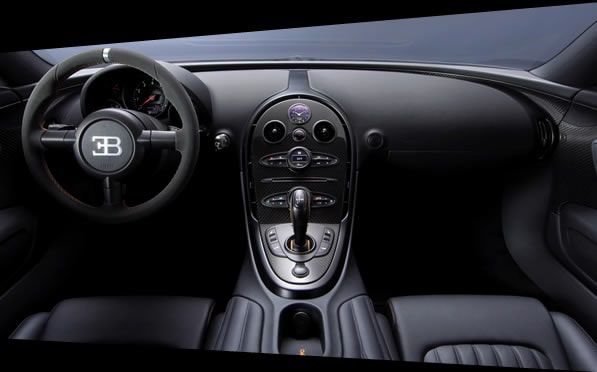 The Bugatti Veyron is beautiful outside but where it really shines is in it's performance. The heart of the Bugatti Veyron is a 16-cylinder engine that produces a heart racing 1,001 horsepower. The custom built engine is truly a masterpiece of engineering, Bugatti has always been known for producing some of the best performance cars in the world and the Veyron is just that. It can reach speeds of over 230 mph and goes from 0-60 in just 2.5 seconds. In order to tame this beast the Veyron is equipped with an Electronic Stability control system that keeps it on the  pavement on sharp turns at any speed. The Veyron also comes with an impressive brake system using massive ceramic disc brakes that can quickly bring it to a stop. If your ready to drive the fastest car in the world give us a call and we will make it happen.
About NY Bugatti Veyron rentals
If your celebrating a big event, or want to showcase your brand next to the best exotic car in the world then there's no other car better to do it then the Bugatti Veyron. Driving a Veyron around town is on every car enthusiast bucket list. It's one of the rarest and most expensive cars money can buy. If you can afford it there's no better car in the world to experience. It's also the ultimate car to create videos with or photograph. If you have the budget and really want to make your products stand out then Bugatti is the only way to go. Driving a Bugatti in New York is a once in a lifetime experience and were here to make it happen. We can have a Bugatti Veyron delivered right to your home, hotel or venue in New York City, Long Island, Rumson, Brooklyn, Manhattan, Greenwich, New Canaan, Montauk, New Jersey and Southampton Beach.
Since it is one of the most expensive cars in the world it commends a hefty rental price as well. The cost to rent a Bugatti in New York is between $15,000 to $25,000 per day. Yes that's right just one day in the Veyron will cost as much as buying a ford mustang. This seems outrageous until you figure in that this car cost more than 3 million dollars. It's like renting a mansion on wheels. There is also a 150,000 deposit required on the day of your rental and we require an extensive background check prior to renting. If you would like an exact price for your desired rental dates feel free to give us a call. We aim to always provide our customers with the best Bugatti rentals in New York at the best price.
The lowest amount of time you can rent a Bugatti Veyron in NY is one day. If you just want to rent it for a couple hours we can make it happen but you will still be required to pay the cost for the full day. Because this car is so rare there are no exceptions and we cannot rent the car for an hour or two unless the day is paid in full.