Experience the all new Ferrari Tributo in New York today. You can rent a F8 Tributo in NYC for the day or for the entire weekend. The F8is the latest prancing horse to adorn the streets of Manhattan. This beautifully styled exotic car rental provides superb performance and stunning looks. Let us deliver your favorite Ferrari to your hotel or home in the Big Apple. If your interested in renting a Ferrari in New York and won't settle for anything but the best than this is it.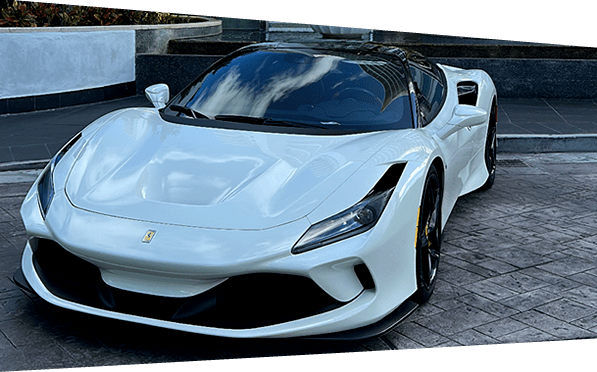 The new Ferrari F8 Tributo has the most aggressive and refined styling of any of the Ferrari rentals we have ever offered in New York. The newly designed body boast superior aerodynamics that provide an increase in airflow from it's predecessor by six percent . It has a massive hood scoop that not only looks good but is fully functional. It pushes air through the center of the hood to cool the engine and provide superior handling. The biggest changes in the new flagship model are the new front hood scope, new head lights, the addition of 2 more rear tail lights as well as the grilled vents under the lights. Although this Ferrari remains fairly similar to the flagship model it replaced it is still much nicer and brings it to all new levels. Rent a Ferrari F8 in New York today and expeirnece it for yourself.
The Ferrari F8 Tributo has a very similar style to the 488 GTB. Like it's predecessor it seats 2 people comfortably with a good amount of leg room for a super car. There aren't many changes so you still get the hand stitched premium leather and high quality finishes throughout the car. Some of the new changes are the climate control panel and the air vents were changed to a rounded shape. The steering wheel is still where all the magic happens. The Manettino dial allows you to fine tune your driving experience across different comfort and performance settings. It also comes with a premium sound system that has compatabililty with Carplay so you can jam out to your favorite songs while riding in style. Overall the Ferrari F8 is a beautiful exotic car rental for New York. If your ready to get behind the wheel of this stunning Ferrari rental in NY give us a call or send us a message.
Under the hood of the F8 is a twin turbo 3.9 liter V8 that is also found in the 488 Pista. It can go from 0-60 in just 2.9 seconds. The Ferrari F8 has 50 more horsepower than the 488 GTB bringing the total horsepower up to 710. One of our favorite things about this and most Ferrari rentals in New York is the he Manettino dial that allows you to switch driving modes like wet, sport, race, CT off, and ESC off. Each mode allows you to drive the car the way you want. The sport mode is probably the easiest and makes the F8 Tributo fun to drive. There is also a button on the steering wheel that allows you to adjust the firmness of the suspension so you can switch from a harder ride for high speed to a softer setting for everyday driving.
About New York Ferrari F8 Tributo rentals
The Ferrari F8 is an evolution of the 488 GTB and does it with finesse. It has more power and a more refined design making it a popular exotic car rental for New York. We can have this Ferrari rental delivered to your home or hotel anywhere in New York including New York City, Greenwich, New Canaan, Long Island, Rumson, Brooklyn, Manhattan, Montauk, New Jersey and Southampton Beach. Experience the all new Ferrari F8 Tributo this weekend in New York. One thing to note is that this car is in extremely high demand so you should call in advance to make sure it's available and book as soon as you can.
The cost to rent a Ferrari F8 in New York can vary between $1995-$2895 per day. There is also a security deposit required on the day of your rental that ranges from $10,000-$15,000. If you have any other questions that were not answered above regarding our exotic rentals in New York or would like exact pricing for your rental dates feel free to give us a call. We strive to always provide our customers with the best Ferrari rentals in NY at the lowest price.
The Ferrari F8 rental in New York requires a 24 hour minimum. Some days there can even be a 48 hour minimum. Due to the high demand these Ferrari rentals have there are no exceptions. If you would like to rent an F8 for a photo shoot and just need it for a couple hours we can accommodate your rental but you will still need to pay for the full day.