Experience the pinnacle of luxury SUV's and rent a Rolls Royce Cullinan in Orlando this weekend. The Cullinan is a massive SUV with an elegant demeanor and opulent luxurious interior. From the iconic Rolls Royce grill to the rear hinged coach doors the Rolls Royce SUV brings you a one of a kind luxury experience. Explore Orlando with your friends and family in the most luxurious SUV in the world. When it comes to luxury car rentals in Orlando the Cullinan is one of the best options. It combines the elegance of a Rolls Royce in a fully capable SUV. Give us a call today and we can have a brand new Rolls Royce Cullinan delivered right to your driveway in Orlando.
The Exterior of the Cullinan is simple and elegant. The Cullinan features full led headlights and tail lights. The smooth body lines and iconic Rolls Royce grill set it apart from your average luxury SUV. Share an unforgettable experience with your friends and family in the elegant and majestic Rolls Royce SUV. One of the features that sets apart the exterior from any other luxury SUV rental in Orlando is the rear hinged coach doors. The doors open the opposite way of traditional doors and provide a striking appearance when opened. Imagine driving to all of the amusement parks and going to dinner a an opulent Rolls Royce Cullinan. Give us a call today and we can provide you access to the new Rolls Royce rentals.
Step inside of the Cullinan and immerse yourself in the ultimate luxury SUV. The Cullinan has enough seating for 5 people to ride comfortably around Orlando.The Cullinan features Rolls Royce's signature star light headliner. When riding around at night in the Cullinan the stars twinkle slowly and once in a while you will see a shooting star. It also comes with a premium audio system and wireless carplay connectivity so you can connect your phone to the Rolls Royce SUV and listen to all of your favorite hits in incredible quality. As with all Orlando Rolls Royce rentals it comes with a hand stitched leather seats that are very comfortable and feel ultra luxurious. The cabin in the Rolls Royce Cullinan is spacious and will surly make your journey around Orlando an unforgettable one.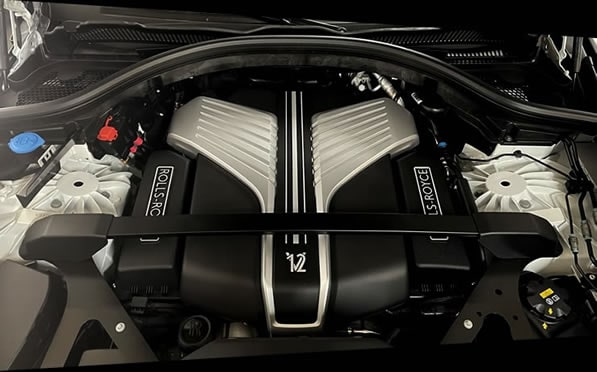 The Rolls Royce SUV like all of the other models in the lineup is not meant to be a high performance vehicle. It is meant to drive you around in luxury with nothing to be desired. Regardless of it's luxury appeal it does come with a twin-turbo 6.7-liter V-12 engine under the hood. The motor provides 563 horsepower on demand and it can go from 0-to-60 in 4.8 seconds. Equipped with an advanced air suspension system the Cullinan features self-leveling technology and can be lowered or raised with a button on the center console. The suspension also comes with a  double-wishbone front axle and five-link rear axle for incredible stability around turns.
About Orlando Rolls Royce Cullinan rentals
The Cullinan is one of the most elegant luxury SUV rentals in Orlando. It comes with unique features that are not found in any other luxury SUV. Some of the features include a starlight headliner, rear hinged coach doors, an unparalleled suspension system and the iconic Rolls Royce grill. Drive around Orlando in this opulent luxury SUV  with your friends and family. It is the perfect luxury vehicle to rent for your birthday, wedding, prom, product promotion, or corporate event. We can have a shiny new Rolls Royce Cullinan delivered right to your driveway in Orlando with minimal effort. Call us today and let us help you experience a one of a kind SUV that will surly impress.
The price per day to rent a Rolls Royce Cullinan in Orlando starts from $1895 per day depending on the year of the vehicle. The newer models are usually more expensive but also give you the latest features Rolls Royce offers like self closing doors and massaged seats. There is also a  security deposit required that ranges from $5,000-$10,000 depending on what insurance you provide. For long term Rolls Royce rentals we have weekly rates that can save you up to 20% off your rental. We strive to put you in the drivers seat of the best Rolls Royce rentals in Orlando at an affordable price. Call us today and we can give you an exact quote for the amount of days you need the car for.
The lowest amount of time you can rent a Cullinan in Orlando is 24 hours. We do not provide Rolls Royce rentals on an hourly basis. If you choose to hire a Rolls Royce Cullinan chauffeur then the minimum amount of time would be 5 hours. If you prefer to drive the car yourself then you will be required to take the car for the full day. If you only need to rent a Rolls Royce for a couple of hours then you can always schedule an early pickup but will still be charged the entire day.