The Bentley SUV is one of the latest luxury SUV rental options in Orlando. It is a spacious and luxurious Bentley rental that is perfect for family trips around Orlando. The Bentayga is also one of the fastest luxury SUV's on the market. Bentley is known for creating a blend of luxury and performance that stands in a class of it's own. It features the iconic quad headlights that Bentley is known for as well as an eye-catching grill. Drive around Orlando in a Bentley Bentayga rental this weekend and you are sure to have a great time.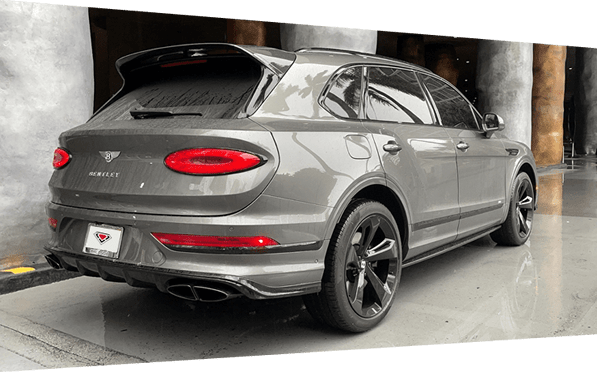 The new Bentayga has been updated with a more modern design and all new headlights and rear tail lights. The new headlights are powered by 48 led's in each one and have a crystal like design similar to what you might find in a fine crystal glass. It still has the four rounded headlights Bentley's are known for but they are more refined and elegant. The new Bentayga also has a redesigned front end with a wider Bentley grill to give the luxury SUV even more character and give it a wider more aggressive look. Overall the new look is more contemporary and makes a great luxury SUV to rent in Orlando.
The new Bentayga has not only been revised in the exterior but the interior has also received a nice upgrade. The Bentayga now has a full digital dashboard to display the cars speed and any other important info you might need. It now has an 11 inch touch screen display in the center that is easy to navigate and provides you with the controls to play your media and also showcases the maps when the navigation is on. The start button is located in the center console and is also the dial used to switch between different driving modes. The Bentayga also features a premium audio system and car play integration so you can blast your favorite songs through the high end speakers. It can seat up to 5 passengers and makes a great luxury SUV rental option to explore Orlando with friends and family.
The Bentayga is not only luxurious but also has a good amount of performance. It features a new twin turbo V8 motor with 542 horsepower. The instant acceleration makes it a fun car to drive and will provide you with a thrilling experience. It is one of the fastest luxury SUV's for its size with a 0-60 time of just 4.4 seconds and has a maximum speed of 180 mph. The Bentley Bentayga also has an incredibly smooth ride and is a luxurious performance car rental option for Orlando.
About Orlando Bentley Bentayga rentals
Bentley is a highly sought after luxury brand and the Bentayga wears the B proudly. The Bentley Bentayga is a powerful and luxurious SUV. It is meticulously crafted with the highest levels of craftsmanship. The Bentley Bentayga is also very spacious and makes a great car for family trip to the theme parks or a night out in Orlando with friends. The Bentayga is a great car to rent due to it's bespoke luxury interior and finely crafted design. It also blends performance and luxury like no other luxury SUV rental Orlando. If you are attending a special event in Orlando the Bentayga is a great car to rent. The new Bentayga has a revised exterior and interior that are more beautiful than ever and will provide you with a luxury experience that you will have forever.
The cost to rent a Bentley Bentayga in Orlando for a day ranges from $1195-$1495 per day. There is also a security deposit that can vary from $5,000 to $10,000. If you would like an exact quote for the days you would like to rent a Bentayga in Orlando give us a call. If your staying in Orlando for an extended period of time you can take advantage of our long term Bentley rentals which provide a significant discount. We strive to provide you with the best Bentley rentals in Orlando at an affordable rate.
The least amount of time you can rent a Bentley Bentayga in Orlando is 24 hours. This applies to all of the Bentley rentals we offer in Orlando. If you just need the car for a couple of hours we can always schedule an early pickup but you will still need to pay the full day. One of the other options you can choose is to hire a Bentley Bentayga with a driver. The Bentayga is one of the SUV's available with our luxury chauffeur services in Orlando. For Bentley chauffeurs in Orlando there is a 6 hour minimum.