Enjoy riding around Orlando in the most luxurious SUV in the world. Hire a Rolls Royce Cullinan with a driver in Orlando and enjoy a first class experience in a luxury Limo.  is the most luxurious SUV rental option you can experience in Las Vegas. The beautiful design is modern and elegant perfect for your special event. The star light headliner and rear hinged coach doors provide you with a unique chauffeur experience not found in many other luxury SUV's. Sit back and relax while one of our professional drivers takes to you to your favorite theme parks, restaurants, bars, and more.
The exterior design of the Cullinan is square shaped similar to what you might see on a G63 or a Range Rover HSE. When you look at the Rolls Royce Cullinan the design is unmistakable and stands out at any event. The squared design allows for higher ceilings which gives it a massive appearance. It is also very long, as long as an extended Escalade. The Cullinan is a perfect candidate for a luxury chauffeur in Orlando. The beautiful wheels look classy and add to the elegance that Rolls Royce provide. The front and rear LED lights help brighten up the road but are also crafted with a beautiful design. If your looking to have a professional driver drive you and your family in a spacious luxury SUV the Cullinan will surly deliver.
The bespoke interior inside the Cullinan provides a luxury feel that is both comfortable and elegant. The Cullinan can seat 4 comfortably if one of the passengers sits up front. The leather seats are hand sewn and stiched to perfection. Every part of the interior is created from high quality materials even to the ac vent knobs. The premium sound system allows you to pair your phone and play your favorite songs on the incredibly sounding speakers. If you want to hire a limo in Orlando the Cullinan provides incredible luxury and a large and spacious cabin for you to ride in comfort. When it comes to luxury chauffeur rentals in Orlando the Cullinan is as good as it gets.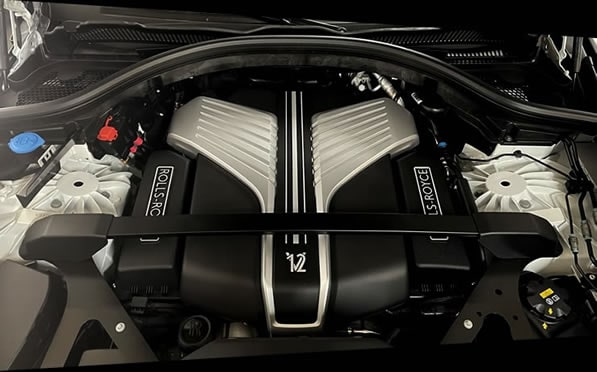 Getting driven around Orlando in a Rolls Royce chauffeur is about ultimate comfort but the Cullinan does have a V12 motor under the hood. It boast incredible ride quality and is the smoothest SUV you will ever experience. The finely tuned V12 motor barely makes a sound and feels like it has incredible power. The Cullinan is also equipped with an premium air suspension system that that monitors the road using GPS and exterior cameras. It can adapt several times a second making sure you have the smoothest ride possible even when going over a bumpy road. When your riding in a Rolls Royce chauffeur you are floating over the road in the back seat of a masterpiece of automotive engineering.
MORE LUXURY CHAUFFEUR OPTIONS
About Orlando Rolls Royce Cullinan chauffuer service
 If you would like to experience a luxury SUV Chauffeur in Orlando like no other the Cullinan will take your luxury vacation to the next level. The comfortable cabin and rear hinged doors create a place of opulence and luxury. Explore Orlando like never before when you hire a Rolls Royce Cullinan with a driver in Orlando, FL. Reserve a Cullinan for a wedding, anniversary celebration, or corporate event. The Cullinan is also a fun car  for a chauffeur around the theme parks and fine dining restaurants in Orlando. We can have a driver waiting outside of your home or hotel waiting to take you to your next destination in the ultimate luxury SUV limo.
The rate to rent a Rolls Royce Cullinan with a chauffeur in Orlando starts from $450 an hour. This price does not include taxes, gratuity, or any service fees. If you would like an exact quote to rent a Rolls Royce with a driver for your required days give us a call or message us. The Cullinan has a discounted rates for multi day chauffeurs. Our mission is to provide you with the best Rolls Royce rentals in Orlando at an affordable cost.
There lowest amount of time you can hire a Rolls Royce with a chauffeur in Orlando is 5 hours. Some days we may have a higher minimum of 7 hours or more. These are one of the most popular SUV's in Orlando so we are not able to provide any rentals under these requirements.