The Bentley Bentayga is now available to hire with a driver in Orlando. The Bentayga was the first high end luxury SUV ever created and is still one of the most popular Bentley rentals in Orlando. If you would like a luxury chauffeur to get around Orlando with your family and friends let us take you for an unforgettable ride. One of our professional drivers can drive you around Orlando in the comfort of a Bentley SUV. It's the perfect luxury SUV to hire in Orlando for a wedding, birthday, prom, anniversary, or any special event you might have going on in Orlando.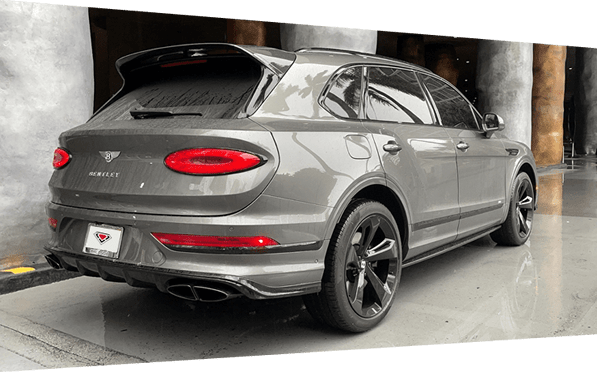 The Bentley Bentayga has a stylish exterior that has been revamped to provide an even more luxurious look. It exemplifies Bentley's long heritage of making some of the most bespoke luxury vehicles in the world. If you want to ride in style while in Orlando the Bentayga is sure to impress. From it's new crystal like headlights that have multiple led's inside to the wider grill the new Bentley is a great luxury chauffeur option for Orlando. The flush mounted headlights give the front a smooth elegant feel and will surly make a great impression wherever you go. Get chauffeured in this masterpiece of automotive engineering the next time you visit Orlando.
Inside of the Bentayga you will find a wealth of luxury. When you hire a Bentley Bentayga with a driver you have 3 seats in the rear and one additional passenger can ride up front. The hand stitched leather seats are crafted with the upmost detail. No other luxury performance SUV can compare with the Bentayga when it comes to interior craftsmanship and comfort. The high ceilings allow you incredible head space and the wide body give you plenty of room to stretch your legs while you get driven around in the opulent luxury SUV. Sit back and let us drive you around Orlando in an oasis of luxury you've never seen before.
The Bentayga is not only a beautiful and elegant luxury SUV it is also a performance SUV. Combining exhilarating performance with a comfortable riding experience is what Bentley's are all about. The Bentayga provides an extremely smooth ride thanks to its adaptive air suspension. The suspension can also be lowered to allow for easier entry and exiting of the vehicle. Using access mode you can comfortably step inside and begin your luxury experience. Sharp turns are no match for the Bentayga with it's active anti-roll control that stabilizes the car. One of the other cool features of the Bentayga is the sound the engine makes when it takes off. Overall you will have an extremely pleasant ride when getting chauffeured in a Bentley.
MORE LUXURY CHAUFFEUR OPTIONS
About Orlando Bentley Bentayga chauffeur service
Orlando is a fun city to visit with the family. There are a variety of theme parks and great restaurants to visit. If you want to get driven around Orlando in a luxury chauffeur like no other the Bentayga should definitely be considered. The Bentayga has an opulent interior with a bench seat in the rear that can sit up to 3 passengers. If you have four people in your party someone can always jump to the front seat as well. Hire a Bentley Bentayga for a wedding, birthday, prom, anniversary or any special event you might be attending. Our professional drivers can drive you around Orlando in the lap of luxury. We can arrive at your location in the all new Bentayga and take you wherever you would like to go.
The cost to hire a Bentley Bentayga chauffeur in Orlando starts from $250 per hour. The cost depends on the amount of hours you would like the car for and the year of the Bentayga that is available on your reservation date. This does not include taxes, fuel surcharges or gratuity. We can have special discounted rates for multiple day chauffeurs in Orlando. Our mission is to provide you with the best Bentley chauffeur service in Orlando at an affordable price. If you would like an exact quote give us a call and we can give the total cost.
All of our luxury chauffeurs in Orlando require a five hour minimum. You don't need to use the car for the full five hours if you don't need it but you will still be charged for the full 5 hours. On some weekends and during holidays the minimum can be as high as 8 hours.