Experience Orlando with a Rolls Royce Ghost Chauffeur. You can hire a Rolls Royce Ghost with a driver in Orlando for your next big event. A professional can take you and your family and friends wherever you want to go in Orlando. Visit the theme parks in Orlando in the comfort of one of the most luxurious motor cars in the world. Whether your launching a new product or want a special car for your wedding we can have a new Ghost delivered right to your driveway in Orlando. Sit back and enjoy the opulent interior inside the Ghost while we take you to your favorite restaurants, bars, and concerts. 
If you are looking to hire a Rolls Royce limo in Orlando the Ghost is a great option. The elegant style and sweeping body lines create a luxury appearance that can only be found in a Rolls Royce. The aura of the spirit of ecstasy reminds of a lineage that has been creating some of the most bespoke cars in the world. The new sleeker front end add a contemporary touch that is complimented by the front and rear LED lights. The new Ghost also comes with an illuminated front grill to showcase it's iconic design. If your looking for a car that makes an elegant entrance wherever it goes experience a Rolls Royce Ghost chauffeur in Orlando today.
After one of our drivers opens the rear hinged doors you will step inside a masterpiece of hand stitched leather and beautifully crafted trims that are polished to perfection. Experience Orlando like never before in the comfort of one of the finest cabins in the world. After getting driven around in a first class luxury sedan like the Rolls Royce Ghost you will experience the ultimate luxury chauffeur in Orlando. Inside you will be able to play your favorite songs using the premium sound system through the high fidelity speakers. Lambs wool carpets will cushion your feet as our driver takes you around Orlando in style. The interior is comfortable and can accommodate up to 4 passengers if someone rides in the front.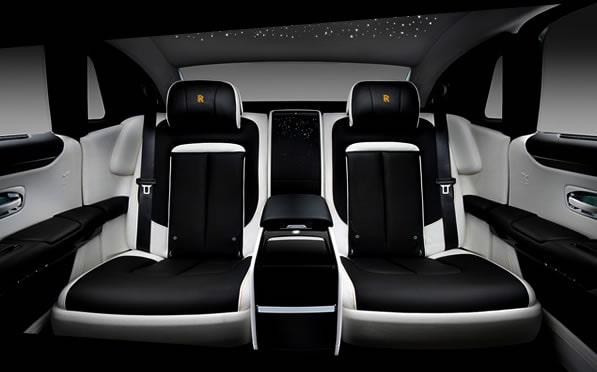 The Ghost has one of the smoothest rides thanks to Rolls Royce's magic carpet ride suspension. While your getting driven around Orlando in the Ghost you will feel like your hovering over the streets. The suspension uses multiple cameras to monitor road conditions and adjust the suspension many times a second for optimum comfort. There is no limo rental in Orlando that can compare to the ride of a Rolls Royce. The suspension system is so advanced that it is linked to the navigation system to anticipate turns and minimum body movement. Overall the Ghost features exceptional ride performance and we are sure you will enjoy your experience in the back seat of a Rolls Royce.
MORE LUXURY CHAUFFEUR OPTIONS
About Orlando Rolls Royce Ghost rentals
There are plenty of occasions that merit a Rolls Royce Ghost chauffeur in Orlando. The Ghost is a luxury sedan like no other but you have to feel it for yourself to really appreciate the meticulous craftsmanship and details that go into the bespoke motor car. Weddings and proms are extremely popular events that we have provided Rolls Royce chauffeurs in Orlando. Bachelor parties, Birthdays, Corporate events, and product launches are all popular occasions where you might want to hire a Rolls Royce with a driver. When you want to hire a luxury chauffeur with a driver and you wont settle for anything but the best the Ghost is a great option. The timeless design and elegant appearance will make your special day and unforgettable one. Sit back and relax as a professional driver takes you to your favorite places in Orlando in the ultimate luxury experience.
The price per hour to rent a Ghost with a driver in Orlando starts from $499. For longer chauffeur jobs over 8 hours we provide special discounted pricing. Prices do not include taxes, gratuity and fuel surcharges. If you would like an exact quote for your desired date give us a call. We are happy to answer any questions regarding pricing and availability and can give you an all in quote for the amount of time you need the vehicle. Our goal is to provide you with the best Rolls Royce chauffeur service in Orlando at an affordable cost.
The minimum amount of time you can hire a Ghost in Orlando with a driver is 5 hours. This applies to  all of our luxury chauffeurs in Orlando as well.  If you only need the car for an hour or two you can always end the rental early but will still be required to pay for the 5 hours. Due to the high demand this cars bring we cannot make any exceptions.