If your coming to Miami and are interested in renting the latest Rolls Royce luxury sedan , the Rolls Royce Ghost is an excellent selection. Miami is one of the most popular places to rent a Rolls Royce Ghost. As soon as the iconic coach doors open you know you're traveling in one of the most luxurious cars in the world.   Take your vacation to the next level by renting a Rolls-Royce.   Rent a Rolls Royce and you will experience a luxury motor car that sets itself apart from every other luxury car you may have driven in the past. The Ghost provides a level of comfort you'd expect of a Rolls-Royce. 
If the Rolls Royce grill wasn't already iconic enough the new 2021 Rolls Royce ghost sports an illuminated grill that accents the luxury front end. Although it looks similar to the previous model it has been redesigned from the ground up and is longer and  wider then ever before. The front and rear has been made sleeker and modernized. The front and rear lights have a sharper and updated luxury look. Overall the look hasn't changed dramatically but the new evolution has been a popular luxury car rental option in Miami.
This beautiful luxury sedan seats 5 people and provides an extremely smooth ride for you and your passengers. Inside you'll find unparalleled comfort and the finest leathers and exotic materials. Getting in and out of the Ghost is effortless with the assisted doors that automatically close and open with a small push. Meticulously crafted hand sewn leather and modern finishes adorn the interior giving you the perfect oasis. Some of our Rolls Royce Ghost rental options also come with the starlight headliner that brings the stars inside.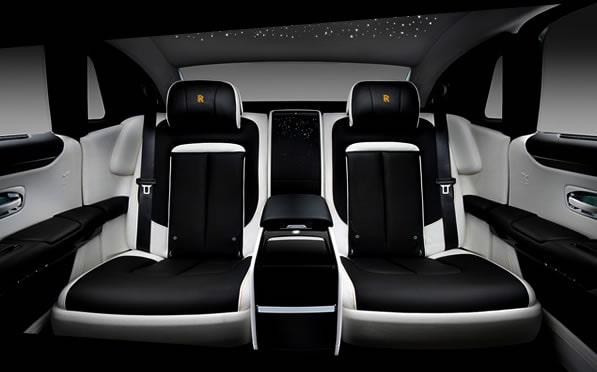 Despite its size, the Ghost is a fun luxury car to drive, with its twin-turbocharged 6.6-liter V-12 engine generating 563 horsepower and 575 pound-feet of torque. The Ghost can accelerate effortlessly to 60 mph in just 4.8 seconds and has an electronically limited top speed of 155 mph. The suspension uses an advanced planer suspension system that uses air-dampers and multi-link aluminum suspension, with active anti-roll and chassis stabilization for superb handling.
ABOUT MIAMI ROLLS ROYCE GHOST RENTALS
As the driver's car in the Rolls-Royce fleet, the Ghost requires no chauffeur-though we can still offer you one. Your potential clients will be impressed when you arrive at Miami International airport in this luxurious automotive work of art.In Miami, there are plenty of weddings and special events going on all the time. We can deliver any one of the luxury Rolls Royce cars on our website to your reception or church. Another popular reason to rent a luxury car is for Proms. We cannot rent a car to anyone under 21 but were happy to help parents looking to chauffeur their kids to prom make a reservation. Create a memory that will last forever by traveling in one of the most luxurious cars in the world. We aim to provide the best customer service experience for you and your guest. Choose any one of luxury car rentals in Miami and you won't regret it. Get behind the wheel of your favorite luxury car in Miami today.
Our Miami Rolls-Royce Ghost rental service is one of the most luxurious ways to experience South Florida. All that luxury does come at a price. The cost to rent a Rolls-Royce Ghost in Miami can range anywhere from $995-$1995 depending on availability. The series 1 Ghost is slightly less expensive than the newer series 2 Ghost. For one day rentals, there is a delivery charge of $100 each way for deliveries to Miami Beach and South Beach. Any luxury rentals that are more than 2 days qualify for FREE delivery anywhere in Miami including Miami Beach, South Beach, Brickell, Doral, Key West, and Miami Airport. It is best to reserve as early as possible during the winter season when we get a higher demand for our rental service.
None of our Rolls Royce Ghost rentals are available for hourly rentals. The minimum amount of time you can rent a Rolls Royce in Miami Beach is 24 hours. You can always choose to return the car earlier but will still be charged for the full 24 hours. We get multiple inqueries daily for hourly rentals of Rolls Royce Dawn but have strict 24 hour minimum. If you would like to rent a Rolls Royce for a movie or music video the minimum of 24 hours is still a requirement. You can rent the car for a couple hours but you will need to pay for the 24 hours even if you only use it for an hour.