Experience the most luxurious SUV ever made with our Rolls Royce Cullinan Rentals in Miami today. Get behind the wheel of the first ever all-terrain SUV from Rolls-Royce and travel in the lap of luxury on your next trip to Miami. The Cullinan gets it's named from the largest Diamond ever found. At the moment you can rent a Rolls Royce Cullinan in Miami Beach, South Beach, Brickell, Midtown, Doral, Key West, Wynwood, Fort Lauderdale, and Orlando. If you're looking to rent the most luxurious SUV rental in the world then this is the luxury car rental for you.
The Miami Cullinan rental most unique feature is the signature Rolls Royce coach doors that open opposite to traditional doors. This along with it's unmistakable Rolls Royce signature look makes it a elegant SUV like no other. The square modern design boast a slick looking luxury SUV that is ready to go on any adventure in Miami. When you rent a Rolls Royce Cullinan and arrive at your next destination you will surely stand out and make you look like a star. Drive the same luxury SUV that the celebrities drive in Miami today. The large and bold Rolls Royce Cullinan body makes a bold impression every where it goes.
The Cullinan can sit up to 5 people with an interior that provides unparalleled style and comfort. Inside the Cullinan rental, you will find a spacious luxury interior with all the perks you could expect from a high-end Rolls Royce rental includng either a sun roof or starlight headliner. Every detail of the interior is meticulously crafted to perfection. Draped in high-quality hand-stitched leather this bespoke SUV also comes with the latest in Rolls Royce automitive technology. The wide opening from the coach doors provides a grandiose entrance for your passengers to step inside comfortably. One other feature is a massage feature that gives you a light massage while your traveling in style.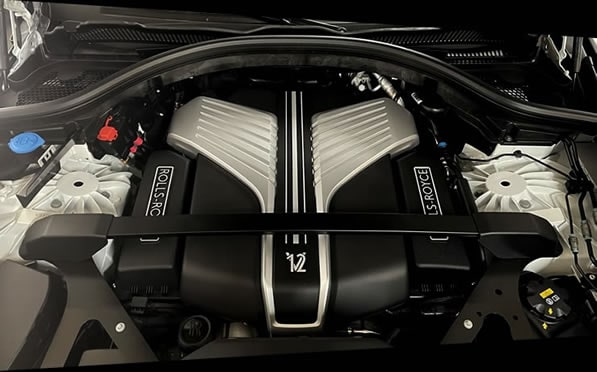 Under the hood of this Miami Rolls Royce Cullinan rental, you will find a silent twin-turbo 6.7-liter V-12 that provides 563 horsepower. The Cullinan is very heavy but can still reach from zero-to-60-mph in just 4.8 seconds. This beautiful Rolls Royce truck also comes with an advanced self-leveling air suspension that provides a smooth ride over any rough terrain. The double-wishbone front axle and five-link rear axle deliver the ultimate stability in every turn. It also has a button inside that can convert this luxury SUV rental into a fully capable off-road vehicle that engages the all-wheel-drive mode. This mode provides unparalleled performance and also raises the vehicle 1.5 inches and adjust the acceleration and braking for an increased level of control.
ABOUT MIAMI ROLLS ROYCE CULLINAN RENTALS
The newest addition to our Miami Rolls Royce rentals is the perfect SUV to share adventures with your friends and family this weekend. You can rent a Rolls Royce Cullinan in Miami for any occasion including birthday parties, weddings, proms, family vacations, and corporate events. Rent a Cullinan in the USA at Luxury Car Rental USA today and make your next trip to Miami unforgettable. Give us a call today and see
why everyone in Miami can stop talking about the latest Rolls Royce SUV.
The cost to rent a Rolls Royce Cullinan in Miami is between $1595  and $2495 per day depending on the year and condition of the vehicle. You are also required to leave a security deposit between $5,000-$10,000 with all of our Rolls Royce rentals. We do have specials on our Rolls Royce rentals from time to time so it is best to call for pricing and availability. For long term Rolls Royce rentals we offer special discounted rates.  Our goal is always to provide you with the best Rolls Royce rental in Miami for the best price.We provide free delivery to Miami Airport (MIA)so there wont be any additional delivery fees.
We don't allow Rolls Royce Cullinan rentals in Miami for less than 24 hours. You can always rent a Rolls Royce Cullinan in Miami with a driver. With our Miami luxury chauffeur service you can be driven around Miami for a minimum of 4 hours. The minimum amount of time you can rent a Rolls Royce in Miami Beach is 1 day. You can always return the car earlier but will still be charged the full day.  If you would like to rent a Rolls Royce for a music video or movie production the minimum is still a required.