Ready to experience on of the most luxurious convertibles in the world. You can rent a Rolls Royce Dawn in Miami for your weekend getaway or for your next event. The all new Rolls Royce Dawn is for rent in Miami on a daily, weekend, or on a weekly basis. The Dawn sports an elegant design, comfortable interior and also has plenty of power. If you want to ride in style the iconic Rolls Royce Dawn will be sure to get you to your next destination in pure elegance. Driving a Rolls Royce Dawn feels like riding on a cloud. It's a soft top convertible so you can drop the top and experience the Miami weather while taking a cruise down South Beach. If your visiting Miami and your looking for a luxury convertible, the Rolls-Royce Dawn is one of the best luxury car rentals money can buy. Wheather your in Miami for work or play this elegant car will make a lasting first impression.
The Dawn's captivating presence is unmistakable, right from the very first time you lay eyes on the iconic Rolls-Royce grill. Whether the top is up or down the classic design is combined together with the latest in automotive technology to provide the smoothest ride possible. Sweeping shoulder lines give a sensuous yet modern look to the Dawn. The soft-top roof offers a crafted French seam that gives the top a smooth surface and stunning looks. Try our Rolls Royce rental in Miami and experience pure luxury.
The Dawn accommodates up to 4 people comfortably so bring your friends and family along with you to Ocean Drive and create unforgettable moments that you'll have forever. The roof opens in just 22 seconds, revealing an open space that connects you to Miami's surroundings like never before. Four individual seats offer passengers unmatched comfort and an elegant aesthetic inside. Dawn's interior is a continuous reflection of its beautiful exterior. Fine leather is meticulously crafted to create a beautiful fusion between the interior and exterior. The interior veneers are crafted from the finest woods and leathers.The Dawn is an incredibly alluring luxury car rental with one of the most luxurious interiors in the world. If you want to rent a luxury convertible in Miami the Dawn is a premium option.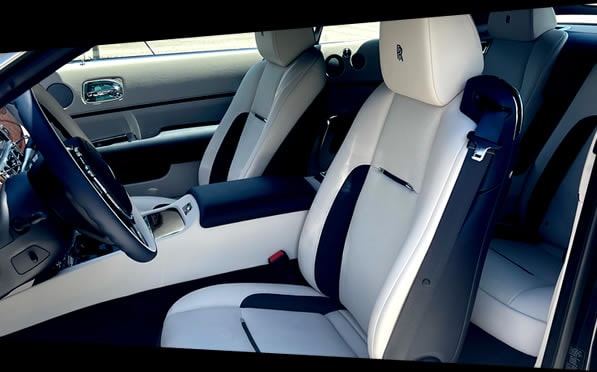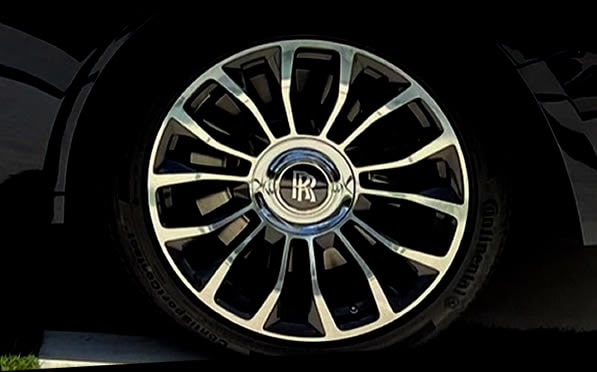 Under the hood of the Dawn is a 6.6-litre V12 twin-turbo engine that delivers a surge of seemingly infinite power that will get you to your next meeting in Miami quickly if you need it. Using the driver assistance gives you a truly effortless drive like having a chauffeur without a chauffeur. The Dawn is the perfect sidekick to the most vivid Miami lifestyles. A car that looks to the future and brings a new level of finesse to the fleet. Every time you step inside it offers new opportunities and possibilities.
ABOUT MIAMI ROLLS ROYCE DAWN RENTALS
Your business partner or potential clients will be very impressed when you arrive in this luxurious masterpiece. The Rolls-Royce Dawn wraps its passengers in comfort providing a quiet and private haven with plenty of space. The Dawn is smaller and more manageable to drive than its older brother the Rolls-Royce Drophead so getting around in Miami Beach will be a breeze. Our customers new favorite Roll-Royce rental in Miami. They say the Dawn is breathtaking inside and out, providing both freedom and control. We can also have this elegant Rolls Royce convertible delivered for free to Miami International Airport, Miami Beach, South Beach, and the surrounding areas. We can even have a Rolls Royce Dawn delivered to Fort Lauderdale Airport for an additional fee.
The cost to rent the Dawn in Miami averages between $1,495-$1995 a day and can increase or lower based on availability and demand. During holidays and seasonal events, prices and availability are subject to change. There's no better place to enjoy Miami's stunning natural beauty than inside your Rolls Royce Dawn rental. With the roof down you can smell the beautiful Miami beaches as you pass by them its a rejuvenating sensation. You can hear the birds and feel the wind when you rent the Rolls Royce Dawn Miami. The cost is minimal compared to the unforgettable experience of driving a Rolls Royce in Miami.
None of our Rolls Royce rentals are available for hourly rentals. The minimum amount of time you can rent a Rolls Royce in Miami Beach is 24 hours. You can always choose to return the car earlier but will still be charged for the full 24 hours. We get multiple inqueries daily for hourly rentals of Rolls Royce Dawn but have strict 24 hour minimum. If you would like to rent a Rolls Royce to film a movie or music video the minimum of 24 hours is still required. You can rent the car for a couple hours but you will need to pay for the 24 hours even if you only use it for an hour.