We're are now offering Bentley Bentayga Rentals in Miami. One of the fastest SUV's on the market, the Bentayga offers an exquisite combination of comfort and speed in a luxury SUV. The iconic, eye-catching grill is the first thing you see when you first take a glimpse of this SUV. This new Bentley is the perfect luxury car rental for any occasion. Sophisticated styling and the well-engineered V8 engine in the entire world it's the perfect car to rent if you're traveling Miami with guests. Make your time here an unforgettable memory that will last forever. Rent a Bentley in Miami with Diamond Exotic rentals today!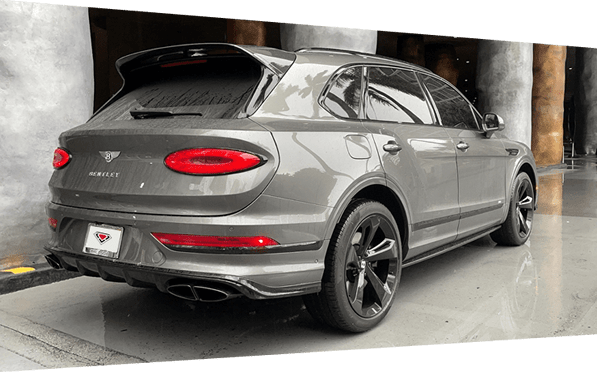 The exterior of the Bentley Bentayga showcases Bentley's timeless design taking luxury to all new landscapes. A first look at the four familiar round headlights of this luxury SUV you can tell it's unmistakably Bentley. The aluminum body showcases Bentley's signature sharp lines and seamless surfaces. It is equipped with fully adaptive LED lamps that fit flush with the body allowing you to navigate through Miami's streets at night with no problem. The sleek body lines and large alloy wheels make it a great luxury car rental option for Miami.
The Bentayga has a good amount of interior space and can seat up to 5 passengers comfortably. Rent Bentley Bentayga in Miami and experience a high-class interior with all the bells and whistles. The Bentayga's interior is elegant and refined, finished with the finest materials. rare craftsmanship and attention to detail speak sophistication. Your passengers will be relaxed and calm as soon as they step into this luxury SUV.
The new V8 542hp engine was designed from the ground up. It delivers the perfect combination of torque, power, and efficiency of an SUV. The engine is equipped with twin turbochargers which have been finely tuned for performance. One of the highest performing SUV's in the industry it can go from 0-60 in just 4.4 seconds and has a top speed of 180 mph. It seamlessly switches between direct-injection and port-injection in order to deliver the most efficient performance. Waiting in traffic in Miami Beach won't be an issue because of the Stop-Start technology that is available for the first time in any Miami Bentley rental.
ABOUT MIAMI BENTLEY BENTAYGA RENTALS
The Bentley Bentayga is a superb luxury SUV. It is also one of the fastest SUV's for it's size. There are many reason why you might decide to rent a Bentley Bentayga in Miami. Whatever special event your attending will merit renting a beautiful Bentley SUV. From weddings to birthday parties the Bentayga makes a bold statement. Another popular reason to rent a luxury car is for Proms. We cannot rent a car to anyone under 21 but were happy to help parents looking to chauffeur their kids to prom make a reservation. It's unique style makes it stand out among a wide variety of SUV's. We can deliver any Bentley on our website to your reception location or church if your planning a wedding. Create a memory that will last forever by traveling in one of the most luxurious cars in the world. We aim to provide the best customer service experience for you and your guest. Get behind the wheel of your favorite luxury SUV in Miami today.
The Bentley Bentayga rental cost between $995-$1495 per day but we can give you better rates for long-term rentals. A security deposit is also required that can range from $5,000 and be as high as $10,000. Bentayga's many lists of features are guaranteed to make your next occasion special. If you're traveling with the family or picking up your next potential client this is the most versatile Bentley rental ever. South Beach is one of the most popular destinations in the world. We provide free door-to-door delivery at Miami International Airport or your hotel in Miami Beach so you won't have to pay any extra fees for delivery.
We only provide hourly rentals with our Bentley chauffeur services. If you want to drive the Bentley Bentayga yourself we have a 24 hour  minimum. You can always return the car earlier but are still required to pay for the full day. We get request all the time for movie productions or music videos but still enforce the 24 hours minimum. With our luxury chauffeur service you can be driven around Miami like a boss by one of our professional drivers. For Bentley chauffeurs we have a 4 hour minimum requirement.