The Mercedes GLC 43 is now available for rent in Miami. The new AMG variant of the GLC takes performance to a whole new degree. It's combination of aggressive design and performance makes this a highly sought after luxury SUV rental in Miami. This sleek luxury SUV is and fun and exciting Mercedes to rent in Miami. If your visiting Miami with friends and family this is the perfect performance luxury SUV. Drive one of your favorite Mercedes rental SUV's in Miami for the weekend and take your vacation to a whole new level.
The Mercedes GLC 43 AMG is a refined version of the GLC with some nice touches. This is one of the fastest and most requested luxury SUV rentals for Miami. Its bold design and sloped roof lines make it one very appealing luxury SUV to rent in Miami. The beautifully crafted exterior stands out with it's compact yet sports car like features. This is a beautiful SUV that comes with AMG exhaust tips and has many design elements from the AMG GT seen in the front including the grill and lower bumper. It also comes with the signature 21 inch AMG wheels. The racing AMG GT grill which is exclusive to Mercedes rentals proudly sporting the AMG badge. If your looking for a cool compact SUV to ride around Miami in style we have you covered.
The GLC 43 Coupe has a good amount of interior space for a compact luxury SUV. It seats 5 people and is lavishly appointed with the best of AMG. The front bucket seats give it a sports car like touch yet are comfortable for long drives around Miami Beach. It sports dual screens one for the digital dashboard and the other displays navigation information and allows you to control the audio and car settings to provide a tailored luxury car rental experience.The premium sound system can be paired with your phone as well to provide you with a comfortable oasis to enjoy your favorite songs. It also has beautiful carbon fiber inserts in the center or high grade brushed metal.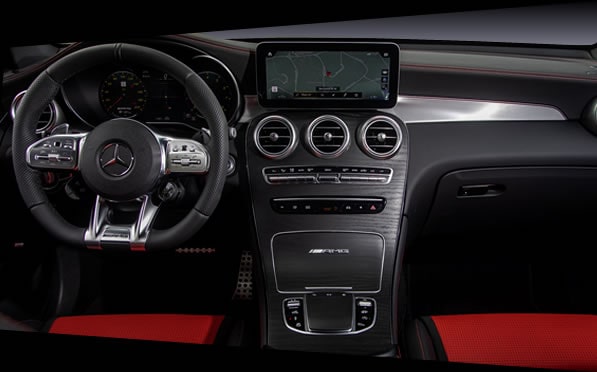 When you start up the GLC 43 the amazing sounds that come out of the AMG exhaust are down right amazing. The bi-turbo 4 litre 503-hp twin-turbo V-8 engine that sits under the hood has an incredible amount of performance for a luxury SUV. This compact performance luxury SUV has 6 driving modes comfort, slippery, sport, and sports plus. The powerful V8 is paired with a nine-speed automatic transmission allowing it to go from 0-60 in just 3.8 seconds. This is a very popular Mercedes rental cars in Miami. If your ready to experience the performance of a high end performance SUV give us a call.
ABOUT MIAMI GLC 43 RENTALS
Why would you want to rent a Mercedes AMG GLC? Well if you own a GLC and want to drive a supped up version then we can help. The AMG model is fast and has a sleek compact design. The AMG GLC63 is the perfect car to rent when traveling with friends and family. It also makes a great choice for a wedding, business meeting, birthday celebration, or anniversary. You can rent the GLC63 for the  weekend or just for one day.The performance on this luxury SUV is exceptional and we guarantee you will enjoy your car rental experience in Miami. We can have a beautiful AMG GLC delivered to your door anywhere in Brickell, Key Biscayne, Doral, Midtown, Miami Beach, South Beach, Miami International Airport and the surrounding areas.
The price to rent a Mercedes AMG GLC in Miami is from $599-$895 for a full day. You will be able to drive this car for 24 hours with a one day rental. There is also a deposit required from $1,000 and $5,000 depending on your insurance coverage. As long as the car is returned without damage you will have your deposit back in your account after 3 days. Our goal is to always provide you with the best Mercedes rentals in Miami at the best price.
None of our Mercedes Benz rentals are allowed to rent for less than 24 hours. The least amount of time you can rent a Mercedes GLC in Miami Beach is one full day. You always have the option to bring back your Mercedes AMG rental car early but you will still be charged for the full day.  If you just want to rent a car for a couple hours you will need to pay for the day even if you only use it for an hour.