The Cayenne Coupe provide a beautifully styled exterior and impressive performance under the hood. Rent a Porsche Cayenne coupe in Miami today and see for yourself why Porsche makes some of the best cars in the world. The Porsche DNA is immediately apparent as soon as you see the Cayenne Coupe. We can have your favorite Miami Porsche rental delivered to the door of your home, hotel, or business.
The Cayenne coupe is the nicest Porsche SUV you can rent in Miami. The iconic 911 fly line flows from the headlights to the taillight strip giving it the iconic shape Porsche is known for. The 22 inch wheels are also a nice touch and give the Cayenne coupe a nice stance. The sloping roof line gives the Coupe a smoother and more sports car like appearance.  The Cayenne Coupe is wider, lower, and sportier than the regular Cayenne. The design is angular and more muscular then the Cayenne as well. Your gonna love the way you look in your Porsche Cayenne Coupe rental while driving around Miami Beach in style.
The Cayenne Coupe has plenty of space for up to 5 people. The Adaptive Sport front seats have 14-way power adjustments to give you a tailored driving experience. The interior is everything you would expect from a Porsche. It's a mid-sized luxury SUV that will surely impress. The build quality and refinement in this modern interior is nothing to be overlooked. Surprisingly the the sloping roof line doesn't take away much room in the rear so everyone will be happy when taking a trip down to Miami Beach. The ride in the Cayenne coupe is extremely smooth and quiet. Inside you'll find Porsche's latest infotainment software that allows you to pair your phone and listen to all your favorite songs through the 10-speaker premium sound system. The 12.3-inch touchscreen display allows you to easily see where your going and gives you quick access to all of the media features as well as climate controls.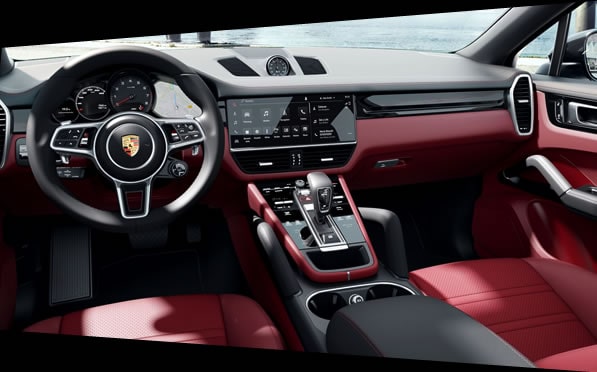 Every Porsche has the heart of a sports car. Under the hood of the Cayenne coupe is a 3.0-liter twin turbocharged V6 engine that can go from 0-60 in just 5.7 seconds. It is one of the best handling sports SUV in it's segment. Combined with an 8-speed dual clutch automatic transmission this is a powerful SUV. Where the Cayenne coupe really shines is it's suspension. The Porsche Dynamic Chassis Control uses active sway bars reduce body roll that many luxury SUV's are know for. This system allows the Cayenne coupe to have swift and precise handling no matter what street in Miami you may encounter. When you put the Cayenne Coupe in Sport+ mode the active air suspension lowers the car giving it even better performance.
ABOUT MIAMI PORSCHE CAYENNE COUPE RENTALS
The Porsche Cayenne Coupe is a very popular luxury SUV to rent in Miami. The unique blend of style, comfort and performance make it extremely pleasing to drive. Rent a Porsche Cayenne the next time your in Miami and you'll see why it's a very popular option to rent in Miami. Celebrate your next anniversary or birthday with a luxury SUV like the Cayenne Coupe and you wont be disappointed. There are countless reasons why you might want to rent a Cayenne in Miami like traveling with friends and family. Imagine the expression on your friends face when you pull up in a Cayenne Coupe to their house.
The Cayenne Coupe is a beautiful luxury SUV but it does come at a price. The cost to rent a Porsche Cayenne Coupe in Miami ranges from $495-$795 per day. There is also a security deposit required of $1,500 due on the day of your rental. If you have any other questions regarding our Miami exotic and luxury rentals feel free to call or message us using our live chat system. We have your favorite Porsche delivered to your hotel as well as Miami International Airport free of charge. We can deliver a Porsche Cayenne Coupe for free to Miami Beach, South Beach, Doral, Brickell, Downtown, Midtown, Coral Gables, Key Biscayne and Wynwood.
The least amount of time you can rent a Porsche Cayenne is one day. This means you won't be able to rent the car on an hourly basis. You can take advantage of our Porsche Chauffeur services that only require a 4 hour minimum. You can always decide to return the Cayenne earlier but will still be charged the full 24 hours. These cars have a high demand and which is why this policy is very strict.