The AMG version of the Mercedes-Benz G-class or G wagon as many call it is an extremely popular SUV to rent in Miami. Rent a Mercedes-Benz G63 AMG to drive through the glamorous neighborhoods of South Beach and Miami Beach that are known for the colorful art deco buildings, five-star hotels, and trendsetting nightclubs. You can rent a Mercedes truck in Miami for a day week or even for a month. Rent a Mercedes Benz G63 Miami and experience the powerful engine and high-quality interior for yourself.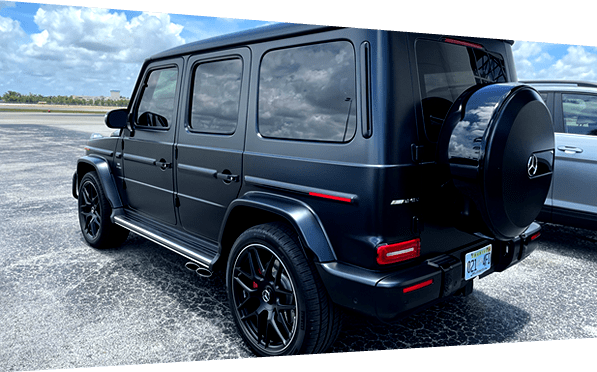 The timeless boxy exterior styling of the AMG G Wagon hasn't changed much since it's release in 2002. It was originally created to be used in military convoys but has become a popular luxury SUV to rent in Miami. With an ageless design, the AMG version of the G wagon offers a larger engine and more refined interior than the G550.  For years, it's been seen as one of the most popular Mercedes rentals in the auto industry. Its popular design is popular among celebrities and executives that like to travel in style and don't want to rent something so flashy. The signature box design has become a luxury car rental that both residents and tourist enjoy frequently.
The G63 Mercedes provides plenty of space for up to 5 people. Inside it offers a luxurious interior with all the fancy tech you would expect from a Mercedes. With it's massive led screens inside it allows you to control on the features of this amazing luxury SUV. The interior offers richly grained Nappa leather that is hand stitched to the G63 seats and headrest. The leather interior is upgraded with a bespoke design and custom trims throughout. This highest quality leather covers the comfortable seats and most of the dash and doors. Polished wood and metal accents add a unique touch, while modern technology is seen in every corner of this luxury SUV rental.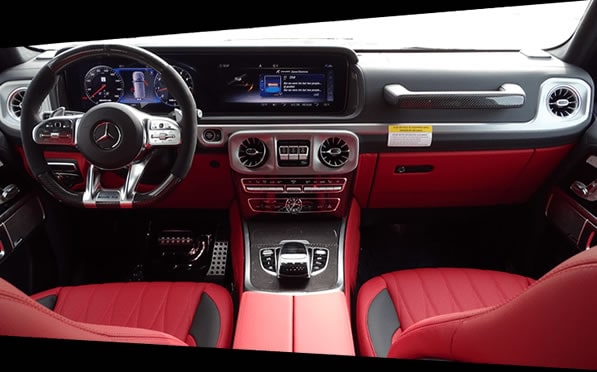 The heart of the G63 is the handcrafted AMG 4.0L V8 bi-turbo engine. This extremely capable engine has 577 horsepower and can go from 0-60 in just 4.5 seconds. Combined with the AMG speed shift TCT 9G-Tronic transmission this beast can conqueror any road you come across in Miami. The AMG G 63 is an iconic luxury SUV rental in Miami and has more power than ever before. The powerful performance and  unwavering confidence the hand built engine provides is a trademark of Mercedes. AMG has developed this engine to provide even higher output than before.
ABOUT MIAMI MERCEDES G63 RENTALS
Miami is one of the most popular international cities located on the southern tip of Florida. Brickell, Miami Beach Downtown, and South Beach are among the most popular places to rent a G wagon. There is plenty of room to fit all your guest and luggage and we can have a g63 or any Mercedes rental in Miami waiting for you at Miami International Airport or Fort Lauderdale Airport when you land. We offer free delivery for rentals of more than 2 days. The Mercedes-Benz luxury SUV can also be delivered to your hotel or residence in Miami Beach upon request. Rent Mercedes G63 in Miami today! The G63 AMG version is even more in demand for long-term luxury rentals in Miami due to its upgraded interior and more powerful engine.
The cost to rent a Mercedes G Wagon in Miami can vary between $990-$1595 per day. There are several models available and price is dependent on the year and specific model we have availbale at the time. We provide free delivery to Miami International Airport so you won't have to pay any additional transport fees. There is also a security deposit that ranges from $5,000-$10,000. If you have any other questions regarding cost or want an exact quote give us a call. We can deliver any one of these Mercedes rentals in Miami to your hotel on the beach as well as free delivery to Miami International Airport. We can also deliver a G63 for free to your home or hotel in Miami Beach, South Beach, Doral, Brickell, Downtown, Midtown, and Wynwood.
The lowest amount of time you can rent a Mercedes G63 is one day. This means you would have the car for a full 24 hours. You can always return the G Wagon earlier but will still be charged for the full day. These cars are in very high demand and unfortunately are not available for hourly rentals.