Discover the Maserati brand when you rent a Maserati Ghibli in Miami today. The Ghibli is a luxury car rental in Miami with a performance oriented engine and Italian styling. Maserati's racing heritage can be found in every Maserati rental in Miami. When designing the Maserati Ghibli, Maserati drew on its rich heritage as creators of some of the finest grand touring cars in the world. The Ghibli, our latest Maserati rental option in Miami, is an extraordinary sports sedan that blends the soul of a GT with a powerful new shape that delivers excitement, every time you drive.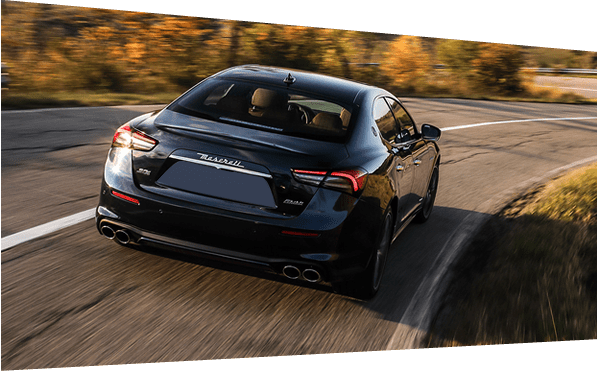 Just one look at the iconic Maserati grill and trident logo and you can tell your riding in a car that is truly unique. The sleek exterior comes with frame less doors that give the illusion that it is a coupe. Get ready to stand out because the Ghibli turns heads everywhere you go. The dynamically sculpted curves and gracefully flowing lines make this one of the most requested luxury sedan rentals in Miami. No one can deny that the Maserati Ghibli is a top notch rental car. We can have your favorite Maserati waiting for you outside of your home, hotel or business at a moments notice.
The Maserati Ghibli seats 5 people and does it in pure luxury. Our Miami Maserati Ghibli rental service allows you to experience the luxurious interior that is only found in high-end Italian sports cars. As soon as you step inside the trident on the headrest make it apparent that you're in a Maserati. The interior provides a bespoke interior with quality craftsmanship in every corner. The front seats are 12-way power adjustable to allow you to find the right fit for your body type and height. In the center, you will find an 8.4-inch multi-touch screen display where you have access to the infotainment system and navigation system. Another feature of this Maserati rental is the 10-speaker, 900-watt Harman Kardon Premium Audio system. Connect your phone to the Bluetooth system and play your favorite music through the sounds system.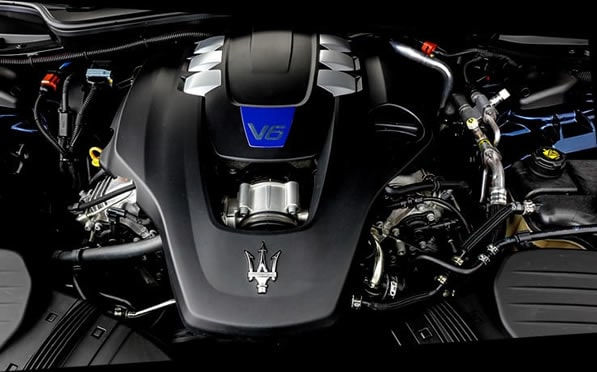 The power in the Maserati Ghibli comes from a 3.0-liter, twin-turbocharged V6 engine built by Ferrari at their factory in Maranello, Italy. With a max power of 345 horsepower and a 0-60 of just 5.5 seconds, the Ghibli has enough race bred power to propel you through Miami with ease. The engine is paired with an 8 speed automatic transmission to provide you with a smooth transmission between gears. Choose from four different drive modes including Normal, Sport, Off-Road and I.C.E. (Increased Control & Efficiency). Rent a Maserati Ghibli in Miami and you fall in love with the combination of power and handling thanks to an electronic power steering system. The Ghibli also comes equipped with a rear wheel drive system. The sound that comes out of the performance exhaust is just exhilarating.
ABOUT MIAMI MASERATI GHIBILI RENTALS
When searching for luxury car rentals in Miami you should make sure not to overlook the Maserati Ghibli. With it's smooth body lines and bespoke Italian luxury interior the Ghibli makes a great choice. The Ghibli is a great luxury sedan to rent for weddings, birthdays, proms, anniversaries, corporate events or any day you want to make extra special. We can deliver your favorite Maserati to anywhere in Miami Beach, South Beach, Doral, Brickell, Downtown, Coral Gables, Key Biscayne, Midtown, and Wynwood. Don't settle for ordinary when you can drive this extraordinary luxury vehicle in Miami. We also deliver to major airports like Miami International Airport and private airports as well.
The cost to rent a Maserati Ghibli in Miami can range from $595-$895 per day. You are also required to leave a $1,500 security deposit on the day of your rental. If you want exact pricing or have any other questions that were not answered above regarding our exotic rental prices in Miami feel free to message us or give us a call. We always aim to find you the best prices for Maserati rentals in Miami.
The minimum amount of time you can hire a Maserati without a driver is one day. With a driver however we only have a 4 hour minimum. When you hire a Maserati with a driver we can have a professional driver pick you up and take you anywhere in Miami. So if you want to drive a Maserati you will be required to rent it for at least 24 hours.