If your looking for a Porsche car rental in Miami that offers enough space for family and friends then the new Panamera is a great option. The Porsche Panamera is an exotic car that is both fast and comfortable. When Porsche first introduced the new sedan in 1990 auto enthusiast were thrilled. Whatever kind of journey you are making short or long, for business or pleasure the Panamera offers something slightly different. The newly design Panamera rental in Miami is a great option for birthdays, proms, weddings or to make any night unforgettable.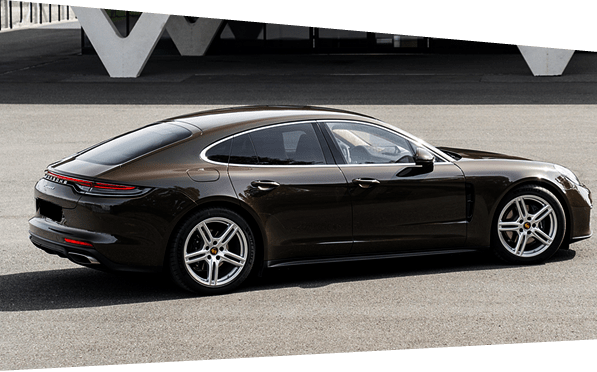 The Porsche Panamera is a undoubtedly a Porsche. Rent a Porsche Panamera in Miami. With the Porsche DNA infused everywhere in the Panamera design is sportier than ever. The streamlined design and athletic body lines make it a very appealing rental car option in Miami. After all how many sedans look this sporty? The answer is none. The Panamera is in a league of it's on second only to the electric Porsche Taycan. The side profile of the Panamera 4s provides a style only Porsche could pull off. Enjoy the best sports car sedan in Miami with out Porsche Panamera rental services.
The Panamera is a four seater performance car this will impress you and your passengers. When you sit inside the Panamera rental you'll see beautifully crafted European style interior. The front has a beautifully elevated center console with all the features you would expect in a Porsche. In the rear, you'll find plenty of rooms for your passengers. There are 4 bucket seats in total that allow you to ride in style to your destination. There is also a good amount of space to accommodate your luggage in the rear hatch. The elevated center console and the ample amount of space in the rear allow taller passengers more room to lounge. Surprisingly there is also plenty of headroom in the rear as well. It also has a large luggage compartment that can be extended by folding down the rear seats.
The power in the Panamera comes from an all-new 3.0 twin-turbo V6 engine. It produces 443 horsepower and goes from 0-60 in just 4.1 seconds. For a full-sized luxury sedan that is impressive. Combined with an all-new 8-speed PDK transmission shifts are smooth and quick. The Porsche Panamera is a fun sedan to drive because it combines the space of a luxury sedan with the looks and power of a sports car. The new model has been updated with a direct fuel injection with a central injector inside the combustion chamber for more power delivery and efficiency. Porsche Panamera rental Miami is just a phone call away. This is a beautiful luxury car rental for Miami.
ABOUT MIAMI PORSCHE PANAMERA RENTALS
A Porsche car rental is always a fun experience when visiting Miami and the Panamera is no exception. Next time your in Miami and thinking of going out to dinner with friends you can rent a Porsche Panamera and make it an adventure. Panamera rentals in Miami are also popular for weddings, birthday parties, holiday gatherings or any event you want to make unforgettable. We also provide delivery services in Miami Beach, South Beach, Miami Airport, Downtown, Doral, Brickell, Wynwood, Midtown, West Palm, Palm Beach, Fort Lauderdale and Orlando Florida. Our Porsche Panamera rental service is available for one-day rentals, weekend rentals, as well as monthly rentals.
The cost to rent a Porsche Panamera in Miami starts at $485 per day. You are also required to leave a security deposit of $2,500 on the day of your rental. You wont need to pay any transport cost as we provide free delivery of any Porsche rental to anywhere in Miami. We offer special discounts for long-term rentals in Miami as well as short-term leases. If you prefer something sportier we also provide other types of Porsche rentals in Miami. We always aim to provide the best Porsche rentals in Miami with the best prices.
If your looking to rent a Panamera by the hour your out of luck. The minimum amount of time you can rent a Porsche Panamera 4s is one day. This means that you have access to all the goodies the Panamera provides for a full 24 hours. You always have the option to return the car beforehand but will still be charged the full day.