The Dawn is one of the most luxurious if not the most luxurious convertible in the world. You now have the option to hire a Rolls Royce Dawn with a driver. Our professional drivers will pick you up and take you wherever you wish to go. The Dawn features an elegant exterior design, opulent and luxurious interior and is the most quietest convertibles. Even though it has a V12 engine you can barely hear the engine when it's on. If you would like to get driven around Miami in an iconic Rolls Royce convertible we can make it happen. Whether your cerebrating a wedding, birthday, or prom, we would be honored to be part of this magic moment in your life.
 The Rolls Royce Dawn has a timeless design. If you want to show up to your next event in elegance you can hire the Dawn with a private driver and be taken around in pure luxury. From the legendary Rolls Royce grill to the spirit of the ecstasy that sits proudly up front the Dawn is nothing short of excellence. The Dawn has a convertible soft top and due to the amazing weather in Miami you will probably want to be chauffeured with it down. The wide opening rear-hinged coach doors allow you to get into the back seat with relative ease. Once you and the driver is inside he can simply press a button on the dash and close the doors. The Dawn is one of the most elegant convertibles you can be chauffeured in and provides nothing short of perfection.
The Dawn really shines in it's interior comfort. Having the title of most luxurious convertible in the world isn't taken lightly. When you rent a Rolls Royce Dawn with a driver you are getting driven in a luxury oasis to your next event. It has enough space in the rear for 2 passengers and one extra person can sit up front. The Dawn uses the finest materials in it's interior so you won't find a single plastic piece. Even the air conditioning nobs and door handles are crafted from perfectly finished metal. With the roof off it creates an open space that connects you to Miami the sounds and smells of Miami. With the top up you are isolated from all noise and you can hear a pin drop. If your the type of person who wont settle for anything but the best our Rolls Royce Dawn chauffeur service is just that.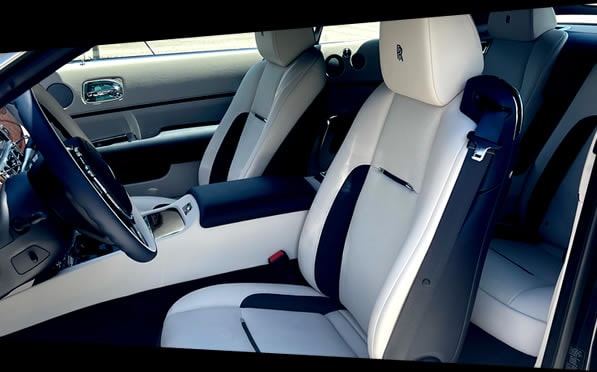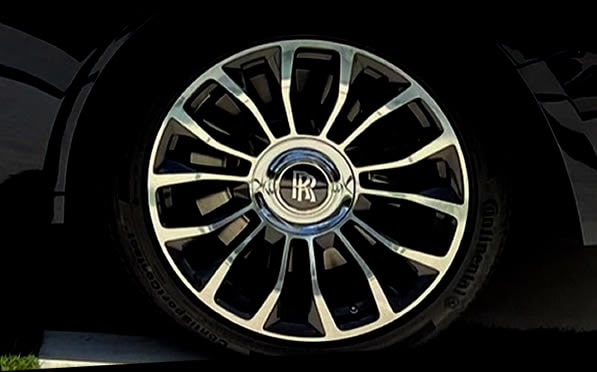 The Dawn is not only one of the most elegant and luxurious rides but also one of the smoothest. Getting driven around Miami in a Rolls Royce Dawn feels like your riding on a cloud.The advanced air suspension system works with multiple sensors throughout the vehicle that monitor the road ahead and adjust the settings for maximum comfort. Although there is a 6.6-litre V12 twin-turbo engine under the hood you can barely hear a sound coming from the engine when the Dawn is in motion. Our Dawn chauffeur service will compliment your vivid Miami lifestyle with no problem. Getting driven around in the Dawn will provide you with a night you'll never forget with the people who matter most.
MORE LUXURY CHAUFFEUR OPTIONS
About Miami Rolls Royce Dawn chauffeur service
 If you really want to make a grand entrance at your next event a Rolls Royce chauffeur is the most prestigious option. Renting a Rolls Royce Dawn with a driver is the perfect way to compliment your wedding, celebrate your wedding or take your significant other for a nice dinner in the world's most luxurious convertible. Even if they are not car enthusiast they will appreciate the opulence a Rolls Royce provides.This luxurious masterpiece of automotive engineering cocoons it's passengers in nothing but the best. We can have a private driver pick you up anywhere in Miami and take you around the city like a star. From Miami International Airport, Miami Beach, South Beach, or any area in South Florida we can take you wherever you want to go.
You can expect to pay around $450 an hour to get driven around Miami in a convertible Rolls Royce. When you consider what it cost to buy a Rolls Royce the chauffeur cost doesn't seem bad at all. That does not include tax, gratuity or any fuel surcharge. During special events as well as holidays and concerts prices can be slightly higher. We strive to provide you with the best Rolls Royce chauffeur service in Miami at the best price possible. If you are ready to hire a Rolls Royce with a driver give us a call and we can give you a quote for the day you need it. The Dawn is a great alternative to traditional limosuine service.
The least amount of time you can rent the Rolls Royce Dawn with a driver is 4 hours. During some busy weekends there can be a 5-8 hour minimum. When you use this service the car is not able to be rented for the remainder of the day which is why we have these minimums in place.