If your looking for a luxury chauffeur you now have the option to hire Bentley Bentayga with a driver in Miami. The Bentayga offers a unique combination of comfort and off-road capabilities. As soon as the Bentayga arrives at your location to pick you up you will notice that this is not your average luxury SUV. This new Bentley truck is the perfect luxury car to hire with a driver for that special day. The Bentayga can fit up to 3 passengers comfortably and makes a great first impression. You can rent a Bentley truck for a wedding, prom, birthday, or just to make the weekend more memorable.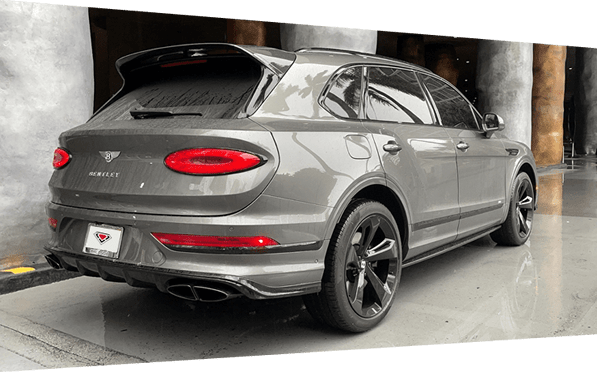 The Bentayga is a beautiful car to hire with a driver. It showcases Bentley's heritage with it's sleek and elegant design. One of the most prominent features are the four familiar round headlights that are synonyms with Bentley motor cars. In typical Bentley fashion, the lights are fitted flush with the body giving them a custom appearance. The body is made of aluminum and showcases Bentley's signature sweeping lines and it's timeless designs. The Bentayga makes a grand entrance as soon as it steps on the premise. When a regular luxury chauffeur won't cut it the Bentayga is a premium SUV to hire with a driver. Don't settle for anything but the best and hire a Bentley in Miami today.
The Bentayga is a spacious luxury SUV that will provide you with a luxury chauffeur experience like no other. The are few luxury SUV's that you can rent with a driver that compare to the Bentayga. It has enough room for 3 passengers in the back as well as an additional seat up front if you have a part of 4. The high ceilings and massive body make the Bentayga's interior incredibly spacious.The interior of the Bentayga is nothing short of excellence. The bespoke design and attention to detail can be found all through the cabin. An oasis of luxury for you to sit back and enjoy riding around Miami in one of the most luxurious SUV's in the world.
The Bentley Bentayga is one of the best luxury SUV's to rent with a driver in Miami. It features a special adaptive air suspension to allow the car to be lowered for easier entry. The driver will enable access mode prior to you getting inside the car so you can easily step inside and start your luxury experience. The Bentayga also features active anti-roll control systems to provide one of the most pleasant rides even while going over bumps. It also adjust if your chauffeur needs to make a sharp turn so that you have the smoothest ride possible. Although it does come with a very powerful engine you won't hear a thing inside the Bentayga as you are whisked away in a premium luxury chauffeur.
MORE LUXURY CHAUFFEUR OPTIONS
About Miami Bentley Bentayga chauffeur service
Getting driven around Miami in a high class luxury SUV like the Bentayga can be a memorable event. Hire a Bentley Bentayga with a driver in Miami and experience a luxury experience like never before. If your trying to find the best luxury SUV for chauffeur the Bentayga is a great choice. As soon as you step inside you will be relaxed and calm as you take in the beautiful space. The interior is hand assembled using only the best quality materials in the world. The interior is eloquently refined with a combination of leather and high tech engineering for the infotainment system. Although the Bentley we offer is not a limousine many of our customers refer to our service as the Bentley limo service. Celebrate your next birthday, wedding, anniversary, prom, or any special event buy hiring a Bentayga with a driver. We can have the car waiting for you outside of your home, hotel, or venue anywhere in Miami including Miami Beach, South Beach, Brickell, Boca, West Palm or where ever you need it.
The cost to hire a Bentley Bentayga with a driver in Miami starts from $250 per hour depending one the model and condition of the vehicle. We can provide you with special rates for multiple day chauffeur services. We strive to provide you with the best Bentley chauffeur service in Miami at the best price possible. If you would like an exact quote for the day you would like to rent a Bentayga with a driver give us a call. We are always happy to answer any questions you might have regarding pricing and availability.
With our luxury chauffeur service you can be driven around Miami like a boss by one of our professional drivers. For all Bentley chauffeurs in Miami we have a 4 hour minimum requirement. You don't need to use the car for the full 4 hours but you will be required to pay in full for the 4 hours.