Miami is a great place to hire a Rolls Royce with a driver. The Rolls Royce Ghost is a premium luxury chauffeur option if you really want to ride in luxury. Miami's highly prized fine dining establishments and vibrant night life are the perfect setting to spoil yourself by driving around in the ultimate luxury sedan. Enjoy a world of luxury in the back seat of a Rolls Royce Ghost. The Ghost has a spacious and opulent luxury interior that is fitted with the best materials money can buy. Imagine arriving at your next event in a Rolls Royce Ghost and having one of our professional chauffeur's open the rear hinged doors giving you the ultimate luxury experience.
The Rolls Royce Ghost has an elegant design with it's iconic Rolls Royce Grill and spirit of ecstasy placed front and center. Arriving at your next event in a Rolls Royce makes you feel like royalty. The new Ghost features an illuminated grill that showcases the chrome grill and brings more life to the front of the sedan. This is the most luxurious sedan in the world and the design is just beautiful. When you hire a Rolls Royce with a driver and get driven around Miami you will really appreciate the sound isolation and premium sound system. Overall the design maintains the classic Rolls Royce look while adding subtle design changes to make it more contemporary and add little touches of class thorough the exterior.
The Rolls Royce Ghost has an interior that will provide unparalleled luxury. When you hire a Rolls Royce Ghost with a driver you are getting chauffeured in the most luxurious sedan in the world. It has enough space for 3 in the back and you can also seat another passenger up front. So four people can enjoy the luxurious interior and smooth ride. Step inside and you'll be greeted by a handcrafted interior that is both comfortable and luxurious. The Ghost features the new star light headliner bring the night sky inside of your ride.  It is also one of the quietest rides you will ride in our customers have said it felt like they were riding on a cloud. When your Rolls Royce Ghost chauffeur arrives at the door of you home in Miami you will immediately feel like it's going to be a good time.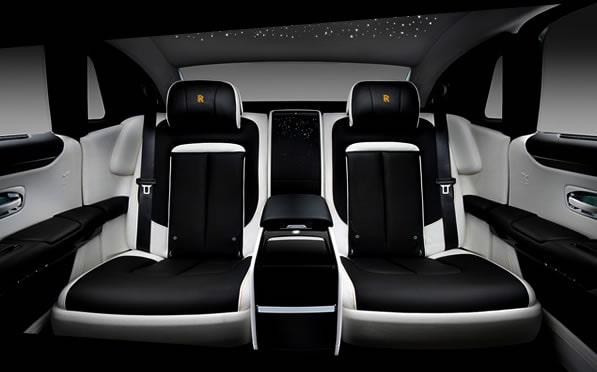 The Ghost as with all of the Rolls Royce chauffeurs we provide has one of the smoothest rides possible. It has been attributed to what it would feel like if you were riding on a cloud. This is due to the highly sophisticated suspension system that makes constant adjustments to provide the smoothest ride possible. There are cameras that watch the road as well as GPS assisted features to track the terrain you are going over and adjust the suspension accordingly. The Ghost is a massive luxury sedan but you won't feel it. One of the other reasons this luxury sedan is so smooth is due to the advanced planer suspension system that comes equipped with air-dampers and multi-link aluminum suspension, for maximum chassis stabilization for one of a kind ride experience. This is not your average luxury limo this is a Rolls Royce the best in it's class.

MORE LUXURY CHAUFFEUR OPTIONS
About Miami Rolls Royce Ghost chauffeurs
The Rolls Royce chauffeur is the perfect gift to give to your loved one on that special day. The newly designed Rolls Royce Ghost Series comes with the signature rear-hinged doors that open majestically. The iconic grill is another feature that contributes to the Aura that comes with a Rolls Royce chauffeur. Are you ready to experience the most prestigious Rolls Royce chauffeur service in Miami? We are proud to provide you with the latest Rolls Royce Ghost chauffeur service to whisk you away to your next special event. Step inside the back seat of a true marvel of engineering and experience luxury at its finest. Using our Rolls Royce ghost chauffeur service is one of the most luxurious ways to travel in Miami Beach, South Beach or anywhere in South Florida. Our premier Rolls Royce chauffeur services are great for any type of events such as a Prom, Wedding, Corporate Event, Birthday or any important day that you want to make memorable. Take a ride in a British handcrafted Rolls-Royce Ghost today in Miami. If you have any questions on how to hire a Rolls Royce Ghost with a driver give us a call and one of our concierge specialist will assist you. We want to make sure your Rolls Royce rental experience is an experience that you will cherish forever. We have multiple color options available such as black, white or two-tone combination. When nothing but the best will do, a Rolls Royce Ghost rental with a driver is the obvious choice. As soon as you step into the Rolls Royce Ghost the outside world just seems to fade away. Give yourself the pleasure of being chauffeured inside one of the most luxurious cars in the world.
The cost to rent a Rolls Royce Ghost with a driver is usually $450 per hour but the price can fluctuate during weekends where the demand is much higher such as Art Basel, Memorial Day or Labor Day Weekend. We do require a minimum of 4 hours with all of our Rolls Royce chauffeur packages. You do not need to provide insurance as our professional drivers will be the ones driving you around Miami. Rolls Royce Ghost Chauffeur services are available in any part of Miami including Miami Beach, South Beach, Wynwood, Doral, Downtown, West Palm, Palm Beach, and Fort Lauderdale. We aim to provide the best Rolls Royce chauffeur services in Miami at the lowest price possible.
The least amount of time you can hire a Rolls Royce Ghost with a driver is 4 hours but some weekends can require a 5-8 hour minimum. These are consecutive hours so you cannot split up the time into segments.