The Mercedes Sprinter is a luxurious bus that can have multiple configurations. In Miami we have several available in limo style with a bench seat, 4 captain chairs with a table, or rowed leather seating which is similar to what you would find on a bus. The sprinter is the perfect luxury chauffeur option if your traveling with a big group. Each sprinter has a different maximum capacity so you will need to let your concierge specialist how many people you have in your party beforehand. The sprinter can be one of the most luxurious and fun ways to get driven around Miami. If you would like to rent a Mercedes Sprinter with a driver in Miami give us a call.
For a bus styled limo the Mercedes is definitely ahead of the curve. That behind said there isn't really anything spectacular about the exterior design. Most of the sprinters we provide with a driver are in black to go with the luxury look. If there are no black sprinters available we may have some other options such as white or grey. If your are having an event we can arrange for the bus to be wrapped for an additional fee. You can promote your product launch or brand launch with a combination of sprinter vans and luxury SUV's. Although this is obviously not a Rolls Royce the fact that it has the Mercedes logo in the front adds to it's prestige. The Sprinter is an excellent choice if you have a big group of people and want something more luxurious than a limo.
Our Mercedes Sprinter rental service in Miami comes with multiple interior options. The first option is a long row that wraps around to the back similar to what you might find in a stretch limo. The second option is traditional row leather seating like what you might find in any bus. The last and most luxurious is the 4 captain chairs that can be reclined and also have the option to set a table in the center. The bus style seating will be the most basic of the three. The limo style version will have all the things you would expect like water and any other beverages that you pre order in advance. All of the options come with leather seats a cold air conditioning system and other luxury amenities. Each Sprinter chauffeur also has a limited seating capacity so you will need to let us know how many passengers there will be before the reservation is finalized.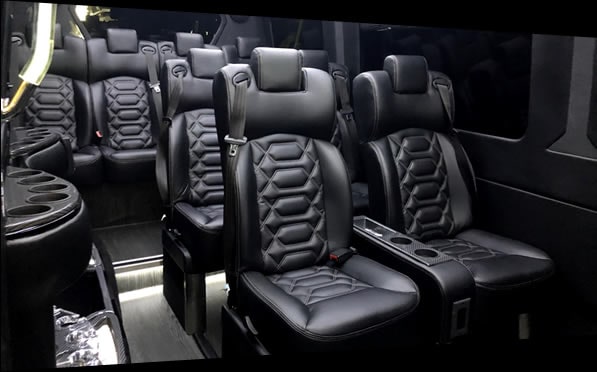 All of the sprinters available for chauffeur are incredibly smooth. Not Rolls Royce smooth but very smooth considering your riding in a bus after all. The Sprinter is made by Mercedes so it does prioritize your comfort by having an air ride suspension to minimize bumps on the road. Overall the Mercedes Sprinter provides an exceptionally smooth ride for such a large SUV. Create a memory that will last forever when you hire a Sprinter with a driver this weekend in Miami. Your guaranteed to have a great time with your family and friends when you can all ride together in the same SUV. We have had celebrities and atheletes rent a G63 with a driver and also a sprinter in the back for their friends and family. 
MORE LUXURY CHAUFFEUR OPTIONS
About Miami Mercedes Sprinter chauffuer service
Plain and simple the Mercedes Sprinter is the most luxurious SUV you can rent that can accommodate a large group.It is both comfortable and has a little style with that prestigious Mercedes Benz logo up front. We can have a luxury Sprinter waiting for you outside of your home or hotel in Miami ready to take you to your next event. Whether you need a luxury ride for your brides maids and groomsman or you just want to celebrate your birthday in Miami with all your friends you can't go wrong with a sprinter.
The price per hour to hire a Mercedes Benz sprinter in Miami with a driver starts from $149. This does not include any additional service fees, gas surcharges, tolls or taxes. If you would like an exact quote feel free to give us a call and we can provide you with a total cost for the day you need the SUV. We aim to provide you with the best Mercedes Sprinter rentals in Miami at the best price possible.
The lowest amount of time you can rent a Sprinter with a driver in Miami is 4 hours. Depending on the model that is available at the time and the day you need the car there may be a higher minimum of 5-8 hours.