If you want to enjoy your time in Miami you should consider using our luxury chauffeur services. You can hire a Cadillac Escalade with a driver to take you to your next event. Travel in the lap of luxury the next time you have a wedding, birthday, anniversary, wedding, prom or corporate event. The Cadillac Escalade is a luxury SUV like no other. The interior is eloquently appointed and has enough seating capacity to fit up to 6 passengers. The Escalade ESV is the longer version so it has 2 bucket seats and a bench seat in the rear. The Escalade ESV is also the largest luxury SUV you cant rent with a driver in Miami.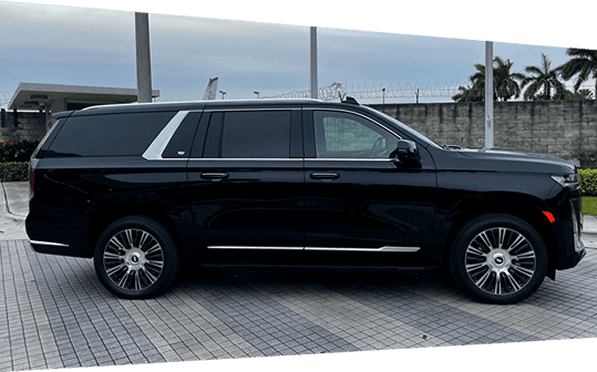 An iconic American luxury SUV the Escalade represents years of automotive engineering at it's best. The Escalade ESV is one of the most spacious luxury SUV's you can rent in Miami with a driver. The new sleek headlights and massive front grill give it that iconic Cadillac look. The ESV has a bold look and due to it's massive size makes an elegant entrance where ever you go. All of our customers love to rent the Escalade for its large size and unmissable presence. Athletes, Executives, and celebrities love to rent the Cadillac Escalade in Miami because of its sophisticated yet elegant appearance. It comes with 22 inch alloy wheels that add to the refined look.
The beautifully crafted interior uses the best quality materials and
design elements. Another great perk when you hire a Cadillac Escalade ESV with a driver in Miami is the sound system. Play your favorite tunes using the Bluetooth system and high-end speaker system. If you have a large amount of luggage some of the seats can be folded down to fit a vast amount of luggage. We are proud to offer this beautiful luxury SUV with a driver to all of our customers. We only work with the most professional drivers to take drive you to your next destination. We can also help you with planning every detail of your trip. We want to make sure luxury car rental with a driver is a great memory you can cherish forever. If you have a lot of luggage the Escalade has plenty of
space for all of your bags. Experience our luxury car rental with a
driver today.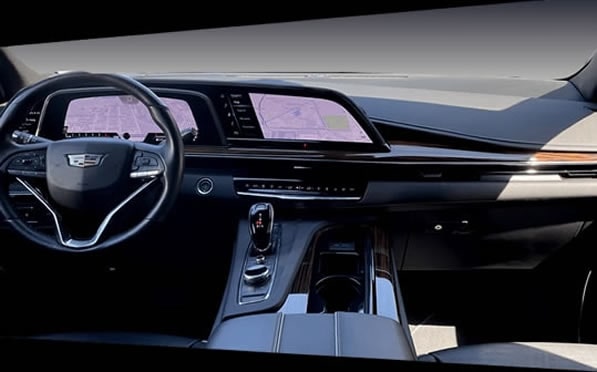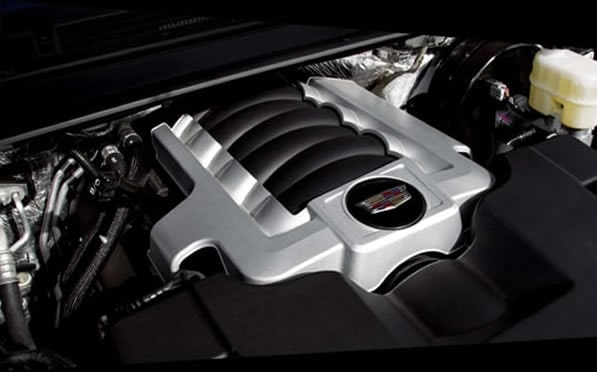 This American luxury SUV is powered by a 6.2L V-8 VVT DI V8 engine with Dynamic Fuel Management that produces 420 horse power. It provides an extremely smooth ride with the equipped magnetic ride controlled suspension. The Escalade features intuitive driver-assistance  to allow your driver to chauffeur you with ease. The Escalade is a smooth ride and getting in the back seat you will find a luxurious, spacious and comfortable interior. The Escalade also comes equipped with USB-C outlets and traditional USB outlets so you can charge your phone on the go.Rent an Escalade with a driver in Miami today and experience this American classic for yourself.
MORE LUXURY CHAUFFEUR OPTIONS
About Miami Cadillac Escalade ESV chauffeur service
The Escalade ESV is a great luxury chauffeur option. It's affordable and provides  a great level of luxury, comfort and style. Over the years the Escalade has become an iconic American luxury SUV  and one of the most popular SUV's to hire with a driver. We have done chauffeur jobs for birthdays, weddings, proms, product promotions, and even corporate even. There's nothing better than not having to drive and having a professional driver take you around Miami in a luxury SUV like the Escalade ESV. Our drivers can take you wherever you want to go in Miami including Miami Beach, South Beach, Wynwood, Midtown, Downtown, West Palm Beach, Boca Raton, Doral, Midtown, Palm Beach, Miami International Airport, Wynwood, Brickell, or even Fort Lauderdale. We aim to provide you with the best Cadillac Escalade chauffeur service in Miami.
The cost to hire a Cadillac Escalade with a driver in Miami starts from $149 per hour and can be as high as $299 per hour depending on the day you need it. We have special car hire packages for longer reservations. If you would like to rent multiple Cadillac Escalade's for your event we can also make it happen and provide you with a lower rate depending on the amount of hours for each Escalade. When booking a luxury chauffeur we always recommend calling in advance to make sure you get everything squared away.
There is a 4 hour minimum most of the time but some weekends may require a 5-8 hour minimum. With our chauffeur service a driver will pick you up in the Escalade and take you anywhere you would like to go in Miami. This rate does not include any gratuity or fuel surcharges.