The Mercedes G63 is the AMG version of the G-class and is an beautiful SUV to rent with a driver. The G wagon has tons of space inside and has a timeless design that has become a staple in luxury chauffeur services in Miami. You can hire a G63 with a driver for your next event and be driven around Miami like a boss. Our luxury chauffeur service allows you to not worry about driving and have our chauffeur take you around South Beach, Miami Beach, West Palm, or anywhere you would like to go in pure elegance. One of the reasons it is so popular is because the AMG G Wagon has an upgraded interior along with many other styling changes.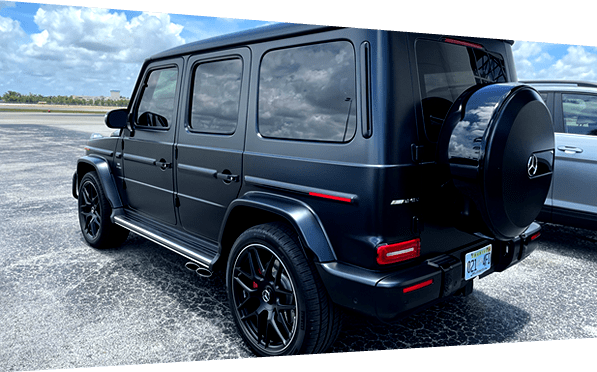 Due to it's simple design many people who aren't in the know, overlook the G63. It is a low key luxury SUV that has a wealth of luxury hidden inside. Many celebrities and athletes love to rent the G63 with a driver because it isn't as flashy or call so much attention as something like a Lamborghini URUS or Bentley Bentayga. The understated design has made it one of the most popular luxury car rentals in Miami. The timeless exterior of the AMG G Wagon also has some upgrades that you might have missed. For example the wheels are unique and can only be found on a G63. Other than that from the outside most people won't realize your riding in one of the most prestigious luxury SUV's in Miami.
The G63 really shines when you step inside. When you hire a Mercedes G63 with a driver you are getting driven around Miami in a bespoke luxury interior. The diamond pattern stitching and luxurious Nappa leather seats make you feel comfort like never before.Due to the high roof and box body design it is one of the most spacious with ample leg and head room wherever you sit. The back seat can fit 2 or 3 passengers depending on the version and you can also fit one more person up front if you so require. The spacious back seat is perfect for long trips and can even be used to work while you get driven around Miami. From high profile executives to football players everyone loves to ride in the back seat of the G63.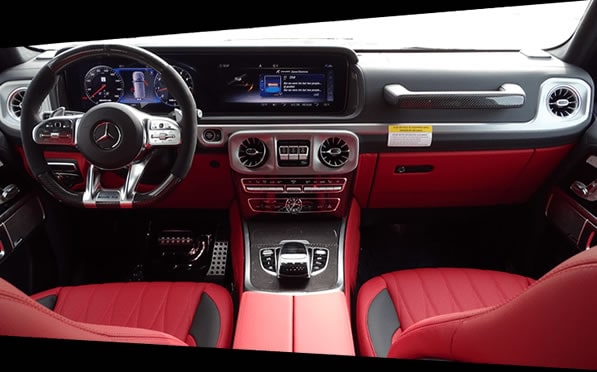 The G63 comes with an AMG 4.0L V8 bi-turbo engine so your driver will be able to get you to your destination quickly if you should prefer. Really there is no rush when your renting a G63 with a driver. The engine pairs with an AMG speed shift TCT 9G-Tronic transmission for smooth shifting you won't feel at all. There can often be construction going on in Miami and the G63 can ride over any bumpy road without a care. The highly tuned suspension will be placed in comfort mode to provide you with the smoothest ride possible. See what it feels like to ride in the back seat of the G63 with our Miami luxury chauffeur services. We promise you wont want to use a regular Limo service again.
MORE LUXURY CHAUFFEUR OPTIONS
About Miami Rolls Royce Phantom Chauffeur Service
Miami is a city with character, style and luxury. If your going to hire a Mercedes G63 with a driver it's the perfect place. The G63 is one of the most popular luxury chauffeur options available.  We can pick you up and take you to your favorite destinations in Brickell, Miami Beach Downtown, and South Beach or wherever your decide you want to go. The interior is spacious and luxurious and provides a level of comfort that is only found in the best SUV's in the world. Experience a luxury ride in the back seat of the ultimate AMG G wagon. Whether your celebrating a birthday, new job, wedding, or a prom we are happy to make your travel experience one of a kind. We aim to provide you with an unparalleled luxury experience you will never forget.
The cost to rent a Mercedes G Wagon in Miami with a driver starts from $399 an hour. For longer chauffeurs we can provide you with a discounted rate. We also provide multi day discounts and include 100 miles with your chauffeur. If you have any other questions regarding cost or want an exact quote give us a call. We are happy to answer any questions you might have regarding pricing and availability. Our goal is to provide you with the best Mercedes Chauffeur service in Miami at the best price possible.

The least amount of time you can hire a Mercedes G63 with a driver is 4 hours. On some weekends there may be a 6-8 hour minimum. If you have a special request give us a call and we will try our best to make it happen but when we allow luxury chauffeurs for less time someone the car is out for the day regardless due to having to prepare the car for every chauffeur.