The BMW 750i is large and in charge when it comes to luxury sedans. You can rent a BMW 750i Miami and experience the ultimate driving machine for yourself. The 750i is the largest sedan offering from BMW and gives you plenty of space for you and your passengers to stretch as you explore Miami in the pure comfort. We can have this wonderful BMW delivered to your home or hotel in Miami for free. Drive the ultimate BMW SUV today with Car Exotic Rental.
The BMW 750i is a beautiful sedan to rent in Miami. The new version has refreshed exterior styling with a modern touch. The large front kidney grill further showcases the elegant from bumper. The 750i brings unique elements of luxury to every area. The thin Adaptive Full headlights light the way as you explore the streets of Miami. The rear thin light strip makes a bold design statement and gives it a modern touch. The dramatic exterior showcases the smooth body lines. This is surely a head turner and will be a fun car to drive around Miami. 
This technologically advanced luxury sedan offers a digital driver oriented cockpit. The cabin is spacious and luxurious and the ride is quiet and smooth.The interior provides a relaxing atmosphere for you and 4 more passengers to cruise Miami Beach in style. Inside you'll find a well built luxurious interior with premium materials used in every area. The 7 Series comes with BMW's latest version of iDrive 7.0 for the infotainment system. The interactive touch screens allow you to quickly adjust the cars features. You can also use the convinient rotary controller in the center to scroll through different options. There are plenty of USB ports scattered throught the cabin and access to Android Auto or Car Play are just a plug away.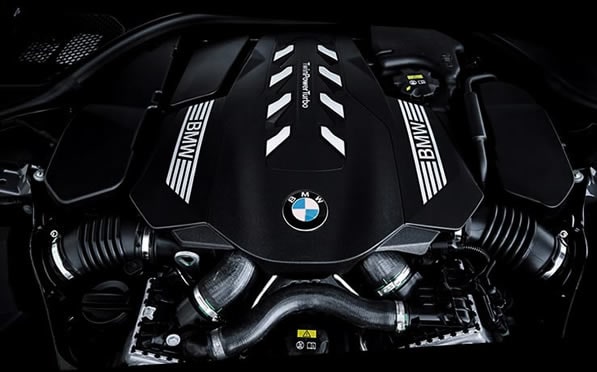 The BMW 750i is powered by a twin-turbo intercooled V-8. With a 0-60 time of just 4 seconds this luxury sedan is no slouch. The 750i has a good amount of power and drives incredibly smooth. Some of the convenience features it has are Frontal Collision Warning, Active Blind Spot Detection, Lane Departure Warning,Active Driving Assistant, which includes Daytime Pedestrian Protection, and semi-autonomous self-steering highway cruise control. Overall this is a fun car to drive and has a sports sedan feel not found in many other vehicles.
ABOUT MIAMI BMW 750i RENTALS
The BMW 750i is a luxurious sedan with lots of space and luxurious amenities inside. If you want to rent a luxury sedan in Miami for the weekend we can put you in the drivers seat of the new 750i. It's a great car to rent for weddings, corporate events, meetings with customers or just because. This BMW luxury sedan is a great option due to it's extremely comfortable interior powerful engine and elegant design. We can have the BMW 7 Series delivered to you anywhere in Miami including Miami Beach, South Beach, Doral, Brickell, Coral Gables, Key Biscayne, Downtown, Midtown, Wynwood and more.
The cost to rent a BMW 750i starts at $495-$895 per day. It all depends on what model is available for your selected period. There is also a security deposit required of $1,500. This is refunded once the vehicle is returned without damage. If you have any other questions regarding pricing for our BMW rentals in Miami or what to know the exact cost of a rental give us a call and we would be happy to help. We always aim to provide the best BMW rentals for the best price in Miami.
The least amount of time you can rent a BMW 750i in Miami is one day. We have this limit in order to provide our customers with the best quality service. You can always return the 750i earlier but will still be responsible for the full cost of 24 hours. Renting the car for an hour or two would take the car out of inventory for other customers who need a car for the day or entire weekend.