Explore Miami in the flagship BMW SAV the X7. If your wondering what SAV stands for its Sport Activity Vehicle. You can rent a BMW X7 in Miami for a day or even drive one all week. The new BMW X7 is larger than life with its massive body and large interior space. Make your trip to Miami Beach legendary with a BMW X7 rental.
The BMW X7 has a sleek exterior with thin horizontal led head lamps. The large and lavish SUV makes it a popular choice for family and friends heading out for a fun time in Miami. The X7 has a sleek design and although it is a large vehicle still has a sporty look to it. The head turning design are borrowed from the X5 and scaled up a bit. This is a beautiful car to look at and will get plenty of attention from on goers.Drive one of the most spacious and well designed BMW SUV rentals in Miami today.
The interior of the BMW X7 seats 7 people comfortably. The Digital dash Display comes with BMW Live Cockpit Professional that provides vital driving data and navigation instructions. Integrated into the center of the dash there is also a 12.3″ Central Information Display that gives you quick control of the infotainment system and interactive apps including Car Play and Android Auto compatibility. It has an executive feel with premium leather seats that provide a first class experience. Comfort extends beyond the cabin of the BMW X7. The two-axle air suspension give you a smooth ride when cruising the streets of Miami. It also allows you to adjust the height of the car for easier entry and exit as well as for loading your luggage into the trunk. Settle into an interior with a touch of elegance and rent a BMW today in Miami.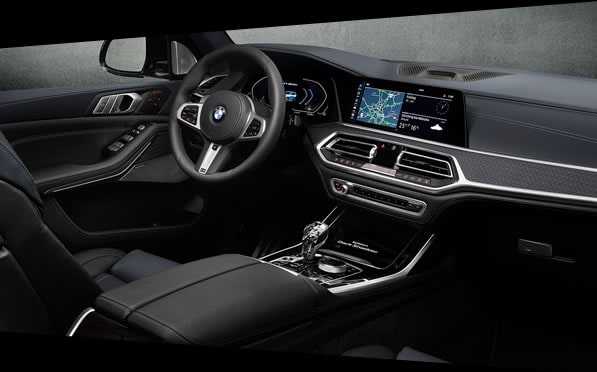 Under the hood of the BMW X7 lives a 4.4 liter inline V-6 BMW M Twin Power Turbo engine that produces 335 horse power. The powerful engine provides plenty of power and can go from 0-60 in just 5.8 seconds. The BMW X7 comes with BMW's intelligent all-wheel drive system aka xDrive which controls the power to each individual wheel for increased traction and control. There are several driving modes to choose from including Sport, Comfort,Eco Pro, Adaptive and Auto H. Each mode fine tunes the performance and gives you the option to fine tune your driving experience. Overall the BMW is a fun car to drive and still has the race heritage BMW is known for in it's DNA.
ABOUT MIAMI BMW X7 RENTALS
The BMW X7 is the largest BMW SUV in the lineup. It's a great car to rent for weddings, birthdays, proms, and corportate events. Due to it's massive size it makes for a great luxury SUV to rent with friends and famliy. We have yet to find a customer that doesn't fall in love with driving the X7 in Miami to date. It may be harder to park then some of the other models like the X6 or X5 but that is where in the complaints end. We can have a BMW X7 delivered anywhere including Miami Beach, South Beach, Doral, Brickell, Downtown, Midtown, Coral Gables, Wynwood and Miami Airport.
The cost to rent a BMW X7 in Miami varies from $595-$795 per day. There is also a security deposit required on the day of your rental. We're happy to give you exact pricing for your required dates if you give us a call or chat with us. You also won't have to pay any transport fees as we can deliver any one of the BMW rentals to any where in Miami as well as Miami International Airport free of charge. Our goal is to always provide our customers with the best prices for BMW X7 rentals in Miami.
The least amount of time you can rent a BMW X7 is one full day or 24 hours. We do not offer hourly BMW X7 rentals at the moment but you can always use our luxury chauffeur services if you just need the car for a couple hours. When you hire a BMW X7 with a driver there is a 4 hour minimum but you can sit back and relax while our professional drivers takes you around Miami in style.