If you're looking to rent a Rolls Royce that is driver-focused and provides a smooth luxurious ride then we have the perfect car for you. Our Los Angeles Rolls Royce Ghost rental service is a great option for cruising the streets of Los Angeles in the lap of luxury. Wherever you arrive in your Rolls Royce rental car you will feel a sense of confidence radiating. The aesthetic beauty of the Ghost and smaller design make it the most luxurious driver's car available for rent in LA.
The first thing you'll notice when you see a Rolls Royce Ghost is the iconic Pantheon grille which is a symbol of elegance and luxury. On top of the grill you'll find the iconic spirit of ecstasy that has become a tradition on all Rolls Royce motor cars over the years. When you see a Rolls Royce coming by you can tell this is not your standard luxury sedan. One of the most unique features of the Rolls Royce Ghost are the rear hinged coach doors that open the opposite direction of traditional doors providing a display of opulence when you step out of the car. The sweeping lines and iconic silhouette make the Ghost one of the most elegant sedans on the streets of Los Angeles. Drive one of the most luxurious cars in the world when you visit Beverly Hills this weekend.
The Rolls Royce Ghost is known to have one of the most opulent interiors of any other car brands. Rolls Royce prides themselves in attention to detail and this can be seen in ever part of the vehicle. The combination of sumptuous leather seating and book matched wood veneers make this a great luxury car rental option for Beverly Hills. Hidden behind the center compartment is also a digital display that is reveled when you step in the car. The Ghost can fit up to 5 people in total and has a good amount of interior space for you to stretch out and relax. It features a premium sound system as well that will allow you to listen to your favorite musicians while cruising Rodeo drive. The Ghost also has one of the quietest interiors of any other Los Angeles luxury car rental.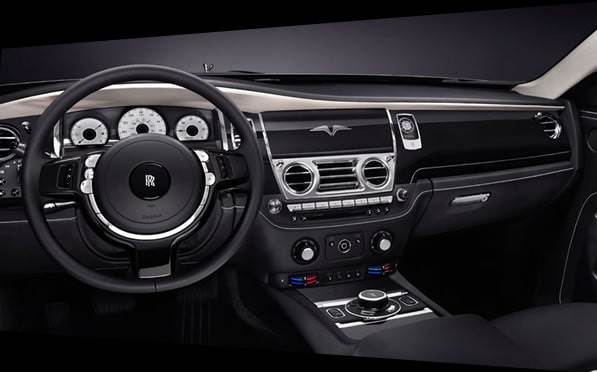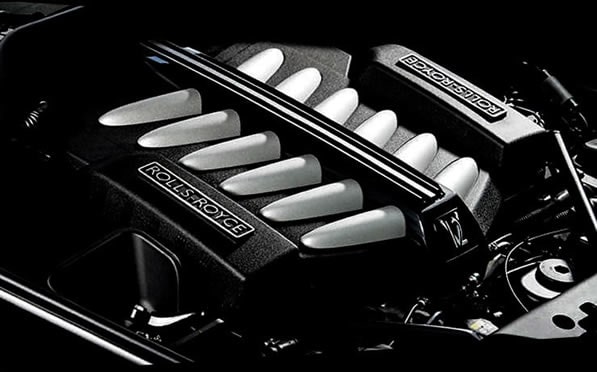 A twin-turbocharged 6.6-liter V-12 engine produces 563 horsepower as soon as you step on the gas pedal. The Ghost can glide from 0-60 mph in just 4.8 seconds with a top speed of 155 mph. Paired with a ZF eight-speed automatic GPS-aided transmission system the car uses satellite data to automatically adjust the transmission and suspension components to the optimum setting for the area of Los Angeles your traveling in. Many of the structural components such as chassis and engine are from a BMW 7 series and provide a reliable platform for the Rolls Royce Ghost to built on. When nothing but the best will do the Rolls Royce Ghost rental is a great car to hire in LA. We also offer this motor car with a chauffeur as well.
About LA Rolls Royce Ghost 2020 rentals
Are you ready to step into a Los Angeles Rolls Royce rental car? Give us a call we are always happy to help you pick out your dream car from the many luxury car rental options we offer. You're going to love the way you look cruising Los Angeles in a beautiful Rolls Royce. Give us a call and get behind the wheel of a luxurious Rolls-Royce today. A great choice for Weddings, New Years, Birthday's, Proms, or Corporate events. When you rent a car with us we can have the car delivered to you anywhere in California including Beverly Hills, Malibu, Beverly Park, Redondo Beach, Manhattan Beach, Hidden Hills, Rolling Hills, Bel-Air Estates, Upper Laurel Canyon, Palos Verdes Estates, West Hollywood, Brentwood Park or Los Angeles airport (LAX).
The cost to rent the Rolls Royce Ghost can fluctuate based on seasonal demands. The price to rent a Ghost usually runs between $1399-$1799 per day. You can use your own insurance so that you won't have to pay any additional cost for insurance. You are also required to leave a $5,000 security deposit on a credit or debit card. In Beverly Hills, international drivers must pay an additional fee for insurance as well as a much higher security deposit. This is not a cheap luxury car rental but is one of the most luxurious cars in the world. If your ready to reserve a Rolls Royce in LA and would like exact pricing feel free to give us a call or chat with us. We aim to provide our customers with the best price for the best Rolls Royce rentals in Los Angeles. We also provide luxury chauffeur services in the Rolls Royce.
If you would like to hire a Rolls Royce Ghost with a driver there is a 4 hour minimum. If you would like get behind the wheel there is a 24 hour minimum. If you would like to rent a Rolls Royce Ghost for a couple and drive it yourself you can but will still be charged the full 24 hours.