The first Rolls Royce SUV rental is now available in Beverly Hills. You can rent a Rolls Royce Cullinan in Los Angeles for a day, weekend, or on a weekly basis. The Cullinan is named after the largest Diamond that was ever found. Take a ride in the first ever Rolls Royce Cullinan Rentals in Beverly Hills today. We can deliver this luxurious masterpiece right to your door step. The Cullinan is the ultimate luxury SUV rental to rent if your traveling with friends and family.
This LA Cullinan rental comes equipped with the iconic Rolls Royce rear coach doors that open in reverse. The large opening provides a grand entrance for your passengers to step inside in style. The Cullinan looks like a Rolls Royce Phantom that was stretched up and given an all terrain suspension. As soon as you lay eyes on the Cullinan it is apparent that this luxury SUV has the iconic look of a Rolls Royce. The box style design and smooth refined lines have made it a very popular luxury car rental for riding around Beverly Hills in style. The Rolls Royce Cullinan makes bold statement whenever it arrives anywhere. If your a fan of the Mercedes G63 and the Range Rover HSE then you'll probably love the Cullinan. Experience the most luxurious SUV in the world this weekend.
Inside your Rolls Royce Cullinan rental, you can expect to find all the luxuries that every Rolls Royce comes with such as a spacious handcrafted leather interior, navigation, premium sound system and many more. The Cullinan can fit up to 5 people comfortably and will make you and your passengers feel like royalty. Every corner of the cabin is meticulously crafted by hand to provide perfect finishes throughout the car. Complete with hand-stitched premium leather this luxury SUV also comes with an all-new Rolls Royce infotainment system that is intuitive and easy to use. Inside you will also find a button which converts this luxury SUV rental into an off-road motor car that uses all four tires to conquer any obstacle that might come your way.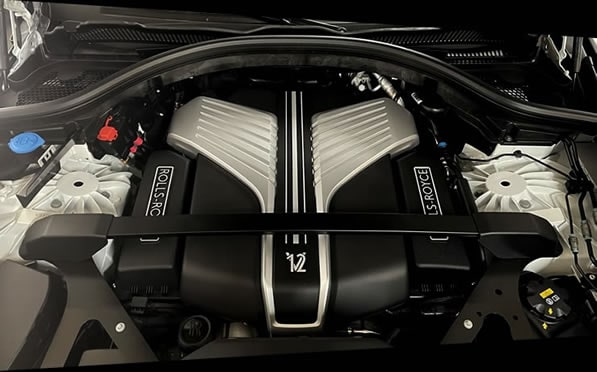 Under the hood of the Cullinan, you will find a twin-turbo 6.7-liter V-12 with 563 horsepower. This Los Angeles Rolls Royce Cullinan rental is easy to drive and will transform your trip from a fun experience to an unforgettable one. All through the Cullinan is a very heavy car is can still go from zero-to-60-mph in just 4.8 seconds. This gorgeous Rolls Royce truck comes with a high-performance air  suspension that has a self-leveling feature to provide the smoothest ride possible. The high-performance suspension is paired with a double-wishbone front axle and five-link rear axle deliver the precise control over the SUV. When you engage the all-wheel-drive mode it provides incredible performance on any surface you might be exploring. In all-wheel-drive mode, the suspension lifts an inch and a half and the acceleration and braking are adjusted to provide an extra level of control.
About LA Rolls Royce Cullinan rentals
The first ever all-terrain SUV from Rolls-Royce is the perfect luxury SUV to rent if your traveling with several people and want an ultra-luxurious ride. This beautiful luxury SUV is the latest addition to our Los Angeles Rolls Royce rentals. The Cullinan is also a great luxury car rental for weddings, birthdays, family vacations, corporate events, prom or any event that you want to make extra special. If you won't settle for anything but the best then this is the luxury car rental you should choose. The suspension is so smooth that you will feel like your hovering over the street. It's an incredible SUV to drive around Beverly Hills with all of your friends and family. We can deliver this magnificant luxury rental to anywhere in Los Angeles including Beverly Hills, Malibu, Rolling Hills, Redondo Beach, Bel-Air Estates, Manhattan Beach, Beverly Park, Hidden Hills, Upper Laurel Canyon, Brentwood Park, Palos Verdes Estates, West Hollywood, and even at Los Angeles International Airport (LAX).
The daily rate to rent a Rolls Royce Cullinan in Los Angeles is between $1795 and $2495. We also require a depsoit of $10,000 on the day we deliver the car. For long term Rolls Royce Cullinan rentals in LA over 5 days we do provide discounted rates. Our goal is to provide you with the best prices for Rolls Royce Cullinan rentals in LA. Because of our partnerships with the best car rental services we have the ability to give you the best variety of cars in the US.
We do not provide any hourly Rolls Royce rentals if you would like to drive the car however we do provide luxury chauffeur services in Cullinan, You can hire a Rolls Royce Cullinan with a driver for a minimum of 4 hours. If you prefer to get behind the wheel then the minimum amount of time you can rent it is 24 hours. If you only need the car for a couple hours for a quick photo shoot or video production you can but will still be charged for the full day.