Get behind the wheel of one of our Bentley Bentayga Rentals in Los Angeles. It's one of the fastest SUV on the market, the Bentayga offers a fusion of comfort and speed in a luxury SUV rental. The signature, grill is the first thing you may notice when you first lay eyes on this sports utility vehicle. This new SUV by Bentley is a great luxury car rental for any occasion. A drive through Beverly Hills in a Bentayga will have heads turning while you pass by. The perfect car to rent if you're traveling to LA in a group, it has plenty of space to fit all your bags after a long day of shopping on Rodeo Drive.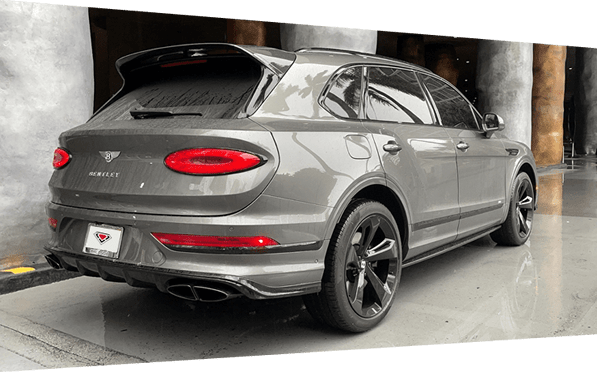 The exterior of the Bentley Bentayga houses Bentley's timeless design features. The Bentayga features the four familiar round headlights you're accustomed to seeing from the Bentley lineup. With an all aluminum body, the body lines flow seamlessly around the luxury SUV. Bentley Bentayga rentals come with fully adaptive LED head lamps that fit flush with the body allowing you to drive safely around Hidden Hills. The rear tail lights have also been redesigned to be more modern and now have an oval design with a unique light bezel. The refreshed design provides you with an elegant luxury SUV to cruise through LA with all your friends and family. Where ever you travel to will be an event. Rent a Bentley Bentayga in Beverly Hills today and experience luxury like never before.
Rent a Bentley Bentayga in LA and surround yourself with a comfortable space with all the bells and whistles you would expect from a premium luxury SUV rental in Los Angeles. The interior is composed of the highest quality leather and metal finishes. Inside the Bentayga's you'll find hand stitched leather and exotic wood veneers. The rare craftsmanship and attention to detail are a sure sign your riding in a Bentley Bentayga. You and your passengers will be amazed by the exceptional ride quality and quiet interior. The Bentayga really shines in the interior with plenty of leg room and high roof that makes it ideal for taller passengers. In the center it has a large display that allows you to control the navigation system as well as all of the media functions and car settings. It also includes CarPlay and Android Auto for listening to your favorite artist through the premium sound system.
The heart of the Bentayga is a engine is a twin turbo V8 engine. As so as you step on the gas you can tell this is not your average luxury SUV. It provides a perfect combination of torque and power. It can also switch between direct-injection and port-injection in in order to provide the most efficient performance available. The engine comes with two turbochargers that have been optimized to give you the optimum performance. The Bentley Bentayga races from 0-60 in 3.5 seconds and has a top speed of 187 mph. Hollywood traffic won't be an issue because for the first time Bentley is using Stop-Start technology adding to the efficiency of the engine. Experience the performance of a Bentley Bentayga this weekend in Beverly Hills.
About LA Bentley Bentayga rentals
If you're traveling with the family or attending a meeting in Beverly Hills this is the most versatile Bentley to rent. Hollywood is a very popular destination due to the abundance of celebrities, beautiful landscapes, and exquisite restaurants. Make your trip to Los Angeles unforgettable by driving a Bentley Bentayga. The Bentley Truck is the perfect luxury SUV to rent when attending a wedding, birthday, or any memorable day you want to make extra special. We hope to provide you with exceptional service and the most luxurious car rental service in LA.  Rent a Bentley in LA and we can have it delivered to Malibu, Beverly Park, Hidden Hills, Rolling Hills, Redondo Beach, Manhattan Beach, Beverly Hills, Bel-Air Estates, Upper Laurel Canyon, Palos Verdes Estates, West Hollywood, Brentwood Park, and even Los Angeles International Airport (LAX).
The cost to rent a Bentley Bentayga in Beverly Hills starts at $1299 per day. You are also required to leave a refundable security deposit on the day of your rental of $5,000-$10,000. The security deposit depends on your insurance coverage. If you live in the US you can use your own full coverage insurance in order to avoid any additional insurance cost. We also provide free delivery to Beverly Hills and LAX Airport but if you need the car delivered to other parts of Los Angeles there may also be a delivery fee. If you would like an exact quote for your desired rental dates feel free to give us a call. We aim to provide you with the best prices for the best Bentley rentals in LA.
If you would like to rent a Bentley in LA and drive it youtself the minimum amount of time would be 24 hours. We do offer luxury chauffeur services in the Bentayga with a 4 hour minimum. This option allows you to get driven around Beverly Hills by a private chauffeur in one of the most luxurious SUV's in the world. At the moment we are not providing any hourly rentals except for chauffeured vehicles. If you would like to rent the Bentayga for a couple hours you can but will still be required to pay for the entire day.