Drive the latest Maserati rentals in Los Angeles this weekend. You can rent a Maserati Ghibli for a day, weekend or on a weekly basis. The Maserati Ghibli is an exceptional luxury sports sedan that blends the soul of a GT inside with a refined luxury vehicle. The Maserati Ghibli is elegant and has plenty of power to get you around Beverly Hills in style. Experience this Italian masterpiece the next time your looking for a fun adventure around California.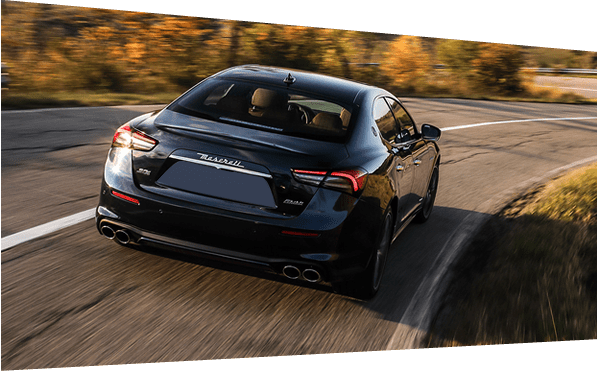 The first thing you will notice when you lay eyes on the Ghibli is the iconic trident logo and Maserati grill. The Maserati Ghibli stands out amongst other luxury sedans with it's elegant design and smooth body lines. The frame less doors give the Ghibli a coupe like appearance. Wherever you go in this beautiful luxury Maserati you will get lots of looks. Out of all of the luxury sedan rental options in Los Angeles this is one of the best. Maserati has a history of creating some of the finest Italian sports cars and the Ghibli lives up to that tradition. Drive your favorite Maserati this weekend in Los Angeles and see for yourself why the Ghibli is one of the most popular cars you can rent.
Inside the Maserati Ghibli there is enough room for 5 people to sit comfortably. The luxurious interior is everything you would expect in a high-end Italian sports car. The bespoke interior is equipped with the best leather and wood trims for the ultimate Italian luxury cabin. The front seats are covered in leather and feature 12-way power adjustments to provide a tailored fit for any driver. In the center, there is a large 8.4-inch multi-touch screen display to be able to control the infotainment system and navigation. It also comes with a premium 900-watt Harman Kardon Audio system with 10 speakers placed all threw the cabin. The Ghibli also comes with Apple Car Play and Android auto so you can bring your favorite play list on your rental and jam out to your favorite musicians as you cruise through Beverly Hills in style.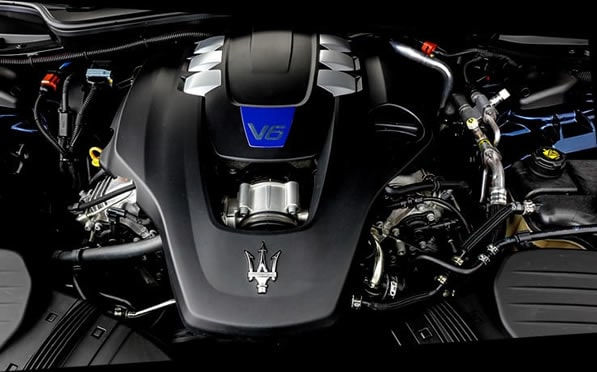 The heart of the Maserati Ghibli is a front mounted 3.0-liter, twin-turbocharged V6 engine that was built by Ferrari in Maranello, Italy. The V6 engine is paired to an 8 speed automatic transmission for quick shifts through any gear. The engine and transmission combined give this Italian masterpiece an incredible amount of performance. It can go from 0-60 of just 5.5 seconds and has 345 horsepower. The Ghibli offers multiple driving modes that can change the way the car performs based on your environment and how you want to drive the car. The different modes you can choose from are Normal, Sport, Off-Road and I.C.E. (Increased Control & Efficiency). The Ghibli also features a rear wheel drive system for more control. It also has one of the best sounding exhaust system from any of the luxury sedan rentals offered in LA.
About Los Angeles Maserati Ghibli rentals
If your looking for a luxurious sedan to rent in Los Angeles the Maserati Ghibli is a great option. It has an elegant exterior design and bespoke Italian interior that will surly impress you and your guest. The Ghibli is a an exceptional luxury car rental for proms, anniversaries, weddings, birthdays, corporate events or any special day. We can have a Maserati Ghibli delivered to your door anywhere in California including Beverly Hills, Bel-Air Estates, Redondo Beach, Malibu, Beverly Park, Hidden Hills, Rolling Hills, Manhattan Beach, Upper Laurel Canyon, Palos Verdes Estates, West Hollywood, Brentwood Park and Los Angeles International Airport (LAX).
The daily rate to rent a Maserati Ghibli in LA ranges from $595-$895 a day. There is also a $1,500 security deposit required prior to your rental. We provide free delivery to LAX Airport and Beverly Hills but if you need the car delivered to another location in California there may be a delivery fee around $2 per mile plus any tolls. If your ready to get behind the wheel of a Maserati Ghibli and would like exact prices for your rental dates give us a call. Our goal is to always provide you with the best prices for the top Maserati rentals in Los Angeles.
The least amount of time you can rent a Maserati in Los Angeles is 24 hours. We do not provide hourly rentals in any of the luxury car rentals in Los Angeles however you can hire a Maserati with a driver for 4 hours. When you rent a Maserati with a driver we will have a  professional driver pick you up and take you anywhere you would like to go in Los Angeles.