Rent the latest Rolls Royce luxury sedan to be released in Los Angeles. The new Rolls Royce Ghost is better than ever with a more refined exterior and upgraded interior as well. The Rolls Royce Ghost is the drivers car that is probably why it is such a popular luxury car rentals in Beverly Hills. From it's iconic coach doors to its opulent interior you can tell this isn't just another luxury sedan. Drive one of the most luxurious cars in the world by renting a Rolls-Royce in Los Angeles. The new Rolls Royce Ghost provides a level of comfort you'd expect from a Rolls-Royce.
If the Rolls Royce grill wasn't already iconic enough the new 2021 Rolls Royce ghost sports an illuminated grill that accents the luxury front end. Although it looks similar to the previous model it has been redesigned from the ground up and is longer and  wider then ever before. The front and rear has been made sleeker and modernized. The front and rear lights have a sharper and updated luxury look. Overall the look hasn't changed dramatically but the new evolution has been a popular luxury car rental option in Miami.
Where the Rolls Royce Ghost really shines is in the interior. This iconic luxury sedan has enough seating for up to 5 people and provides a very smooth ride for you to explore Beverly Hills. The seats are hand stitched with the finest leathers and premium finishes. The Ghost also has plenty of tech hidden inside like button that automatically closes and opens the doors. Some of the Rolls Royce Ghost rentals we provide in LA also come with the starlight headliner to give you the appearance your staring at the night sky. It really adds a touch of elegance and makes the cabin of the Ghost the place you want to be. Experience the luxurious interior of the all new Rolls Royce Ghost for yourself. The Ghost is a car you can never really appreciate in images.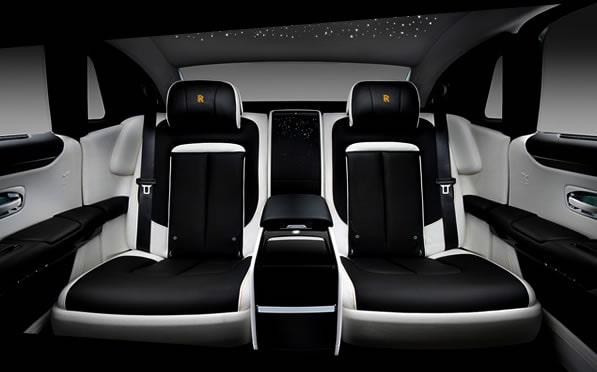 Despite its size, the Ghost is a fun luxury car to drive, with its twin-turbocharged 6.6-liter V-12 engine generating 563 horsepower and 575 pound-feet of torque. The Ghost can accelerate effortlessly to 60 mph in just 4.8 seconds and has an electronically limited top speed of 155 mph. The suspension uses an advanced planer suspension system that uses air-dampers and multi-link aluminum suspension, with active anti-roll and chassis stabilization for superb handling.
About LA Rolls Royce Ghost rentals
The Rolls Royce Ghost is dully appointed with the finest materials money can buy. No expense is spared when putting together on of these marvels of engineering. The Ghost is the driver's car in the Rolls-Royce lineup. The perfect luxury rental to pick up your new clients. Rent a Rolls Royce Ghost for your next wedding, birthday, anniversary or prom. Create a memory that will last a lifetime by riding in one of the most luxurious cars ever made. Our goal is to provide you with the best Rolls Royce rentals at the best price possible. We are not allowed to rent a car to anyone under 21 years old but were happy to help parents looking to find a chauffeur for their kids to go to prom. We can have the all new Rolls Royce Ghost delivered right to your door step in Beverly Hills, Malibu, Bel-Air Estates, Redondo Beach, Manhattan Beach, Beverly Park, Hidden Hills, Rolling Hills, Upper Laurel Canyon, Palos Verdes Estates, West Hollywood, Brentwood Park or even LAX Airport.
The daily rate to rent a Rolls-Royce Ghost in Los Angeles can vary from $1195-$1995 depending on which model is available. There is also a deposit required of 10,000 that is due prior to delivery. We provide you with free delivery to Beverly Hills and LAX airport but other locations may incur a deliver fee. We aim to provide our customer with the best Rolls Royce rentals at the lowest price possible. For weekly Rolls Royce rentals we offer a lower rate. Give us a call today and we can provide you with exact pricing for the days you need the car.
We do not have any hourly rentals but we do provide luxury chauffeur services on an hourly basis. For Rolls Royce chauffeur services there is a 4 hour minimum and for rentals the least amount of time is 24 hours. If you only need the car for a couple of hours you can return the car earlier but will still be charged for the entire day.