The Porsche Panamera is a beautiful luxury sedan with a Porsche DNA. If your looking to rent a Porsche Panamera in Los Angeles you found the right place. The new Panamera is a great luxury car rental option due to it's large interior cabin and high performance. The Panamera has enough space for 4 people to ride in style in Beverly Hills. The Panamera has been around since 1990  and continues to be a popular Porsche rental in LA. If you want to drive a sleek Porsche sedan this weekend give us a call.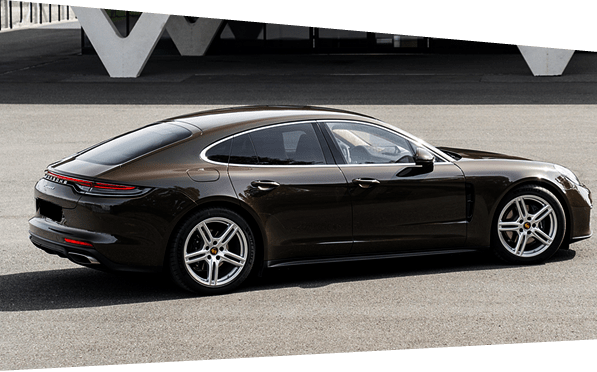 Rent a Porsche Panamera in LA today and experience the ultimate four-door sports car. You will be blown away by the amount of performance this beautiful luxury car rental produces. It also has one of the most sporty designs of any luxury sedan for hire in Beverly Hills. Wherever your journey might take you, a Porsche Panamera rental is a great option for business or pleasure, or even just taking a drive around Rodeo Drive. The combination of luxury features, sports car performance, and handling make this a highly requested vehicle to rent while visiting Los Angeles. Experience the best sports car sedan in Beverly Hills with our Porsche Panamera rental services.
This is a Porsche rental that not only performs but also has plenty of room for your passengers and space for your luggage. When you step into the Porsche Panamera the cabin is just as beautiful as the exterior. It has a contemporary feel with sharp lines and quality finishes throughout the cabin. The four sports style bucket seats hug the driver and passengers and add to the sports car feel. In the rear the elevated center console allows passengers to control rear temperature and media options. Taller passengers will find plenty of room to stretch there legs and also ample headroom. The rear seats can also be lowered in order to provide more space for luggage. This is one of the most beautiful exotic car rentals in Beverly Hills. Experience the thrill of driving the latest luxury sedan to be released by Porsche.
Under the hood is a 3.0 twin-turbo V6 that delivers 443 horse power. Paired with a new eight-speed PDK transmission the Panamera outperforms most sedans in its class. This powerful combination allows the Porsche Panamera to go from 0-60 in just 4.1 seconds. Equipped with 4D chassis control the suspension is a combination of air springs, electronic shocks, rear steering control, active anti-roll systems, and torque vectoring. In order to provide the ultimate ride, the vehicle analyzes the road conditions and driving style to provide the ultimate performance comfort and agility. It now features direct fuel injection for better more efficient power delivery.
About LA Porsche Panamera rentals
Whatever kind of journey you are making short or long, for business or pleasure the Panamera offers something slightly different. The newly design Panamera is a great luxury car rental choice for LA. You can rent a Porsche Panamera in Beverly Hills to celebrate a birthday, prom, wedding or to just for fun. The Panamera is spacious, elegant, and performs like a Porsche should. We can deliver your favorite Porsche to anywhere in LA including Beverly Hills, Malibu, Beverly Park, Redondo Beach, Manhattan Beach, Hidden Hills, Rolling Hills, Bel-Air Estates, Upper Laurel Canyon, Palos Verdes Estates, West Hollywood, and Brentwood Park.
The price per day to rent a Porsche Panamera in Los Angeles starts from $495. There is also a security deposit of $2,500 required prior to getting the car delivered. Delivery is free to Beverly Hills and LAX Airport but other locations may require a fee of $2 per mile plus any additional fees required to get the car to you. We provide special long-term rental discounts for trips over 7 days.  We can deliver this sporty sedan for free to (LAX) Los Angeles International Airport or any part of Beverly Hills. Our goal is to provide you with the best Porsche rentals in Los Angeles at the lowest price. Call us today to get an exact quote for the days you need the car.
You can not rent a Porsche Panamera on an hourly basis. The least amount of time you can rent a Porsche Panamera in Beverly Hills is one day. This gives you unlimited access to the Panamera for a full 24 hour period. You can always schedule an early return but will still be charged for the full 24 hours.