Experience the beautiful 2020 Rolls Royce Ghost the next time your visiting Las Vegas. Although there is a new model out the iconic design and opulent interior of any Rolls Royce rental in Vegas is always a fun experience. The large elegant design and signature rear hinged rear doors make for one elegant motor car. If you really want to experience Las Vegas like a King then driving around in one of the most luxurious cars in the world is a great option. The Ghost is the Rolls Royce that is meant to be driven. We also offer chauffeur services in the Ghost so if you prefer to be driven around instead that is another good option. This is one of the best luxury car rental options in Vegas and will surly make your trip an unforgettable one.
The Ghost is a classy sedan and is also one of the most luxurious sedans in the world. The iconic Rolls Royce Grill and spirit of extasy that sits right behind it has become legendary. The sweeping elegant lines and massive size of this sedan make it one of the most popular luxury car rentals in Vegas. It features Rolls Royce's signature rear hinged coach doors that open the opposite way of traditional cars. The rear doors provide rear passengers with a grand entrance every time you step inside. If you want to host your business clients for a weekend in Las Vegas there is nothing that compares. Driving around Vegas in a Rolls Royce is a superb experience and will make for a trip that you will never forget. The shear size and majestic appearance alone make it worth the ride. Drive around Vegas in the most luxurious sedan in the world with a Vegas Rolls Royce rental.
Where the Rolls Royce really shines is in it's bespoke luxury cabin. The Rolls Royce Ghost interior leaves nothing to be desired with an incredible amount of room for you and all your friends to drive around in the lap of luxury. Starting with the seats they are wrapped in hand stitched premium leather as well as every other part of the car that isn't wood or metal. You wont find any plastic inside this Vegas luxury ride. From the climate control knobs to the shifter everything is crafted with the finest materials known to man. It also features a premium sound system with strategically placed speakers thought the cabin for an optimum listening experience. The Ghost also features a premium navigation system that will allow you to get around Nevada with no problem. Enjoy one of the finest luxury car rental options in Las Vegas the next time your in town. Experience Las Vegas like never before in the most luxurious cabin in the world.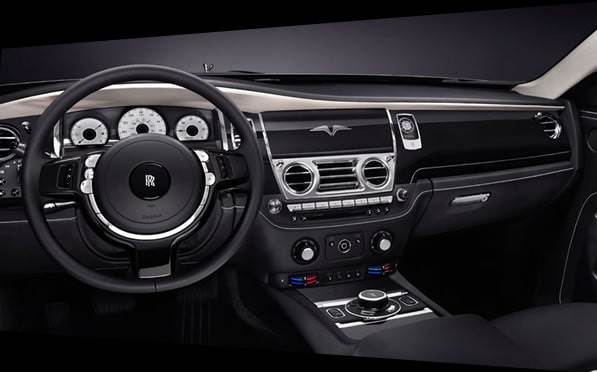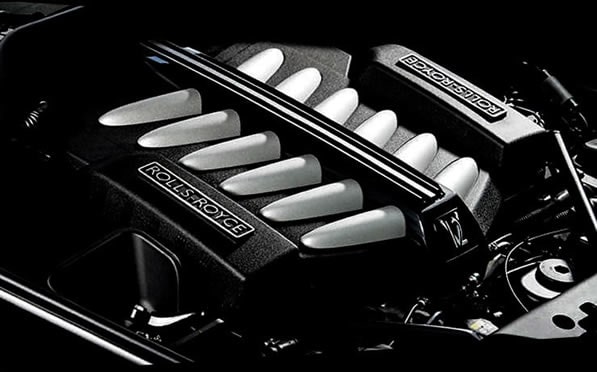 Beneath the iconic spirit of ecstasy sits a massive 6.6-liter twin-turbocharged V-12 engine that produces 563 horse power with 575 pound-feet of torque. Instead of having an rpm meter the Ghost has a power meter that displays how much power you are using. Despite being massive the Ghost is easy to drive and has endless amounts of power available when you need it. Not the type of power found in a Lamborghini but the type of power that seems like it never ends. The Ghost chas a 0-60 time of 4.8 seconds with an electronically limited top speed of 155 mph. Although the Ghost has a V12 engine you can barely hear the sound of it even when you give it a little gas. It's one of the smoothest engines in the world.
About Vegas Rolls Royce Ghost 2020 rentals
Driving a Rolls Royce is an experience you have to try for yourself. It's such a unique sedan that you will want to rent a Rolls Royce every time your in Vegas. The Ghost is an iconic luxury sedan that is easy to drive and feels like it's floating instead of driving. The bespoke interior and elegant design of the exterior make it the perfect luxury sedan to drive around the Vegas strip. The best part is that we can have your Rolls Royce Ghost rental delivered right to the door of your hotel on the Vegas strip for free. Whether your trying to impress a potential client or want to take your significant other for a stroll around Vegas in one of the most luxurious cars in the world the Rolls Royce Ghost will not disappoint.
The price for a day in one of the most luxurious Rolls Royce rentals to hit the streets of Vegas starts from $549. This is only for 4 hours but must people choose to rent the Rolls Royce Ghost for at least 24 hours. It makes more sense because you get to drive the car much longer for not much more money. There is also a security deposit required before the car is delivered to you. For an exact quote feel free to reach out to us. We are happy to answer any questions you might have regarding price and availability. Our goal is to always find our customers the best Rolls Royce rentals in Vegas at the best price.
If your planning on renting a Rolls Royce Ghost in Vegas then you have the option to rent one for just 4 hours. Most of our customer prefer to drive the car for 24 hours because it is such a beautiful car. We can also provide you with a Rolls Royce with a driver if you prefer to sit back and enjoy instead of driving. You can hire a Rolls Royce Ghost with a driver for a minimum of four hours.