The G Wagon is one of the most popular luxury SUV rentals in Vegas and the AMG version takes it to another level of class. You can rent a Mercedes-Benz G63 AMG in Vegas for just a day or drive around all week in this stylish luxury SUV. The AMG G wagon takes everything you love about the G550 and enhances it further with a bespoke interior, nicer wheels, and more power. Enjoy Las Vegas in the comfort of a luxury SUV with a timeless design and plenty of room for all of your friends to ride around in style.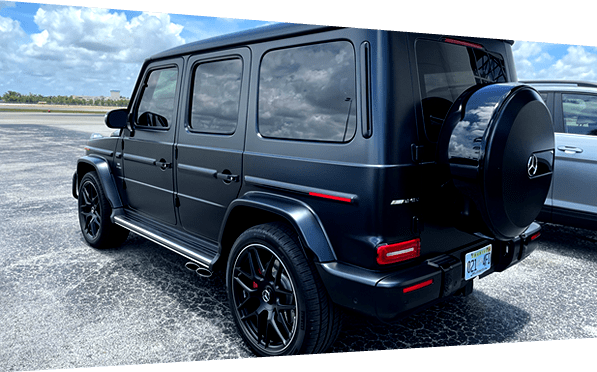 The styling of the G Wagon has been around  changed much since 2002. The design of the G-Class Mercedes is timeless and continues to be a popular choice for clients looking to rent a premium luxury SUV in Vegas. It is one of the most popular luxury car rentals in Vegas with good reason. The box design was originally created for military convoys but has since become an iconic luxury SUV to rent in Vegas. The AMG wheels also add to the stylish design and they look amazing. The AMG G63 has appeared in countless Hollywood films and is a popular choice among our celebrity clients. It's also a popular choice for athletes due to its large roof design which allows taller passengers to sit comfortably. Your going to look extremely stylish when driving a G63 down the Las Vegas strip this weekend.
Inside the new Mercedes G63 there is enough space to seat 5 people comfortably. The bespoke luxurious interior is equipped with a variety of tech as well like the large digital screens that are used for the instrument cluster and media center. The G63 seats are covered in premium richly grained Nappa leather that is very comfortable especially for long rides down to the Grand Canyon. You also get all the other features you would expect from a high end luxury SUV like an easy to use navigation system and premium sound system. Apple car play and Android Auto are also included so you can connect your phone and bring all of your favorite play list along for the ride. The trims are made from polished woods and premium metal accents for an elegant feel. Get inside the drivers seat of the all new Mercedes G63 this weekend.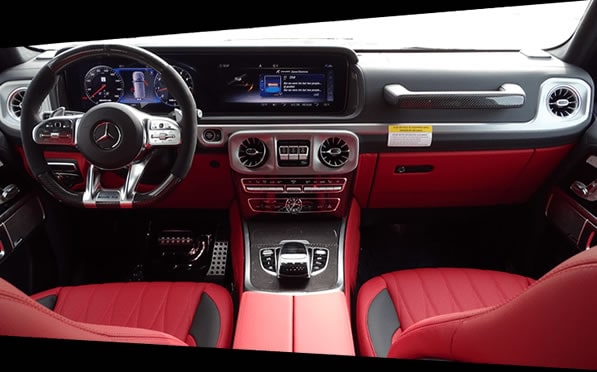 Under the hood of this luxury SUV sits a massive 8 cylinder AMG 4.0L bi-turbo engine. It packs 577 horsepower and has a 0-60 time of just 4.5 seconds. The powerful V8 is paired with an AMG speed shift TCT 9G-Tronic transmission that provides quick shifts at any speed. The AMG G 63 is the most powerful G-Class to date and will give you plenty of performance on any terrain. The powerful V8 motor provides unwavering confidence to explore any part of Nevada in pure style. The new engine was fine tuned by the engineers at AMG to provide the best performance possible in the most compact package. Once you get behind the wheel of the AMG G wagon you wont want to drive another luxury SUV again.
About Vegas Mercedes G63 G Wagon rentals
Vegas is one of the most popular places to travel to due to it's high end luxury hotels and thriving night life. The AMG G63 is a great luxury car rental option for Vegas and has enough room for you and all your friends to hit the Vegas strip in style. If you want to drive an SUV that stands out and drives incredibly smooth the G63 will provide you with an unforgettable experience. The best part of renting a G63 in Vegas is that we can have the car delivered right to the valet of your hotel on the Vegas strip. Don't settle for just any SUV on your birthday, wedding or any event you might be celebrating in Vegas. They are also great cars to rent if your visiting Vegas for a convention. Imagine picking up your potential clients in a luxurious G63. Explore Vegas like never before in the drivers seat of a brand new Mercedes AMG G-Class.
The price for a day in the all new G63 ranges from $990-$1595 per day. Depending on the year and upgrades the car has the price can be lower or higher. If the car is available in Vegas then there is no delivery fee to your hotel on the Vegas strip. If the car needs to be transported from LA the cost is usually around $1,000 each way. A security deposit is also required and ranges from $3,000-$10,000. If you are ready to get an exact quote for your required rental dates or just have any questions regarding Vegas luxury car rentals give us a call. We aim to provide you with the best Mercedes rentals in Vegas at the best price possible.
Yes! Vegas is one of the only places in the US where you can rent a G63 AMG for just 2 hours if you prefer. Of course going with a 24 hour rental will provide the best value and the most fun but if your on a time constraint and can only afford to rent the car for a couple hours we can make it happen. One thing to consider is that these cars are in extremely high demand so calling early is going to be the best option if you just need the car for a couple hours.