Vegas is one of the most luxurious places to visit in the US. If you would like to be driven around Vegas in a luxury SUV then our luxury chauffeur service is a great option. Hire an Escalade with a driver in Vegas and you can sit back and relax as a professional driver takes you around the city in luxurious comfort. Whether your having a Vegas wedding or celebrating your birthday weekend in Vegas, a Cadillac Chauffeur could be the best option. When you are chauffeured in a Cadillac Escalade there is no need to worry about drinking and driving or where to find parking. The Escalade ESV is the extended model so you will have enough space for 6 passengers to cruise around Vegas in style.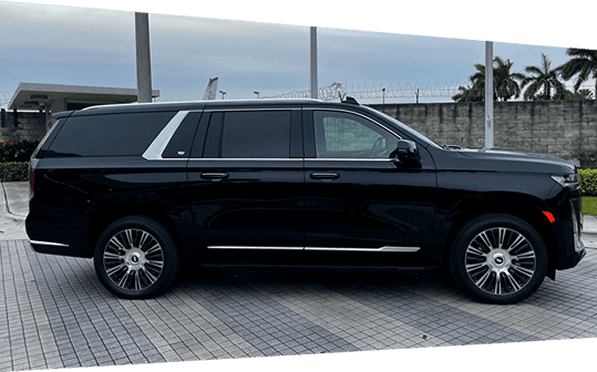 The Escalade is a luxurious SUV with an elegant exterior. If you want to hire a chauffeur this iconic American luxury SUV will surly suite your requirements. The Escalade ESV is large and in charge with it's signature Cadillac grill and large body design. The new Escalade also features 22 inch alloy wheels for a nice extra touch. The newly revised Escalade is one of the sleekest ones yet. It features an all new redesigned front end with horizontal led headlights and a new tail light design that provides a modern touch. The bold looks of the new Escalade make it the perfect luxury SUV to hire with a driver. It's massive presence and bold looks provide a classy form of transportation to get around the Vegas strip.
The Escalade really shines in it's massive interior. It provides an incredible amount of leg room and head room so you can travel in comfort. The seats are beautifully crafted from leather and feel like a glove when you sit inside. There are multiple USB-C outlets found throughout the interior so you will be able to charge your devices on your way to your next destination. The Escalade also comes with a top notch sound system so you can ask the driver to play your favorite songs as you cruise around the Vegas strip. If the driver is picking you up at Harry Reid International Airport you don't need to worry about space for your luggage. The rear seats in the Escalade can be folded down to provide additional cargo space for all your belongings.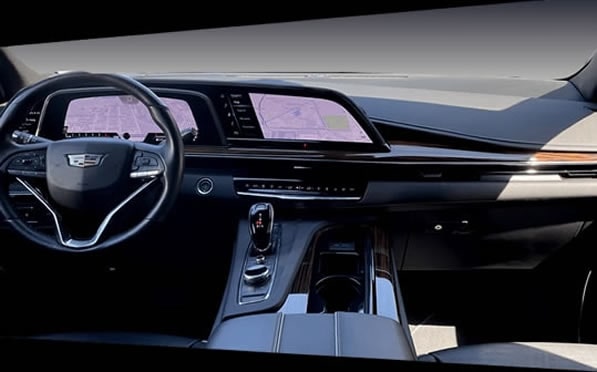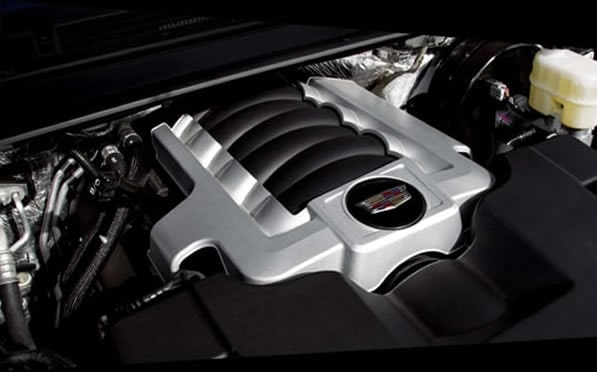 The Escalade ESV has an incredibly smooth ride. The magnetic ride suspension allows it to travel over bumps in the road. The Escalade ESV is a premium chauffeur option and has lot's of space inside for you to travel in comfort. A great reason to hire an Escalade is the amount of leg room and head space inside. The Escalade ESV can fit up to 6
passengers comfortably. Don't just hire a regular luxury limo in Las
Vegas, hire a beautiful Cadillac Escalade. Experience the best time of
your life in the back seat of a Cadillac Escalade rental when your
travel with us. The ride quality in the Escalade is phenomenal and one you will enjoy. It will provide you with a smooth ride around the Vegas strip with you and all your friends and family.
MORE LUXURY CHAUFFEUR OPTIONS
About Vegas Cadillac Escalade ESV chauffeur service
When you hire an Escalade with a driver you don't need to worry about how to get to your next destination. You can give us all of the destinations you would like to go to and the driver can take you. If your planning on having a couple of drinks or just want to avoid having to look for parking our luxury chauffeur can take you around town with no worries. It's also an affordable option compared to some of the other options like the Rolls Royce Cullinan or Bentley Bentayga. The Escalade is iconic American luxury SUV which makes it the perfect luxury SUV to hire with a driver while your in Vegas. Take your Las Vegas trip to the next level and hire a Cadillac Escalade with a driver. Our goal is to provide you with the best possible luxury cars with professional drivers to drive you around Las Vegas. The Escalade is the flagship model in the Cadillac lineup. 
The hourly rate for an Escalade with a driver in Las Vegas starts at $149. This rate does not include any gratuity or fuel surcharges. We do require you to rent an Escalade for a minimum of four hours. If you rent a Cadillac ESV with a driver for multiple days we can provide you with a discounted rate. We always strive to put you inside the best Cadillac rentals in Vegas at the best price possible. If you would like an exact quote for the amount of hours you would like a luxury chauffeur feel free to give us a call. The next Vegas luxury experience is just a phone call away.
The lowest amount of time you can hire the Escalade with a driver in Vegas is 4 hours. This applies to all of the luxury chauffeurs we provide in Las Vegas.