The Mercedes G63 is not just a regular standard G Wagon. It's the premium AMG model and is available for you to be chauffeured in. Rent a G wagon with a driver and experience a luxury ride around the Vegas strip. The G Class has plenty of interior room with enough for you to stretch your legs. The AMG version is perfect for getting driven around Las Vegas with all of your friends and family. There is lots of space for your luggage as well. You can hire an AMG G Wagon with a driver for that special day in Vegas. Our Vegas luxury chauffeur service allows you to sit back and relax as you get driven around with no worries.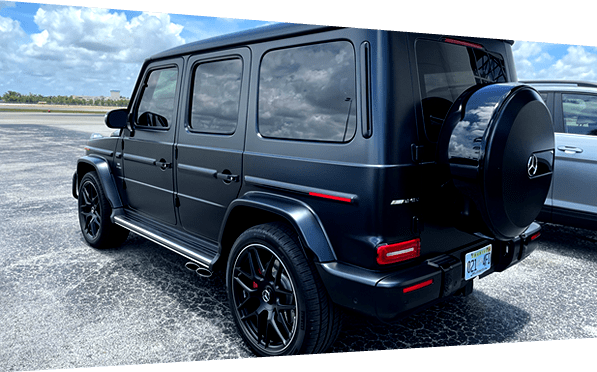 The G63 is a popular luxury car rental option in Vegas but is also popular to hire with a driver. The exterior design is rugged and it has a history of being a tough and luxurious SUV. Lots of executives, celebrities, and athletes love to rent the G63 with a driver because it has lots of room in the interior. The iconic design is timeless as the exterior has remained almost identical in the exterior. From the outside it also looks fairly similar to the G550 but inside is a whole different story. Ride in style when you hire a G63 with a driver in Las Vegas this weekend. Let us take you for a ride in a luxurious SUV when your in town. Arriving in a luxury SUV like the AMG G63 can make your Vegas experience one to remember.
The G63 makes a big impression when you step inside and see the luxurious interior. The seats are covered in premium leather and are comfortable for long rides. In the rear there is space for up to 3 passengers and one can ride shotgun. The Mercedes G63 allows you to listen to your favorite songs through the premium sound system on the way to your event. It has high ceiling that are especially comfortable for taller passengers which is why athletes prefer the G Wagon to the luxury SUV's. You can reserve a G63 this weekend and get driven around Las Vegas in a luxury SUV with comfort and class. The wide body also provides additional space for more comfort. The G63 also has a good amount of room for your luggage.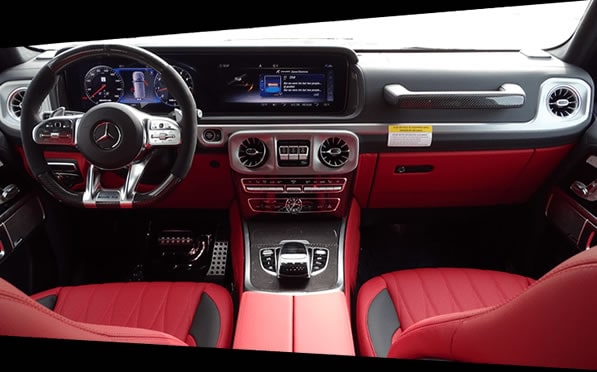 The G63 is also a powerful SUV which has an AMG branded 4.0L V8 bi-turbo engine under the hood so you can get to your location quickly should you need to. Most customers however prefer for the driver to cruise slowly while you enjoy getting driven in a luxury SUV for the day. The suspension in this high end G Wagon is very comfortable and can provide you with a smooth ride to your favorite places in Vegas. The premium air suspension can be set on comfort mode to drift you away in comfort without feeling road noise or any bumps on the road. Experience for yourself what it's like to get driven around Vegas in a premium Mercedes SUV rental with a driver.
MORE LUXURY CHAUFFEUR OPTIONS
About Vegas Mercedes G63 G Wagon chauffeur service
Vegas is the perfect city to rent a Mercedes G63 with a driver. The city is full of luxury hotels, extravagant shows, and a will be the perfect place for us to drive you around the Vegas strip. For those who want to travel in luxury the Mercedes G63 is the perfect SUV to enjoy riding inside in Vegas with your family and friends. It can also be rented with a driver for corporate events. If your hosting a conference and need multiple cars to take your team we can help you find the right car for your needs. Whether your in Vegas for a bachelor party, bachelorette party, birthday, anniversary, or wedding we are happy to assist you in booking the perfect chauffeur. We can have a G63 waiting for you at your hotel on the Vegas strip ready to take you around the city.
The hourly rate to hire a Mercedes G63 in Vegas with a driver starts from $299 per hour. The hourly cost does not include the drivers gratuity, Nevada excise tax, or any fuel surcharges. We strive to find the best Mercedes Chauffeurs in Vegas at the best price possible. If you would like an exact quote for the days you need the car feel free to give us a call.
The least amount of time you can hire a Mercedes G63 in Vegas with a driver is 4 hours. During special events and holidays there can be a 6-8 hour minimum. These are some of the most demanded luxury chauffeurs in Vegas so it is best to book a couple days in advance to ensure the car is available.