Get driven around Las Vegas in a luxury sprinter and bring all your friends along for the ride. Whether your hosting a conference or celebrating a wedding the sprinter is a great luxury chauffeur option for you to consider. Create a memory that will last forever as you explore the Vegas strip in a luxurious sprinter van. The largest SUV available for chauffeurs in Vegas can only seat a maximum of 6 people but the Sprinter can accommodate up to 13 passengers. You can bring the whole crew along and enjoy the comfortable and luxurious ride.
The Mercedes Sprinter has a refined exterior design for a bus but lets not forget what really sets it apart which is the prestigious Mercedes-Benz logo. All of the luxury sprinters available have a similar exterior design. The color options when it comes to hiring a sprinter are limited to black and occasionally white. Black Mercedes Sprinter rentals with a driver are by far the most popular in the Vegas strip.  Sprinters are great for conferences or family vacations because they have plenty of room for larger groups. The large size also allow you to stand up and ride to your next destination in style. We can also arrange for the vehicle to be wrapped with your company info. If your attending a conference or participating in one we can arrange for multiple Mercedes sprinter buses for your team.
The Mercedes Sprinter is a luxury chauffeur that can accommodate between 7-13 people.If you want to hire a Mercedes Sprinter with a driver in Vegas let us know in advance so we could recommend the correct size sprinter for your special day. Mercedes sprinter buses can be configured similar to a luxury limo or could come in several configurations. The limo style sprinter has a bench seat that wraps around the bus. The second combination is similar to what you would find in a traditional bus with several rows of seating. The last is the executive style luxury sprinter that has four reclinable captain chairs and can be outfitted with a table in the center. The row seating is the one with the most available seats which make them great for larger groups and also for city tours. The limo style and 4 captain chair models are the most luxurious.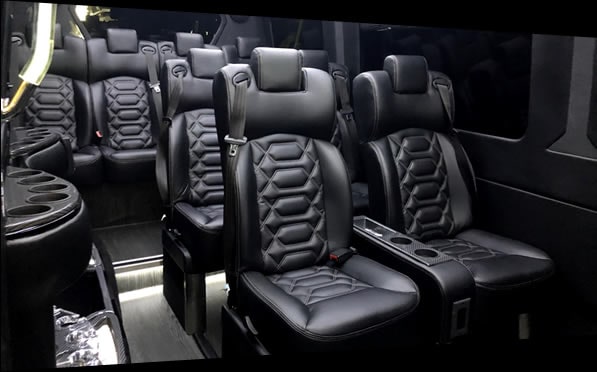 Mercedes Sprinters provide a surprisingly smooth ride due to it's weight and size. They also come equipped with an air bag suspension that cushions the ride further. The Sprinter allows you to stand and talk to friends in the limo configuration. You can even dance as long as the driver allows it. Even in the longer 177 wheel base versions are very smooth and provide additional room for up to 13 people to ride comfortably. In the 4 seat configuration you have the option to recline your chair and relax while you ride around Vegas in style. If your group is larger than 13 people we can have multiple buses ready for you when you arrive.
MORE LUXURY CHAUFFEUR OPTIONS
About Vegas Mercedes Sprinter chauffeur service
When you hire a Sprinter with a driver you have the option to bring more people along. It provides a great deal of space for you and your friends to travel in style. It's the only SUV that has the option to accommodate more than 6 people. It provides a luxurious experience while transporting you around Vegas. The driver will be waiting for you outside and take you wherever you would like to go. A sprinter can be waiting for you outside of Harry Reid International Airport to take you to your hotel. There great for bachelor or bachelorette parties due to the large size and comfort they provide.
The cost to rent a Mercedes Benz sprinter with a driver in Las Vegas starts from $149. This is not including taxes, gratuity or any service fees. Call us today and we can give you an exact quote for the days you need the car. If you are renting multiple sprinter buses we can provide you with a discounted rate. Our goal is to provide you with the best Mercedes Sprinter chauffeurs in Vegas at the lowest cost.
We require a minimum of 5 hours if you would like to hire a Sprinter in Vegas with a driver. Some weekends there may be a higher minimum such as during holidays or special events.