Drive the most luxurious convertible in the world when you rent a Rolls Royce Dawn in Houston this weekend. You can rent a Rolls Royce Dawn for just one day or experience a weekend of pure bliss behind the wheel of this incredible luxury car rental option. The elegant design and iconic Rolls Royce grill make a statement wherever you go. The Dawn is built with the finest materials money can buy and has a level of craftsmanship that is second to none. From the swooping body lines to the bespoke luxury interior everything about the Dawn exudes luxury. The powerful V12 motor combined with an advanced suspension system makes driving a Dawn in Houston is something you have to experience for yourself.
The Dawn has a jaw dropping design that is clearly Rolls Royce. Much like the previous model the drop head the Dawn has a captivating presence. It's subtle lines flow seamlessly across the convertible giving it a relaxing touch with beauty like no other. Whether you decide to drop the top and immerse yourself in the amazing Houston whether or raise the top the Dawn has a classic design that no other luxury convertible compares to. It features sweeping shoulder lines that highlight the modern look. The soft-top roof uses a French seam and looks stunning. Experience this beautifully crafted Rolls Royce rental in Houston this weekend.
Inside the Dawn is where it really shines, with it's meticulously crafted leather interior that has an old world feel while still providing all the modern features of newer vehicles.There is enough room for four to travel comfortably in this luxury Rolls Royce convertible. With the top up the Dawn is one of the most quiet convertibles you will ever ride in. You are cocooned in luxury and can hear a pin drop. If you prefer to enjoy the weather outside you can drop the top in just 22 seconds and connect to your surroundings like never before. Every area inside the interior is crafted to perfection even the chrome trims and metal accents are actually made of metal and polished to perfection.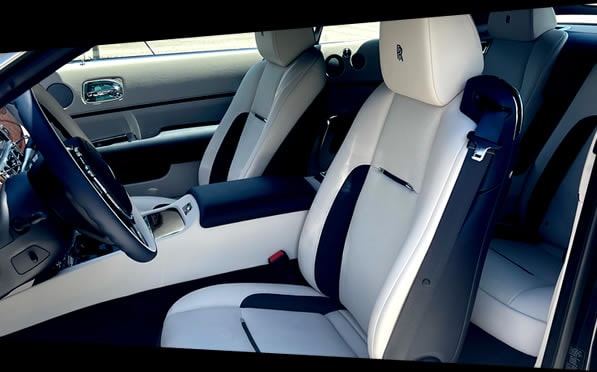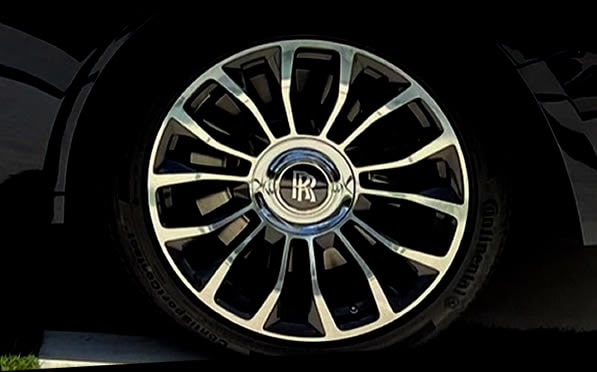 Under the large hood of the Dawn sists a powerful 6.6-litre V12 twin-turbo engine. This is not like an engine you might have in a Lamborghini with instant power but rather delivers a surge of infinite power that is incredibly smooth. The Dawn also comes with the magic carpet ride suspension system that gives you an incredibly smooth ride even when going over bumpy surfaces. The Dawn is very well balanced with an incredibly smooth ride and quiet engine there is nothing to disturb your luxury travels in Houston. The smoothness of a Rolls Royce Dawn rental is something you must experience for yourself to truly understand.
ABOUT HOUSTON ROLLS ROYCE DAWN RENTALS
If your a person that won't settle for anything but the best then the Rolls Royce Dawn rental is the perfect option for your Houston vacation. Time and time again our customers are always in shock of how smooth and majestic the Rolls Royce Dawn feels. It is not only luxurious inside but also very spacious and comfortable. From the lambs wool floor mats to the soft touch leather riding in the Dawn is an incredible experience.We can have a beautiful Rolls Royce Dawn delivered right to your home or hotel in Houston. Our customers have rented a Rolls Royce Dawn for weddings, anniversaries, proms, birthday celebrations, and even for corporate events. The Dawn is the most luxurious luxury convertible rental available in Houston. Experience it for yourself and take your Houston vacation to the next level.
The cost to rent a Rolls Royce Dawn in Houston starts from $1,495 per day but depends mostly on the amount of days you would like to reserve the car for and the time of year. Prices usually remain fairly stable but can increase during Holidays due to the increased demand. We strive to provide you with the best Rolls Royce Dawn rentals in Houston at the most affordable price possible without compromising quality.If you are ready to reserve a Dawn in Houston give us a call and we can give you an exact quote for the days you need the car for. You must also factor in the security deposit which is usually between $5,000-$10,000 depending on what insurance coverage you provide and your age. This is refunded once the car is returned as long as there is no damage to the vehicle.
We do not provide any hourly Rolls Royce rentals in Houston at the moment. The least amount of time you can reserve a Rolls Royce is 24 hours. This only applies to rentals. If you would like to hire a Rolls Royce Dawn with a driver in Houston there is a 4 hour minimum. If you do not need the car for the full time frame we can always schedule an early pickup but you will still be responsible for the full day or full 4 hour payment.